Raw Whey (Unflavoured) Whey Protein Concentrate & Isolate Protein Powder
Regular price

Rs. 1,999.00

Regular price

Rs. 2,999.00

Sale price

Rs. 1,999.00
Key specifications

80% protein which is a top post-workout supplement
Great mixability in water makes no foam and no cramps
100% Natural added no chemicals or artificial colors
Best to Emphasize muscle enlargement
Benefits

Helps to get progressive muscles
Best to Emphasize muscle enlargement
Better metabolism rate burns calories to make you more muscular.
100% Natural added no chemicals or artificial colors
Super easier and healthy digestive protein keeps you full for longer.
High-quality raw whey protein price is economical to every class.
Great mixibility in water makes no foam and no cramps.
How to Consume?

SHAKE:
Add 1 scoop of raw whey in water or milk to a shaker cup.
Shake firmly and enjoy.
BLEND:
Add 1 scoop of raw whey in water or milk to a blender and mix.
Add ICE CUBES for a frosty shake.
Share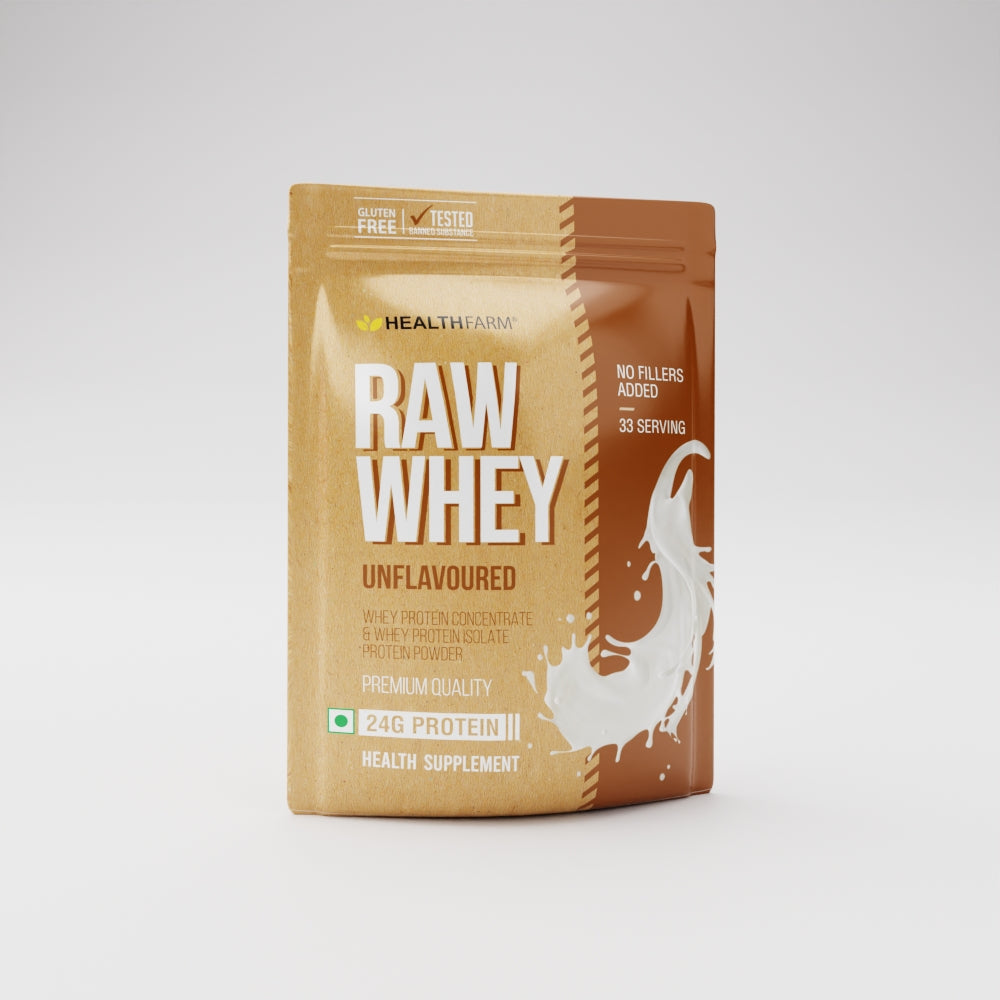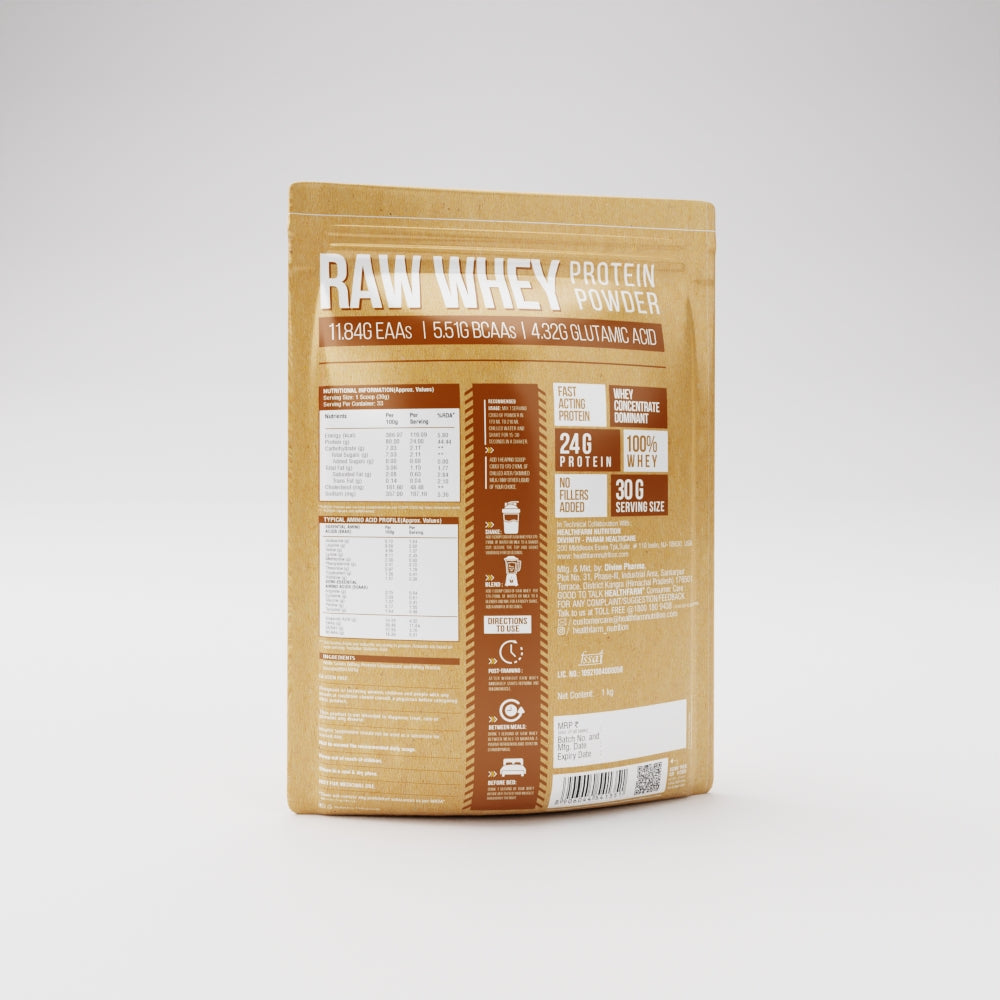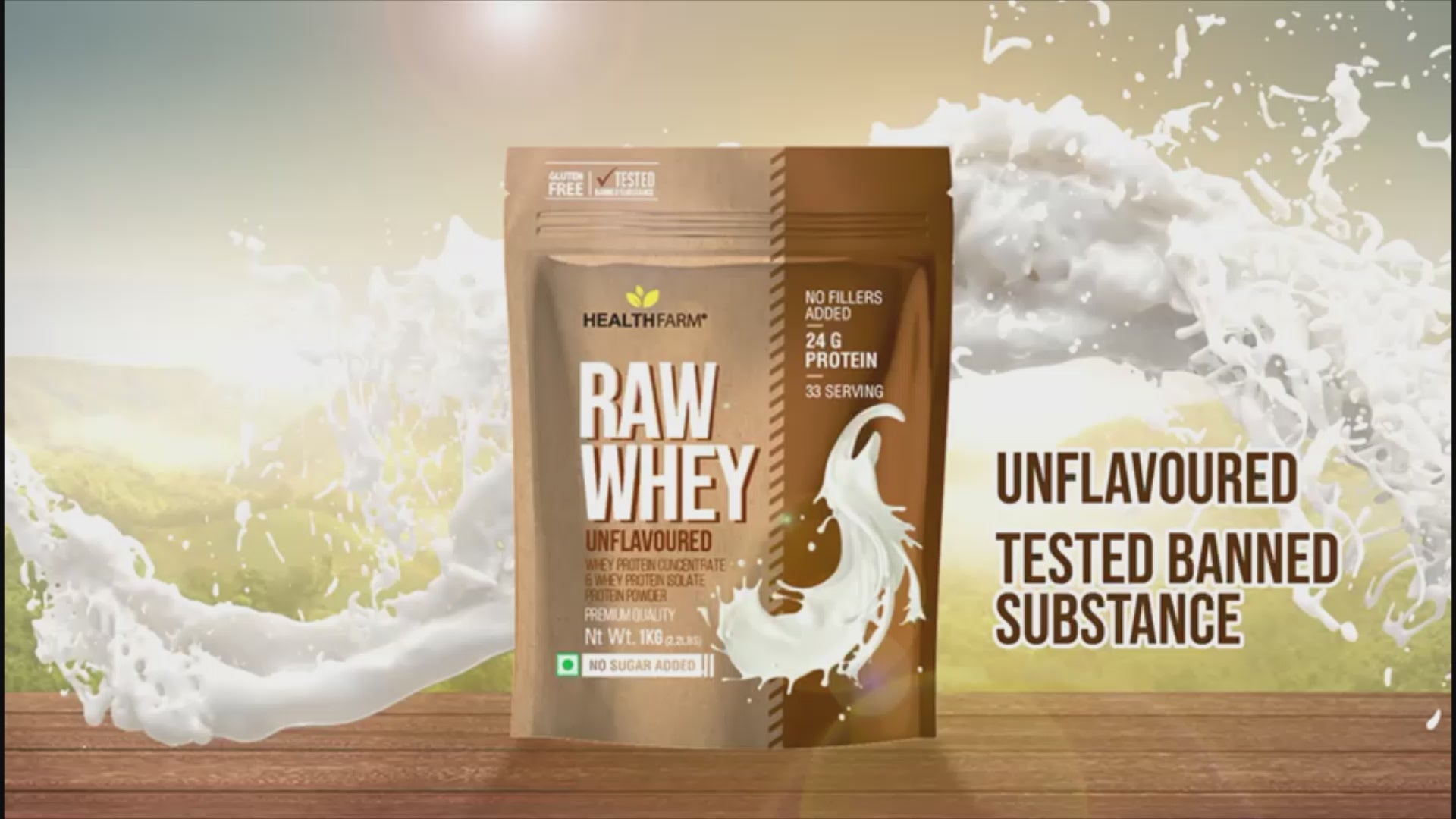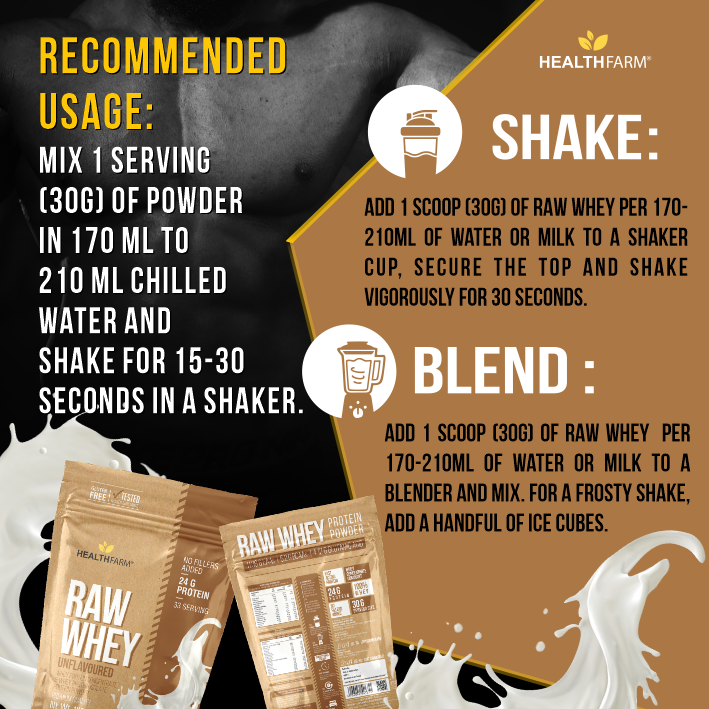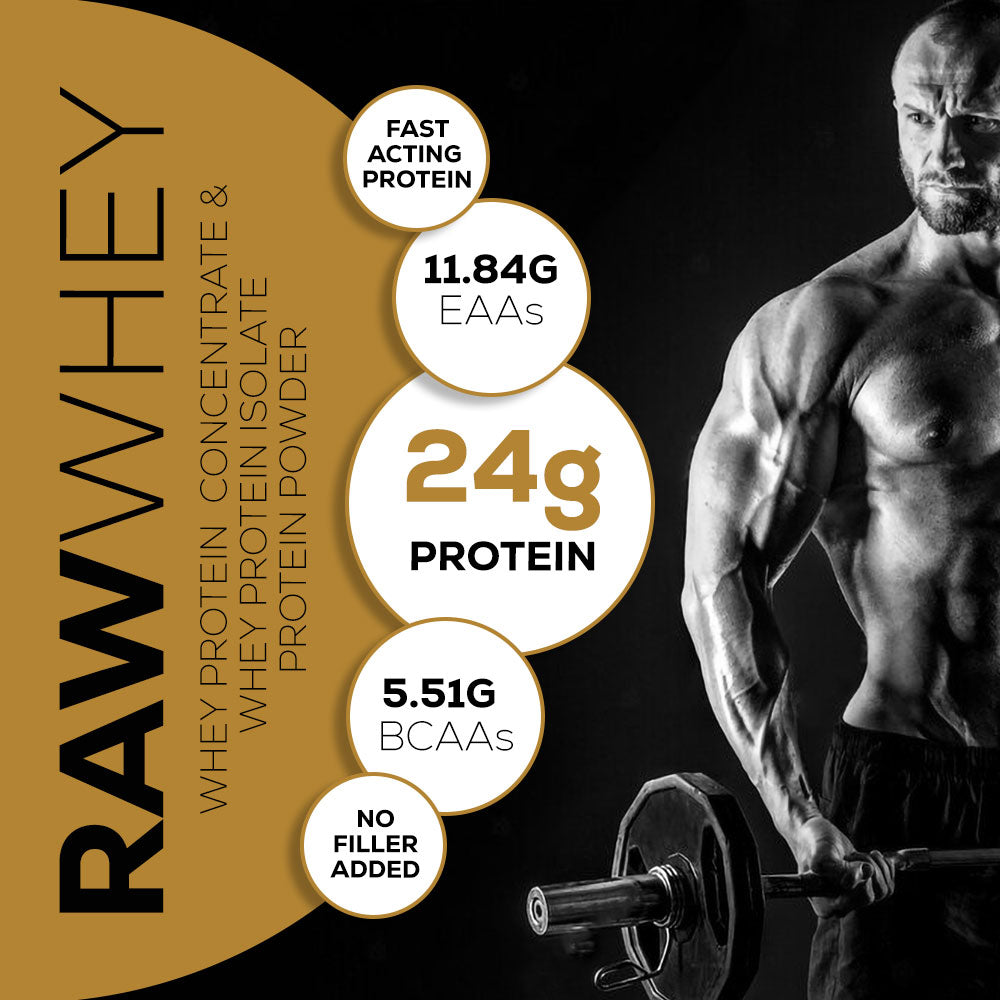 Healthfarm's Raw Whey Protein is specially formulated to meet the post-workout needs of bodybuilders, athletes, and weightlifters. This exceptional protein supplement offers a range of benefits, including promoting muscle mass growth, reducing muscle fatigue, enhancing muscle development, facilitating the formation of lean muscles, and providing a boost of energy after intense workout sessions. In India, this premium raw whey protein contains 80% protein with a slower digestion rate, making it an ideal solution to delay meal consumption and prevent unhealthy snacking habits. Each scoop of this protein supplement contains 24 grams of whey protein, ensuring comprehensive nourishment for your body without any harmful chemicals or artificial ingredients. The powder form makes it incredibly convenient to prepare by simply mixing it with water, or if you prefer, you can blend it with milk, juice, or your preferred beverage. Healthfarm takes pride in producing a pure vegetarian, unflavored raw protein powder in India, carefully crafted under the supervision of highly trained and experienced experts to maintain the highest quality standards that meet customer expectations.
Product Details
Key Specifications

Protein Concentrate and Isolate: Raw Whey contains a blend of whey protein concentrate and isolate, providing a balanced combination of protein sources.

Unflavoured: Raw Whey is unflavoured, allowing for versatility and customization in taste.

High Protein Content: Each serving of Raw Whey delivers a substantial amount of protein, supporting muscle recovery and growth.

No Artificial Additives: Raw Whey is free from artificial flavors, sweeteners, and additives, providing a pure and natural protein source.

Available Sizes: Raw Whey is available in various sizes, including 1kg packs, allowing you to choose the quantity that best suits your needs.

Benefits

Muscle Building: The concentrated protein in Raw Whey helps stimulate muscle protein synthesis, promoting muscle growth and strength gains. It is an excellent choice for individuals looking to build lean muscle mass.

Versatility: Raw Whey (Unflavoured) Whey Protein Concentrate & Isolate Protein Powder is unflavoured, allowing you to customize the taste according to your preferences. You can add it to smoothies, shakes, or even use it in recipes to increase your protein intake.

Digestibility: Raw whey protein is highly digestible, ensuring that your body can efficiently absorb and utilize the protein for muscle repair and growth. It is gentle on the stomach and suitable for individuals with sensitive digestive systems.

Quality and Purity: Raw Whey is carefully crafted using high-quality whey protein concentrate and isolate. It undergoes rigorous testing to ensure purity, ensuring that you're getting a clean and reliable source of protein.

High Protein Content

Raw whey protein is known for its high protein content, providing the essential amino acids necessary for muscle recovery, growth, and repair. With Raw Whey, you can fuel your body with pure protein to support your fitness goals.

Choose Raw Whey for a protein powder that delivers on purity and performance. Embrace the power of natural protein and elevate your fitness goals. With no sugar added, Raw Whey is the ideal choice for those looking to maximize their protein intake while maintaining a balanced and healthy lifestyle.






Supercharge your muscles and ignite muscle growth with the precise serving size of Raw Whey. Each serving of 30g is expertly measured to provide you with the ideal amount of protein for optimal performance and incredible results. With 33 servings per container, you have an ample supply to support your fitness goals.

Raw Whey (Unflavoured) Whey Protein Concentrate & Isolate Protein Powder is a powerhouse of pure protein, offering numerous benefits for fitness enthusiasts and individuals seeking to increase their protein intake. With its high protein content, versatility, and quality specifications, it's no wonder Raw Whey is considered the best raw whey protein.
FAQ's
What is raw whey protein?

Raw whey protein is unprocessed pure whey protein separated from the solids. It has no synthetic colors or flavor and fats and lactose are also not removed, thus, protein remains in its original raw form.
Is raw whey protein good for muscle building?

Raw whey protein India contains 80 percent protein concentrate efficiently to cater regular needs of the protein that your body demands. It is the best post-workout supplement powder that sustains muscle growth, instant muscle recovery, eliminates muscle soreness, and increases muscle enlargement.
Is raw whey protein good for weight loss?

It is the best raw protein and provides a better metabolism rate that helps burn body fat on fast mode, making you more muscular. Its average digestion rate cuts down your unhealthy cravings and keeps your stomach full for a long time so you would not feel hungry early. That is ultimately good to get a balanced weight.
Is raw whey protein good?

Healthfarm Raw whey protein India is an excellent post-workout supplement for athletes or weightlifters to get instant recovery, cut down fat, enhancing muscular strength, gaining more muscles, natural vegetarian powder available with no flavor, no sugar or unreal taste enhancer, easy-to-mix in water, and provide strength to a body after a difficult workout.
How to use raw protein powder?

Mix 1 scoop Raw whey protein powder in water, shake it, and consume it.