HF Series Signature Whey Protein Powder
Regular price

Rs. 5,249.00

Regular price

Rs. 6,999.00

Sale price

Rs. 5,249.00
Key Ingredients

Protein, EAAs, BCAA, Glutamic Acid
How to Use

PREPARE IN SHAKER
Take 180ml-250ml water in a shaker, Pour 1 serving scoop (32g) of best whey protein powder into it. Mix it until it dissolves completely.
PREPARE IN BLENDER
Put 250ml water in a blender, Add 1 scoop of signature whey powder to it, Add ice cubes if you can.
Benefits

Quick Digestibility & Mixability
Ultra-premium Lean Muscle Protein Powder
Better Immunity and Reduce Stress Levels.
How to Consume?

POST-TRAINING :
Take signature whey shake after a workout to get quick relaxation, recovery, and building muscles.

BETWEEN MEALS:
Drink 1 serving of signature whey shakes in-between your regular meals to stabilize positive nitrogen balance to put on lean body mass.

BEFORE BED:
Consume 1 serving of SIGNATURE WHEY before bed to supply feed to muscles throughout the whole night.
Share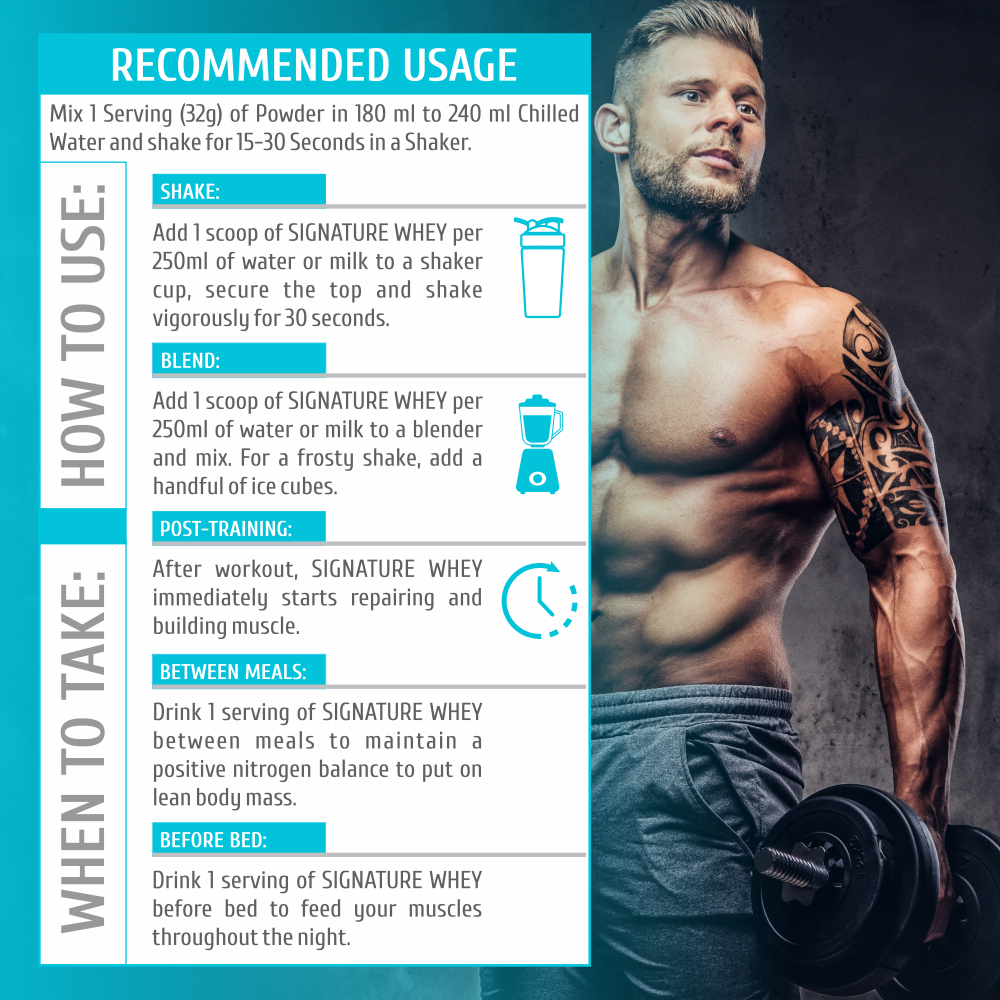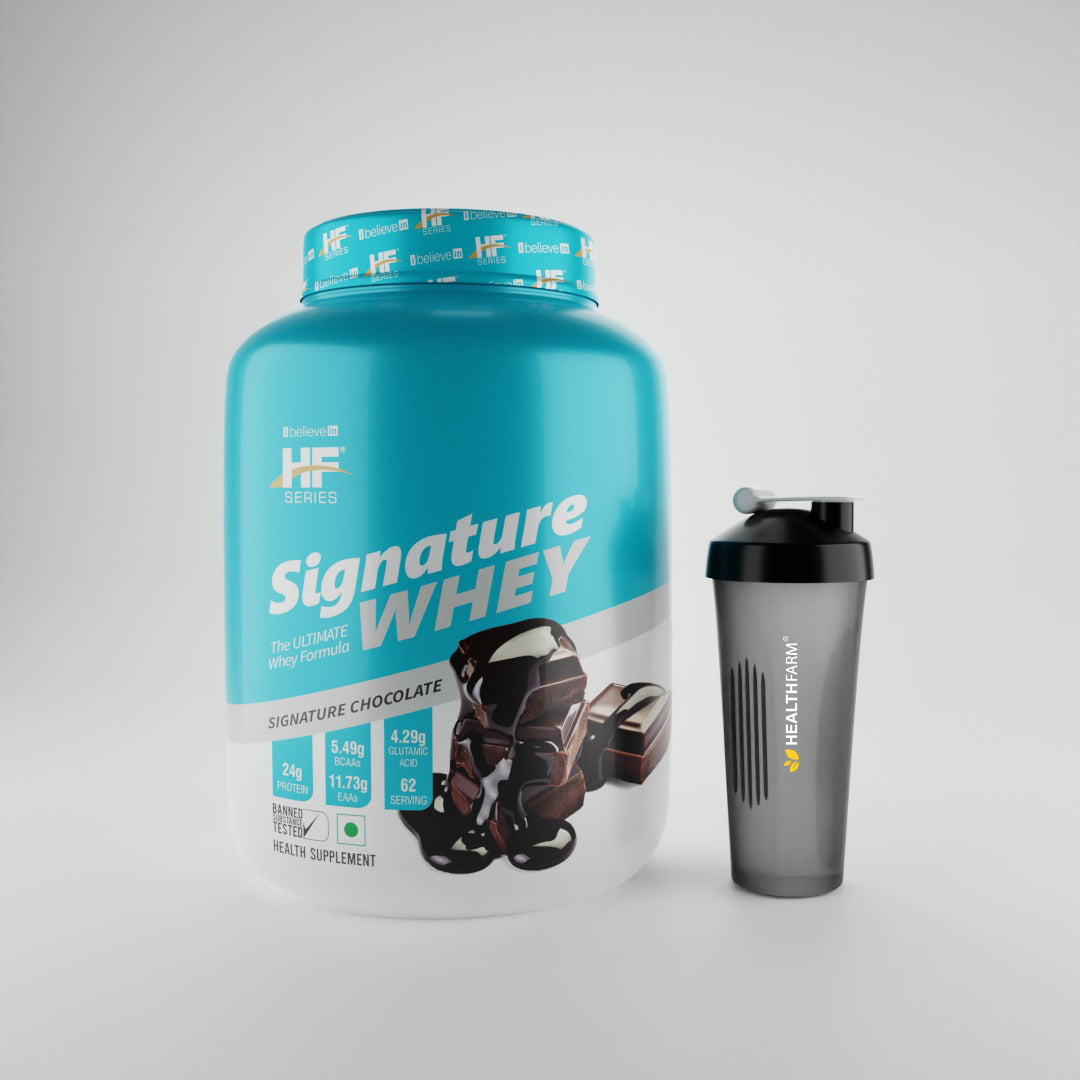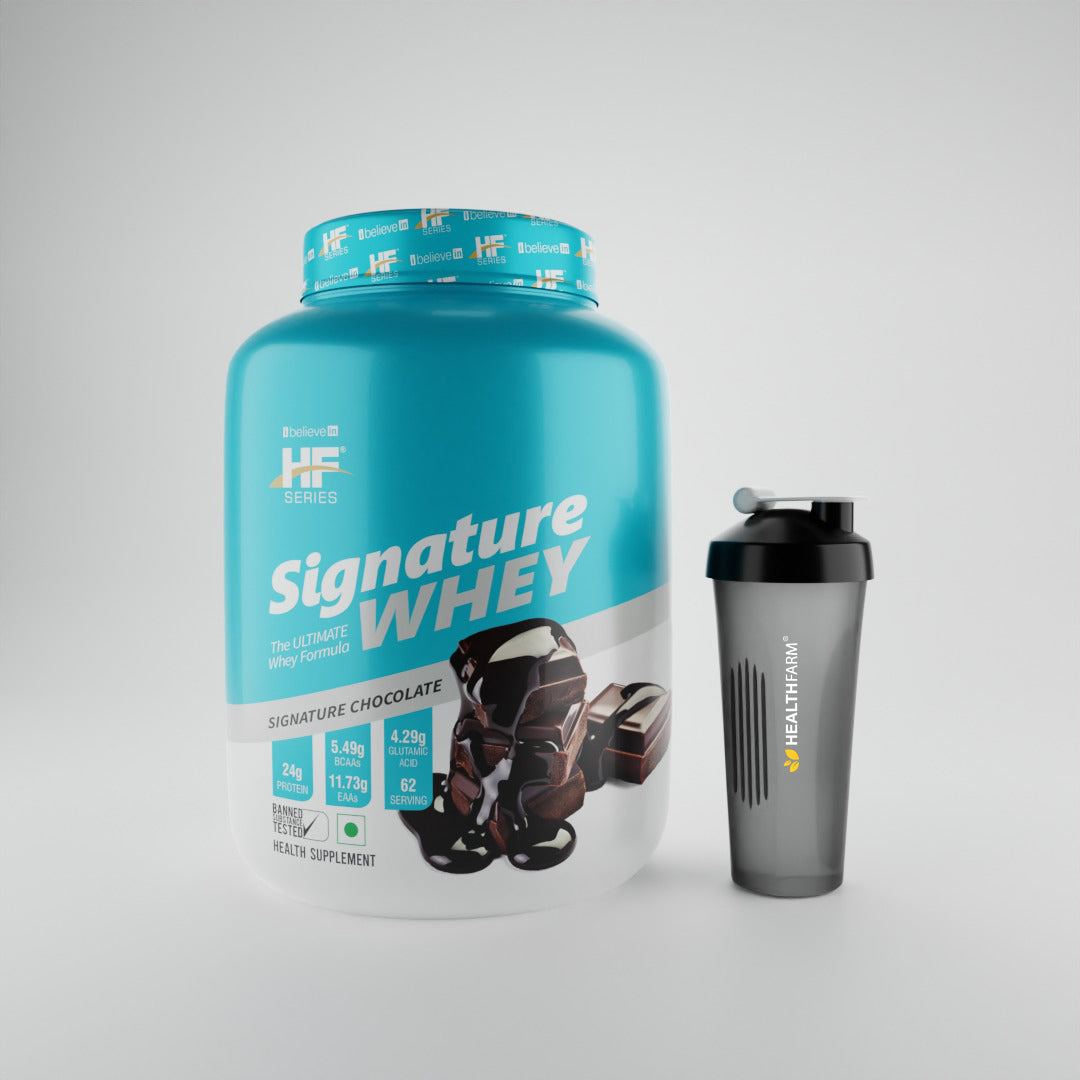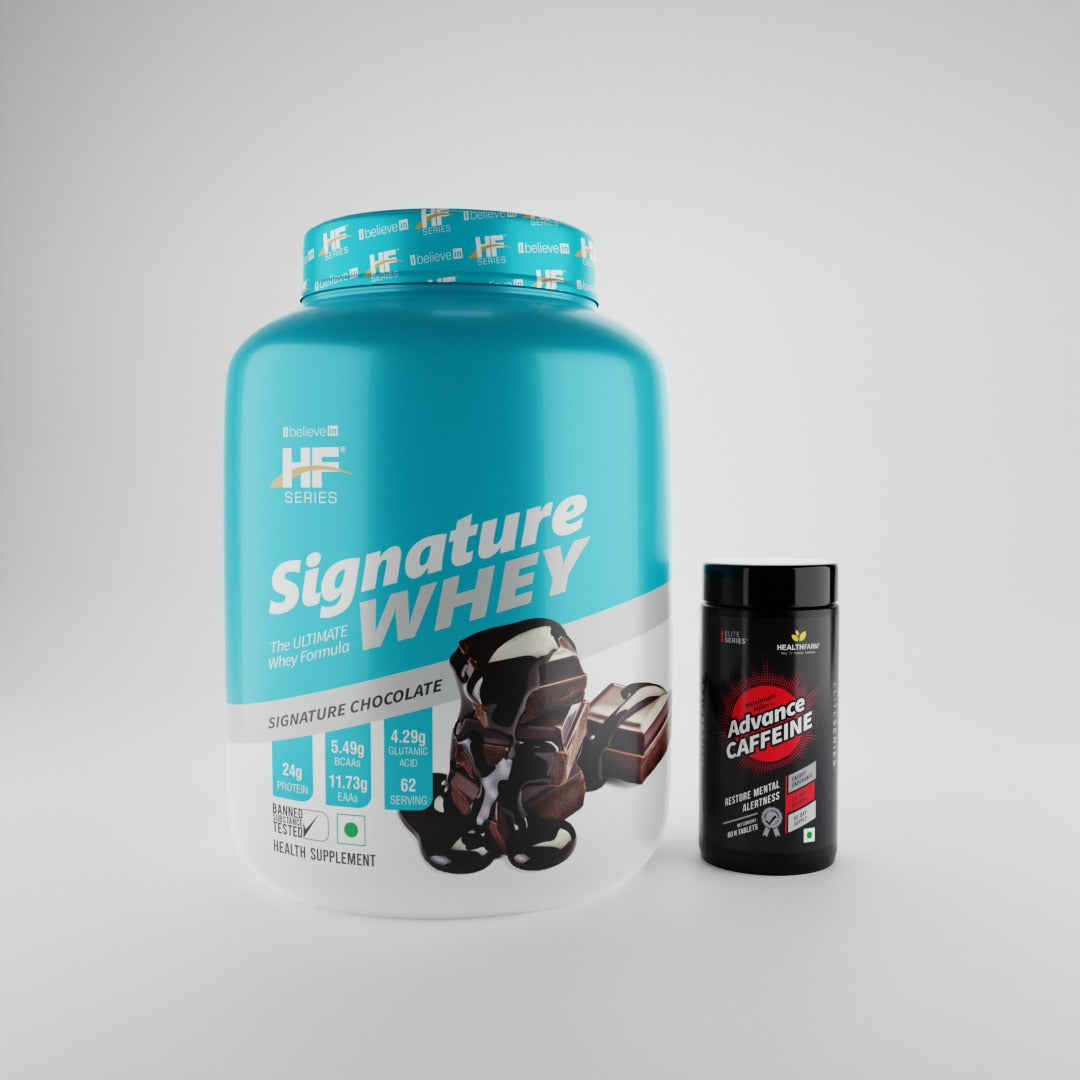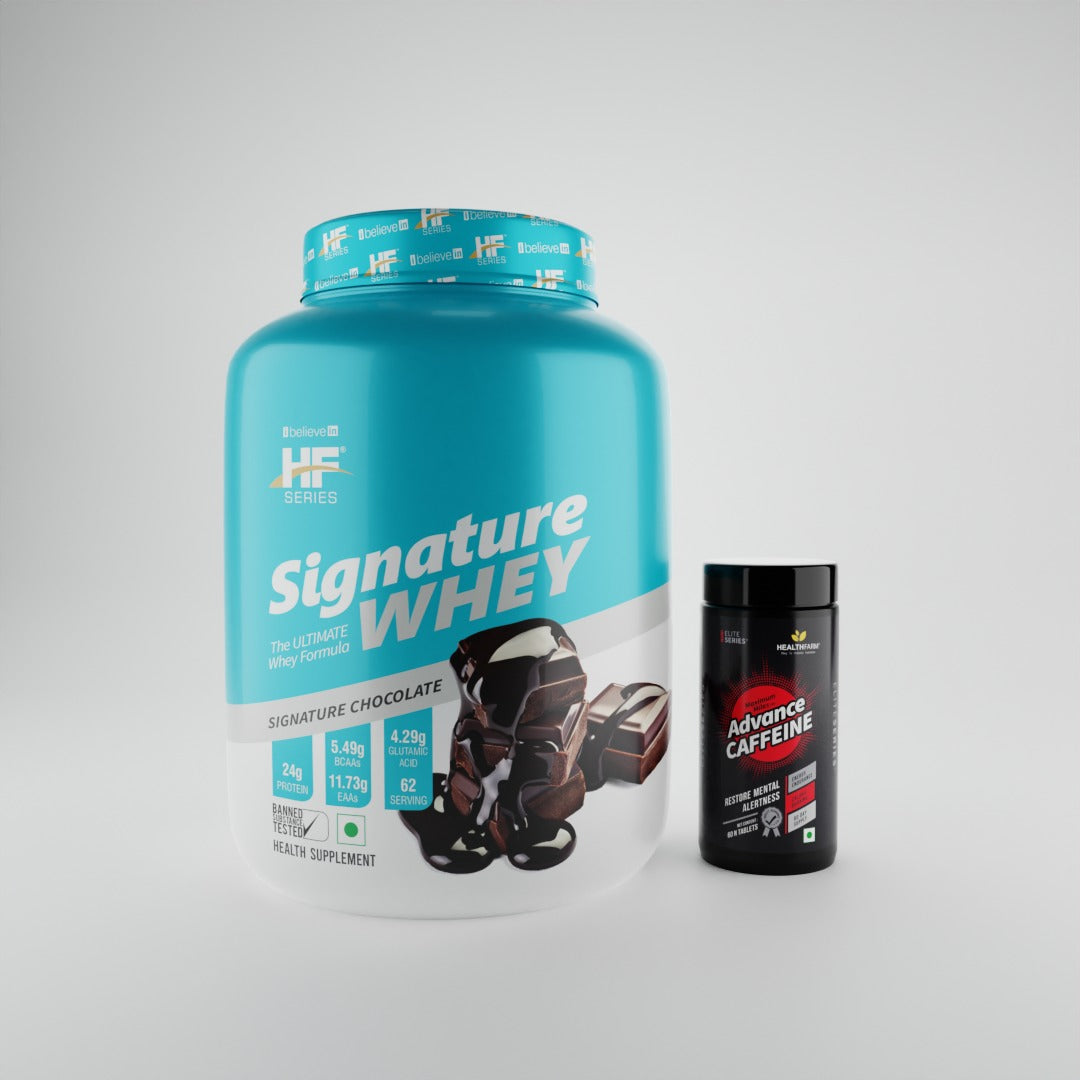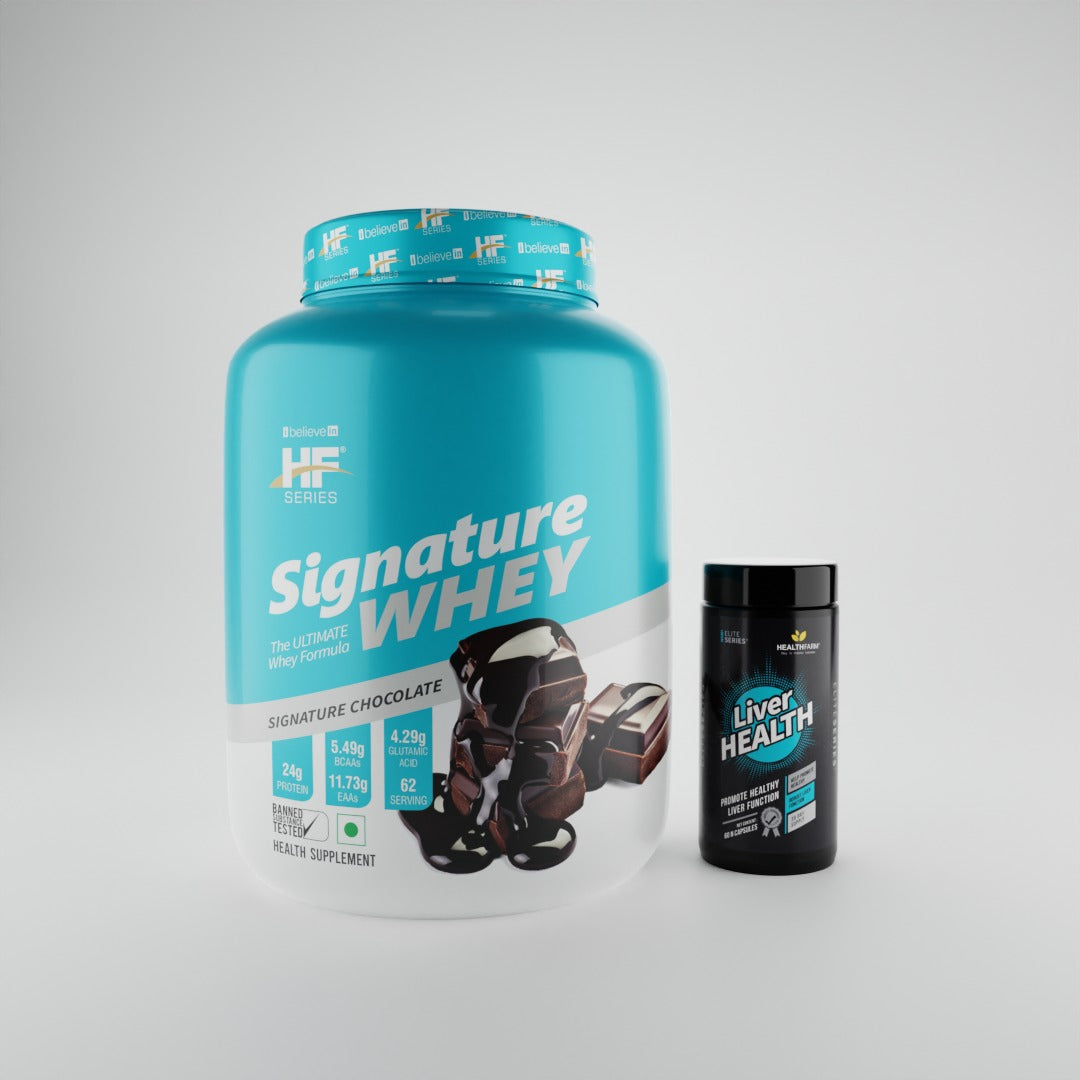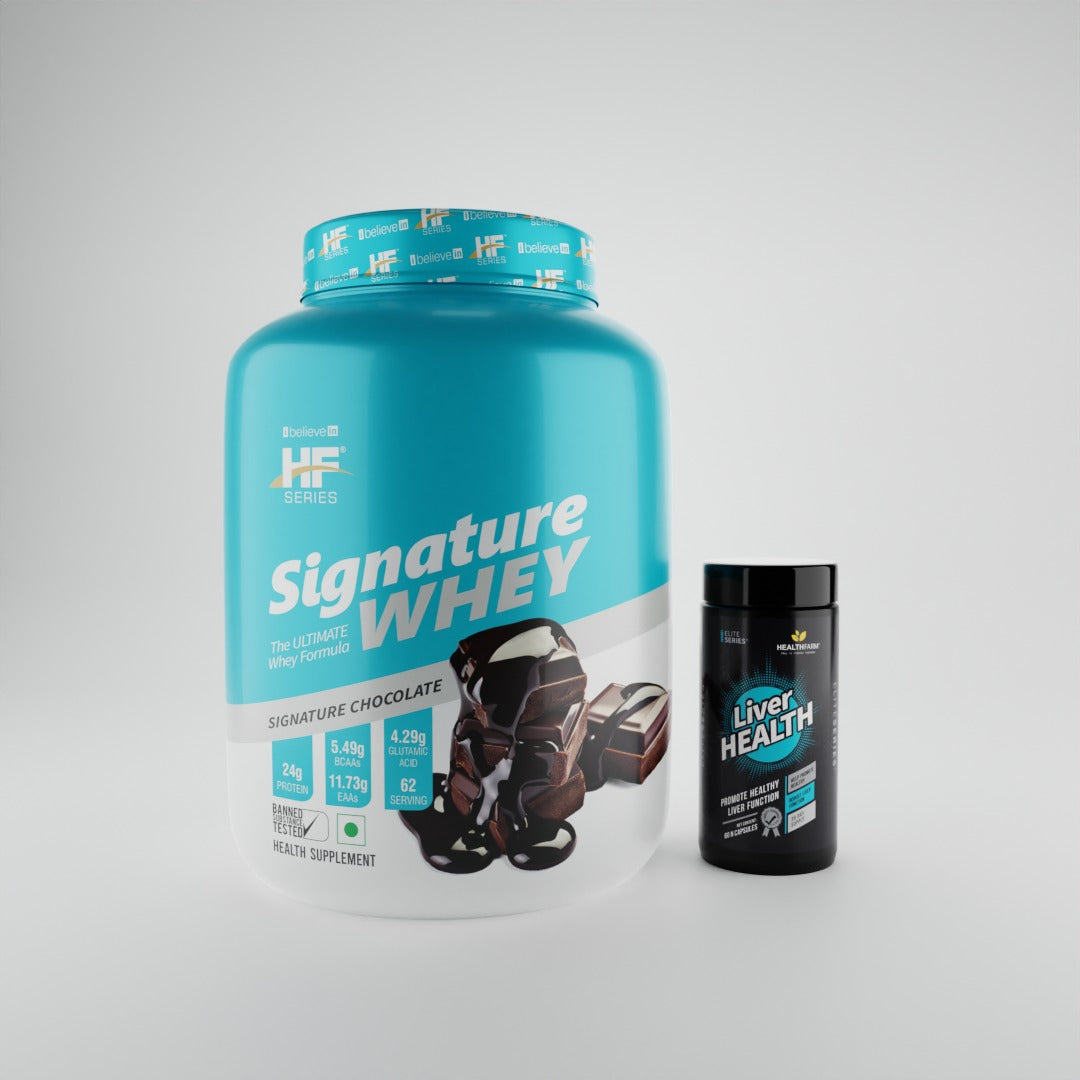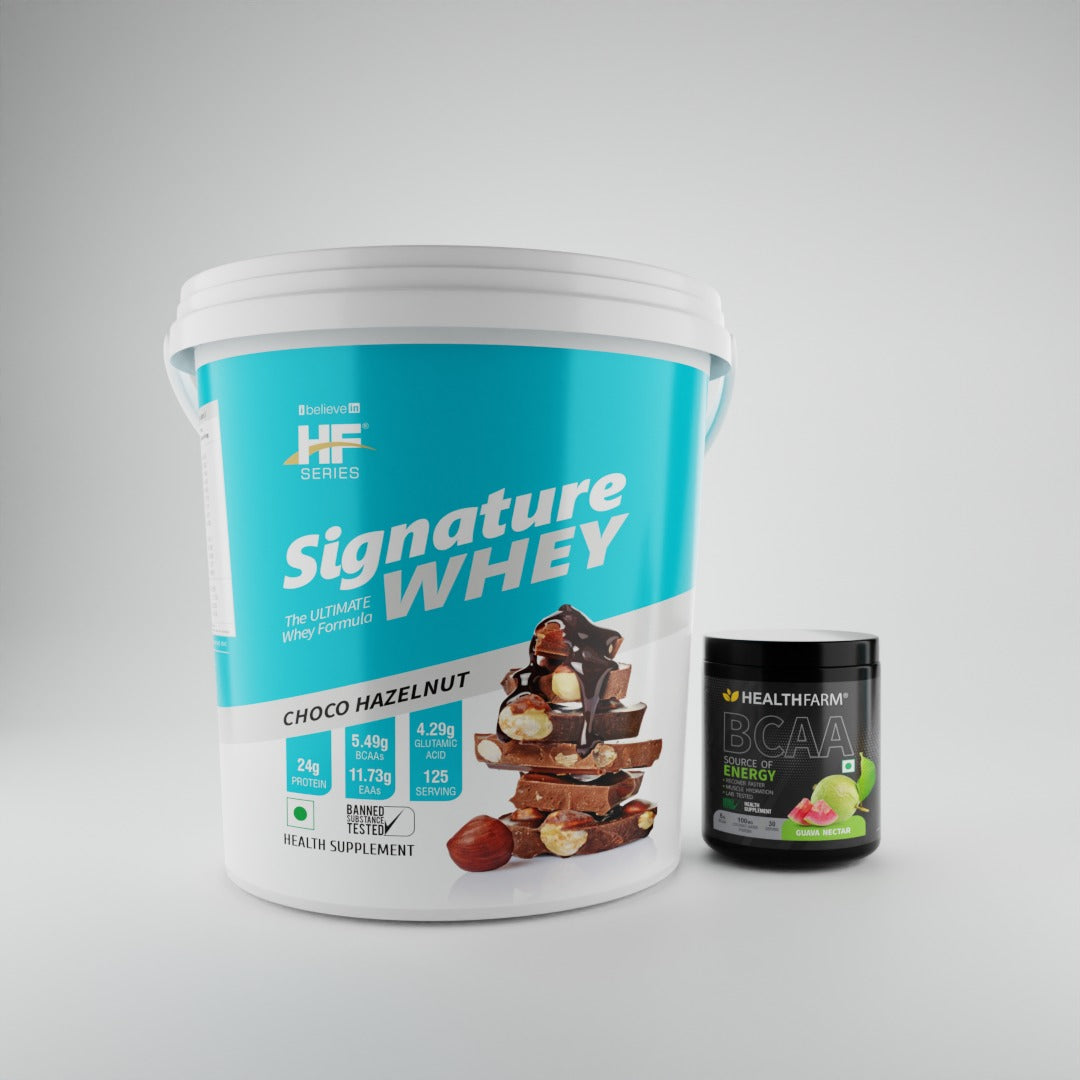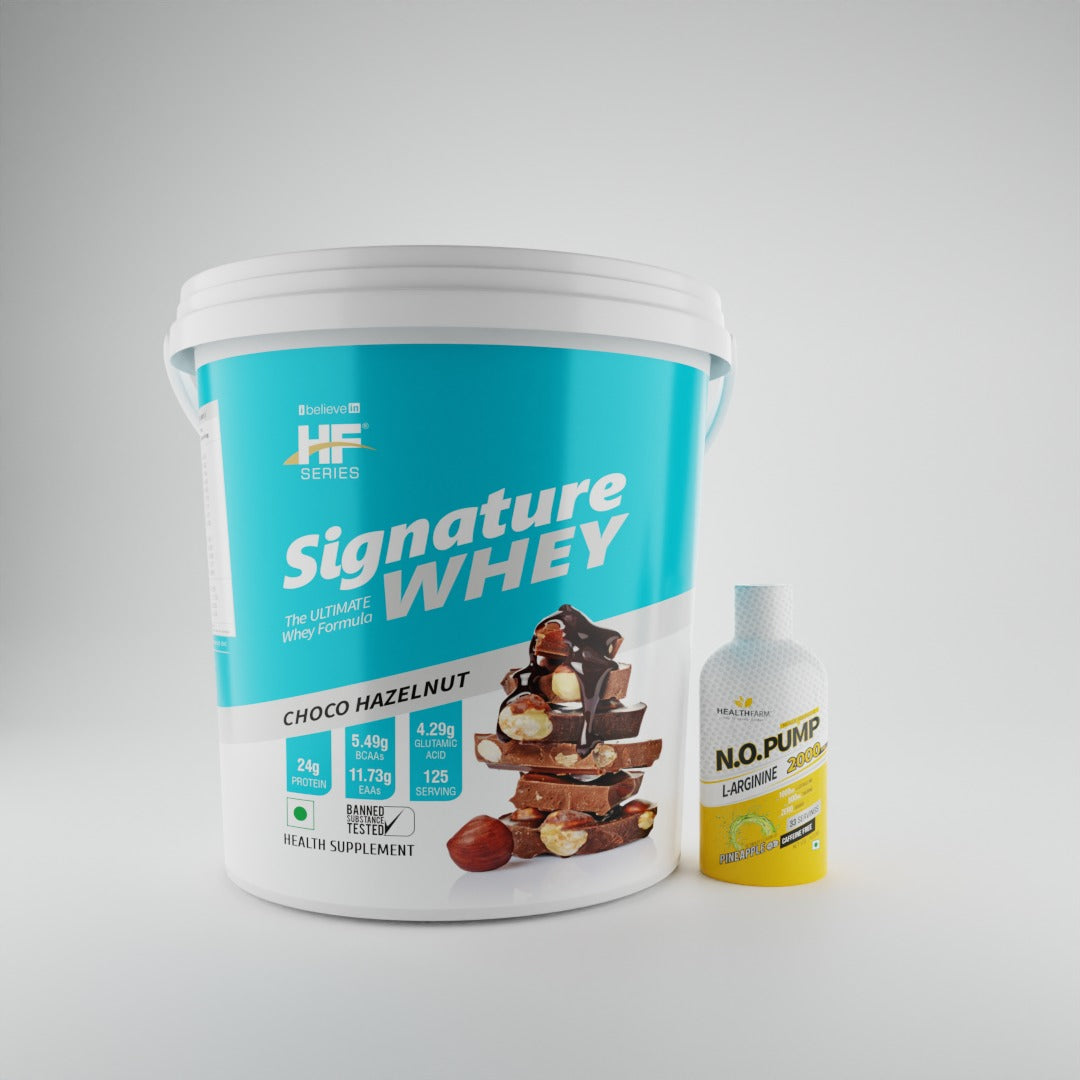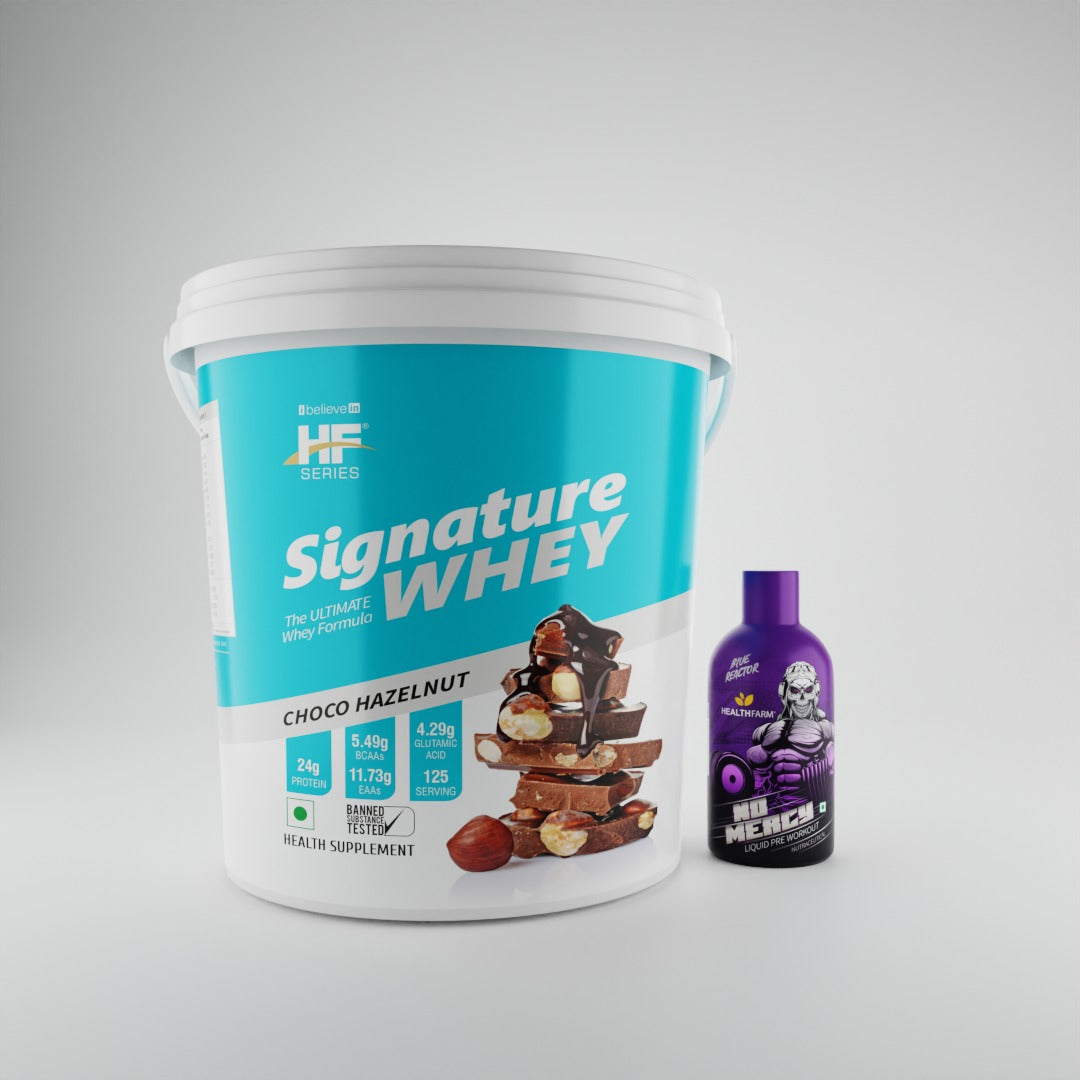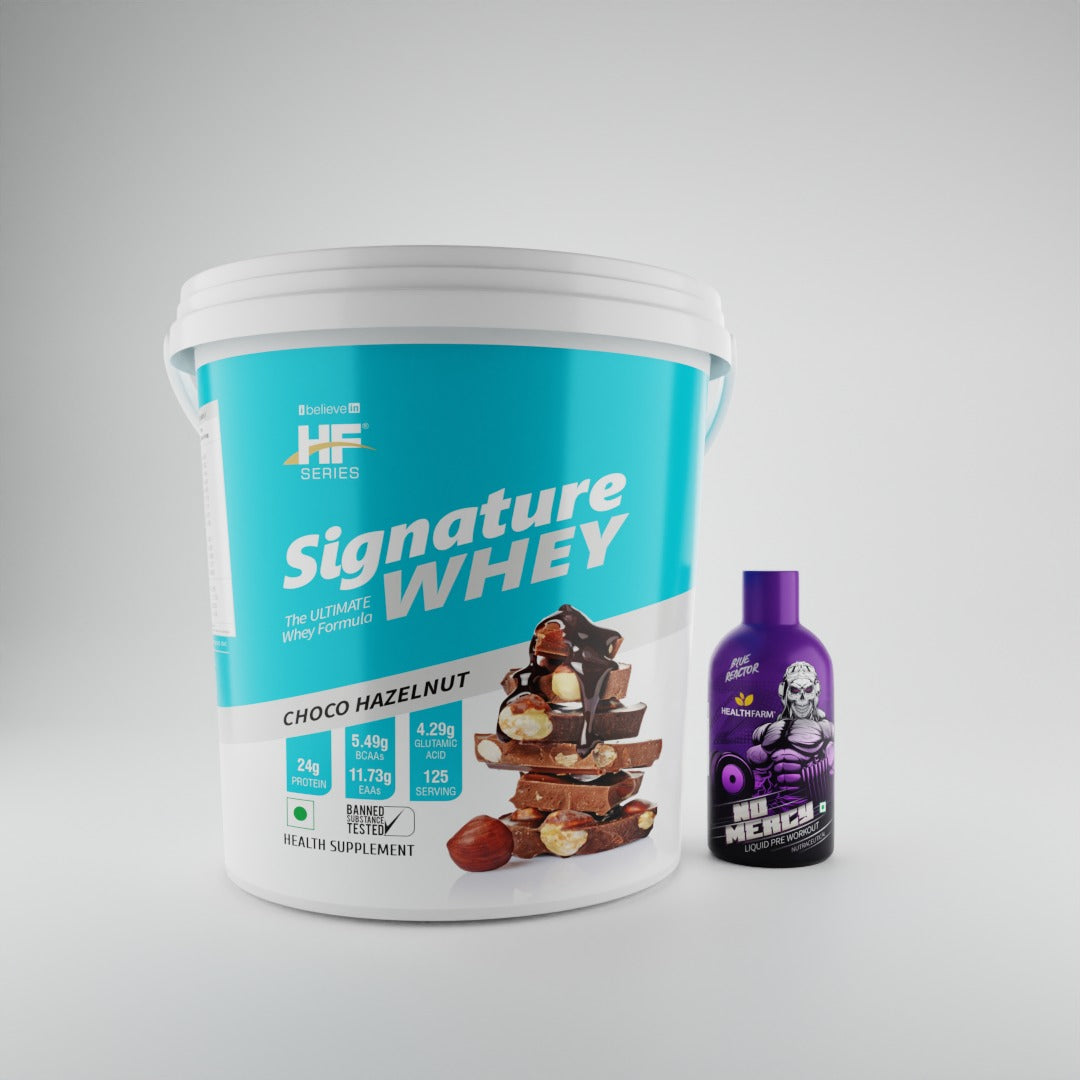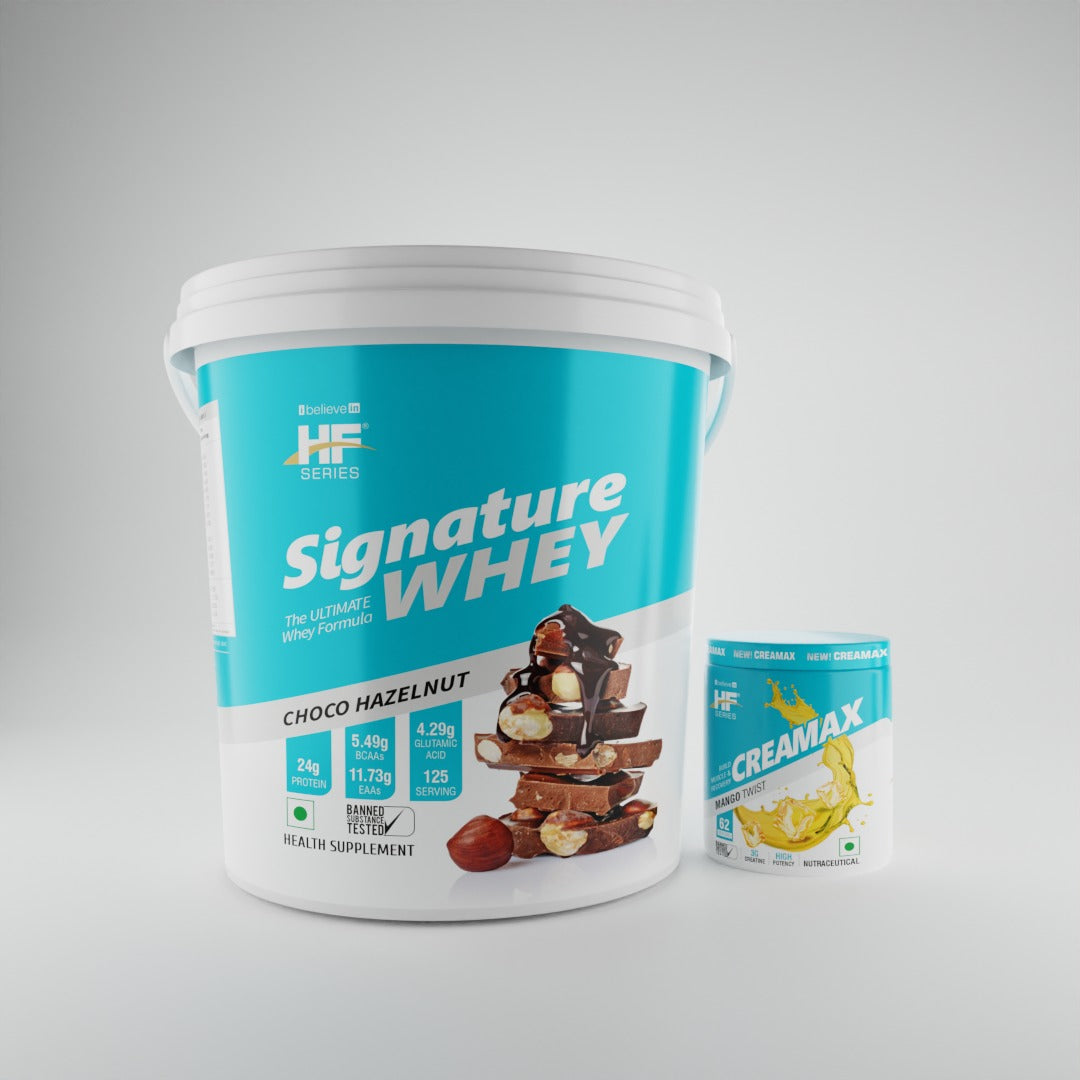 If you are an athlete or sports person then your muscles are craving desperately to have Ultra-Premium Lean Muscle Protein Powder, and only HF Series Signature Whey Protein Powder quest their thirst. Yes, you have read right; SIGNATURE WHEY is a pure protein formula that delivers 24g protein, 5.3g of BCAAs and 4.2g of glutamine, and 28.5g EAAs in one serving scoop ( (32g). Quick absorption, fully digestible, and easy mixability in water or milk, SIGNATURE WHEY a superior feed for your muscle promise instant muscle recovery, build muscle mass, prevent muscle breakdown, and toned body. Pure whey protein isolate serves your body an adequate amount of amino acids every sports active person needs daily to encourage muscle protein synthesis to increase muscle size and strength. Get redemption from daily muscle cramps and fatigue and let you enjoy your workout timings in the gym with more enthusiasm. 100% whey isolate is an entirely vegetarian product supplement that is super easy to make by simply mixing in the water or milk. Present in the 4 different mouthwatering flavors- Signature Chocolate, Choco Hazelnut, Vanilla Cake Batter, Heaven Delight, and Salted Caramel, signature whey is affordable and recommendable to all adults. Loaded with multivitamins, signature whey helps to maintain strong bones, strengthen teeth, boost immunity, reduce inflammation, improve memory, and much more.
Product Details
Key Specifications

ULTRA-PREMIUM LEAN MUSCLE PROTEIN POWDER
Superior high-quality Signature Whey is a pure protein formula with added EAAs, BCAAs & Glutamine assures your body with the amino acids you require daily to increase muscle protein synthesis for the muscular body, perfect biceps, increase size, and strength. Easily digestible promotes rapid recovery and provides better results from your training sessions.
BEST PROTEIN MAKER SUPPLEMENT
The prime role of Glutamic Acid is to produce protein in the body. It converts glutamate when it goes into the body. This chemical lets other cells transport and receive information from nerve cells in the brain. Thus, it supports brain development, increases learning abilities, improves memory, focus, detoxifies the body, and enhances athletic performance.
QUICK DIGESTIBILITY & MIXABILITY
1 serving scoop serves 24g WHEY PROTEIN isolate, 5.3g BCAAs, 11.46g EAA, 4.2 Glutamic Acid ensures fast absorption, boost energy, Better immunity, and reduce stress levels. Easy to dilute in the water, milk, or juice, take it before a workout to fuel your body and build muscle mass or after a workout to get instant recovery and provide relief to muscles.
FAT BURNER SUPPLEMENT
Protein Makes You Burn More Calories every day, puts a stoppage on unhealthy meals, reduces hunger, cuts cravings, and prevents you from late-night snacking. This results in controlling your full body weight and helps you to get the ideal weight. So, This is the best whey protein for weight loss male and females can consume it and give new shape to their body and life.

Benefits

Muscle Recovery and Growth: With 24g of high-quality whey protein per serving, HF Series Signature provides the essential building blocks for muscle recovery and growth. The rich amino acid profile, including 5.49g of BCAAs (branched-chain amino acids) and 11.73g of EAAs (essential amino acids), supports the repair and synthesis of muscle tissue.

Enhanced Strength and Performance: By providing a potent dose of protein, HF Series Signature Whey Protein Powder can help improve strength and enhance athletic performance. The BCAAs present in this formula play a crucial role in reducing muscle fatigue and supporting energy production during intense workouts.

Convenient and Delicious: HF Series Signature Whey Protein Powder is available in a variety of delectable flavors, making it a pleasure to consume. Whether you prefer classic options like chocolate or vanilla, or crave more unique tastes like cookies and cream, there's a flavor to satisfy your palate.

Weight Management Support

Incorporating HF Series Signature Whey Protein Powder into your diet can aid in weight management. High-protein diets are known to promote satiety, helping you feel fuller for longer and reducing cravings. Additionally, the low fat and carbohydrate content of this powder make it a suitable choice for those watching their macros.

HF Series Signature Whey Protein Powder is your ultimate choice for nourishment and enjoyment. It provide a premium protein supplement with an unforgettable flavor experience. The Heaven Delight flavor is a testament to their dedication to both taste and quality. This protein powder provides an exceptional combination of premium ingredients and a taste that will leave you craving for more.


With each serving of Choco Hazelnut-flavored protein powder, you provide your muscles with the building blocks they need to repair and grow stronger. Whey protein is rich in essential amino acids, including leucine, which plays a vital role in muscle protein synthesis, ultimately leading to enhanced muscle recovery and growth.

HF Series Signature Whey Protein Powder in Malai Kulfi flavor not only satisfies your taste buds but also supports your fitness goals. Whether you're an athlete, a fitness enthusiast, or simply looking to maintain a healthy lifestyle, this protein powder can help enhance muscle recovery, promote lean muscle mass development, and support overall well-being.
FAQ's
How to use signature whey protein powder?

The best-recommended way to use signature whey protein powder is to mix 1 serving (32g) of powder in 180ml to 240ml in chilled water. Shake it well to mix it well. Your mouth watering shake will be ready in the next 15-30 seconds.
Can you drink whey protein with water?

Yes. You need to take it with water. You can also take it with juice or with your favorite beverage but HF Series Signature Whey Protein Powder is available in lip-smacking flavors include Signature Chocolate, Choco Hazelnut, Vanilla Cake Batter, Heaven Delight, and Salted Caramel, and by mixing one scoop in 250ml water in a shaker, you will give proper nutrition to your muscles and quest your thirst as well.
Is it good to drink whey protein in the morning?

HF Series Signature best whey protein for beginners, active, intermediate, or advanced level athletes is a fast-digesting protein that is ideal to consume when you wake up in the morning. It supplies amino acids to your muscles and prevents muscle breakdown. Many fitness enthusiasts or trainers suggested taking whey protein powder during morning times to stay active, refreshed, and chirpy all day.