HF Series Nitro Fusion Whey Isolate Protein
Regular price

Rs. 4,319.00

Regular price

Rs. 7,199.00

Sale price

Rs. 4,319.00
Key Ingredients

Milk Solids (Whey Protein Isolate & Whey Protein Concentrate) (79.90%), Creatine Monohydrate(6.6%), Maltodextrin(8.6%), Tribasic Calcium Phosphate, Nuggets, Stabilizing Agent (INS 414, INS 415 & INS 466), Sweetening Agent (INS 955), Anticaking Agent (INS 551), Sodium Chloride and Vitamins^ Allergen advice: Contains Milk
How to Use

Take 200-250ml of chilled water, milk, or juice. Add 1 scoop (45g) of Nitro Fusion whey isolate protein powder into it. Stir in a good way. Drink it.
Benefits

PREVENT MUSCLE BREAKDOWN
QUICK RECOVERY
BOOST PERFORMANCE
EASILY DIGESTIBLE
GAIN POWER STRENGTH
ENCOURAGE PROTEIN SYNTHESIS
How to Consume?

● It is suggested to take Nitro Fusion whey isolate protein after exercise to get instant recovery and building muscle mass.
● You can also consume whey isolate protein during your regular meals.
Share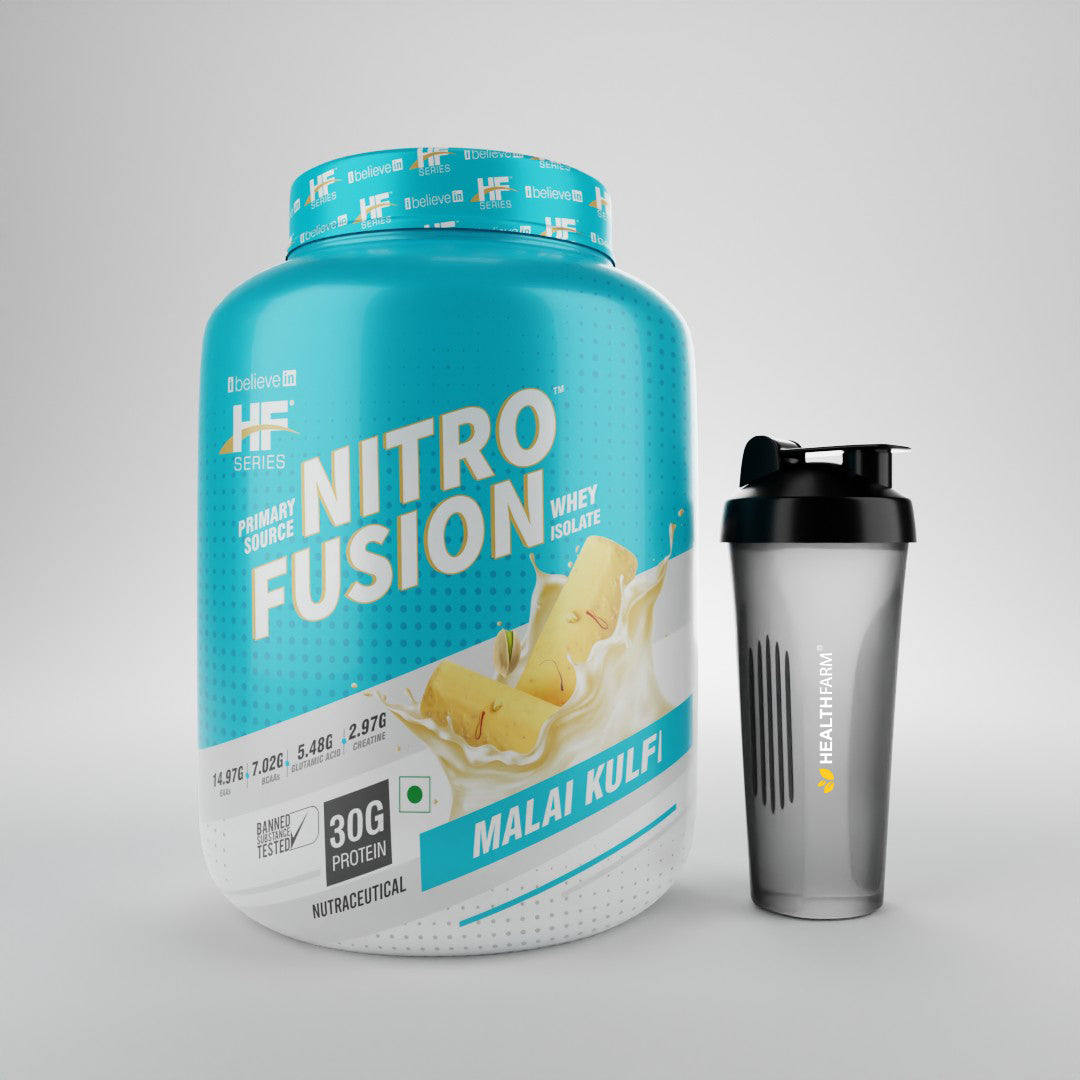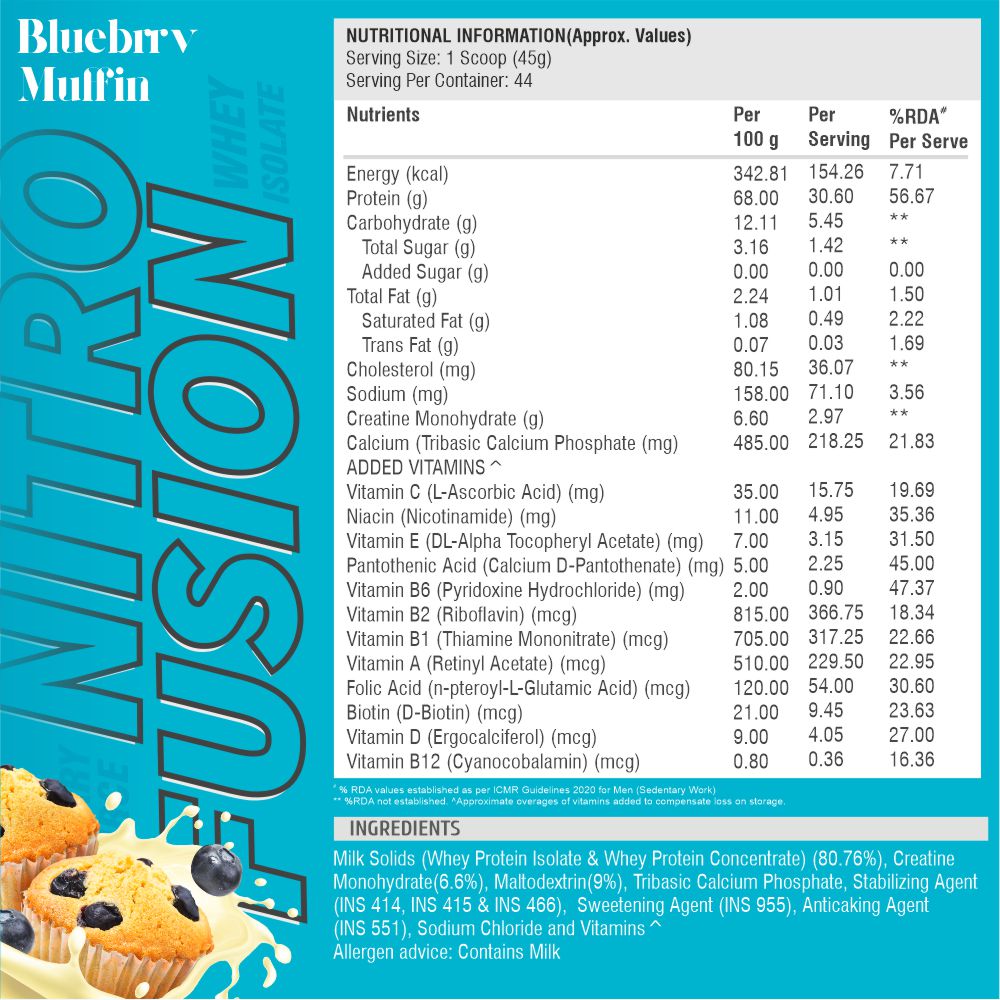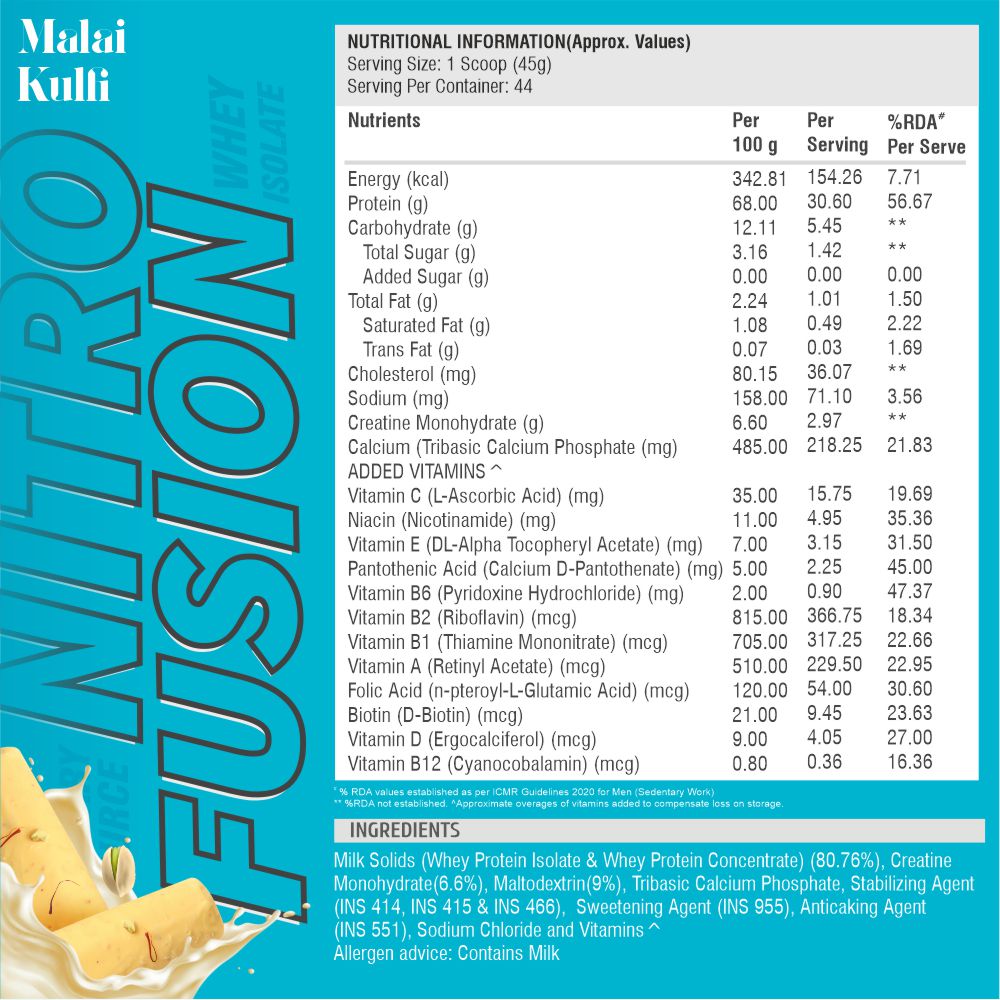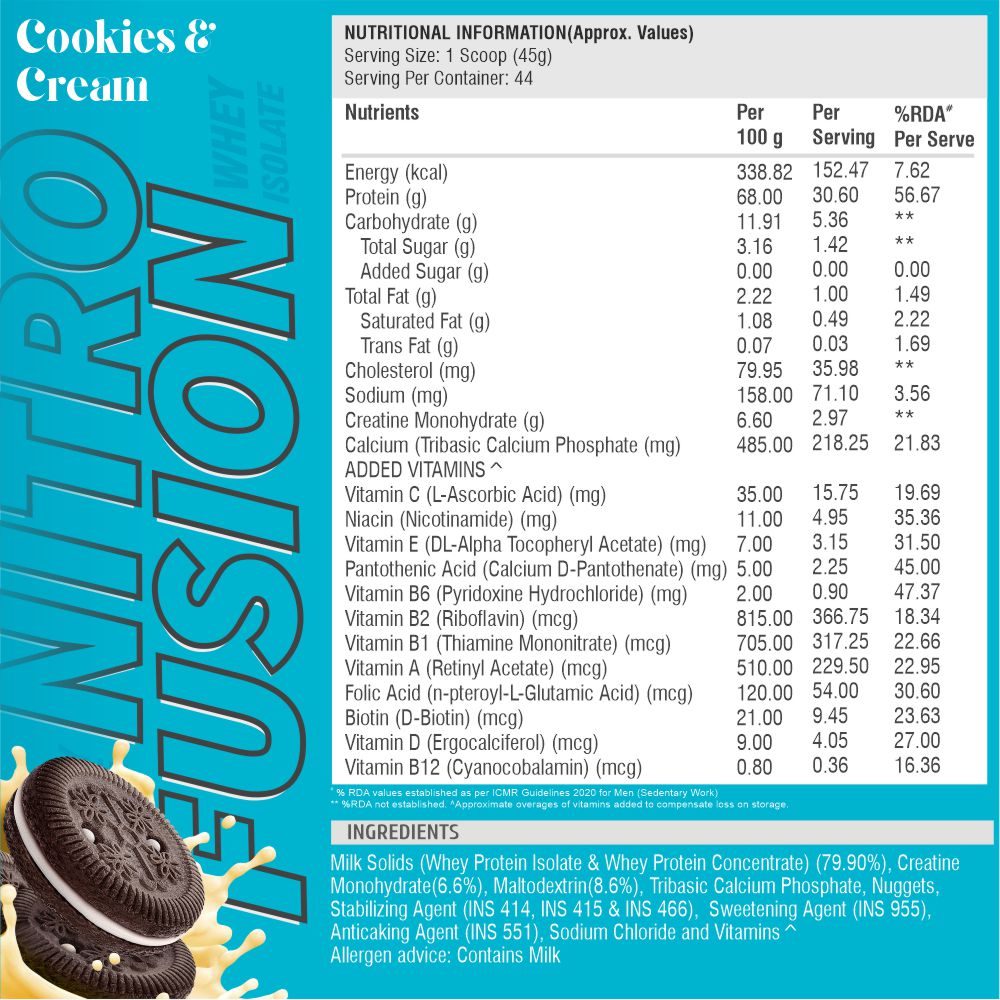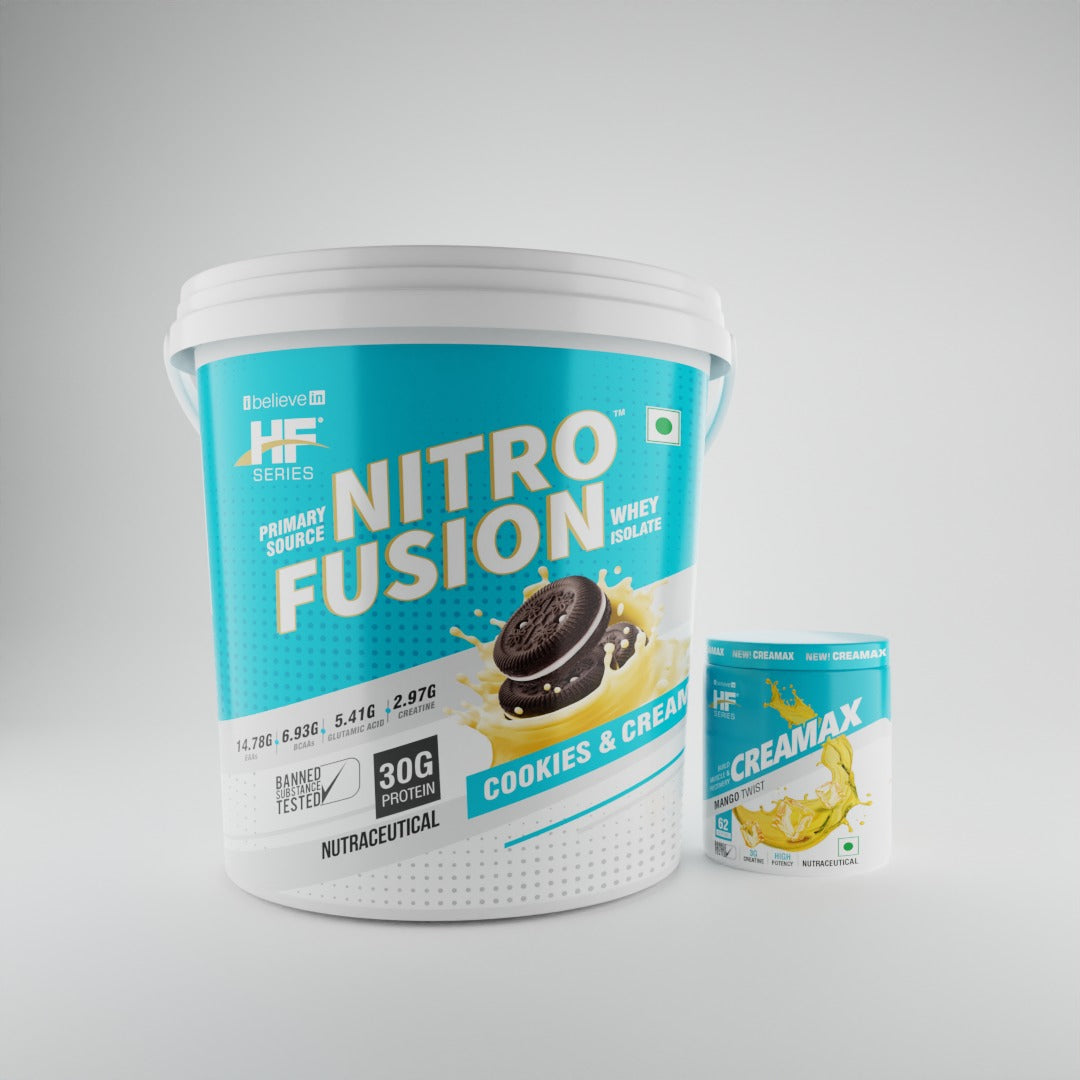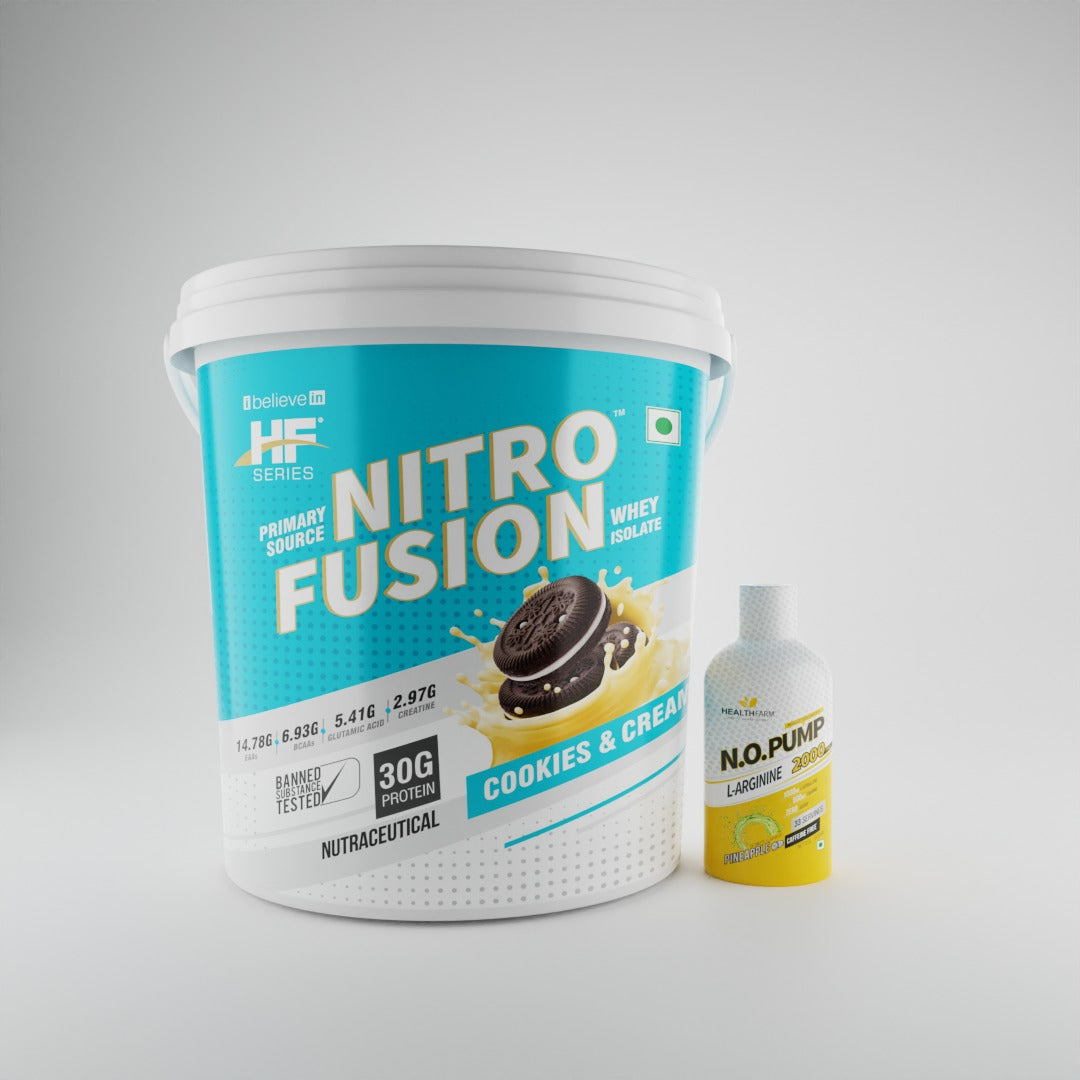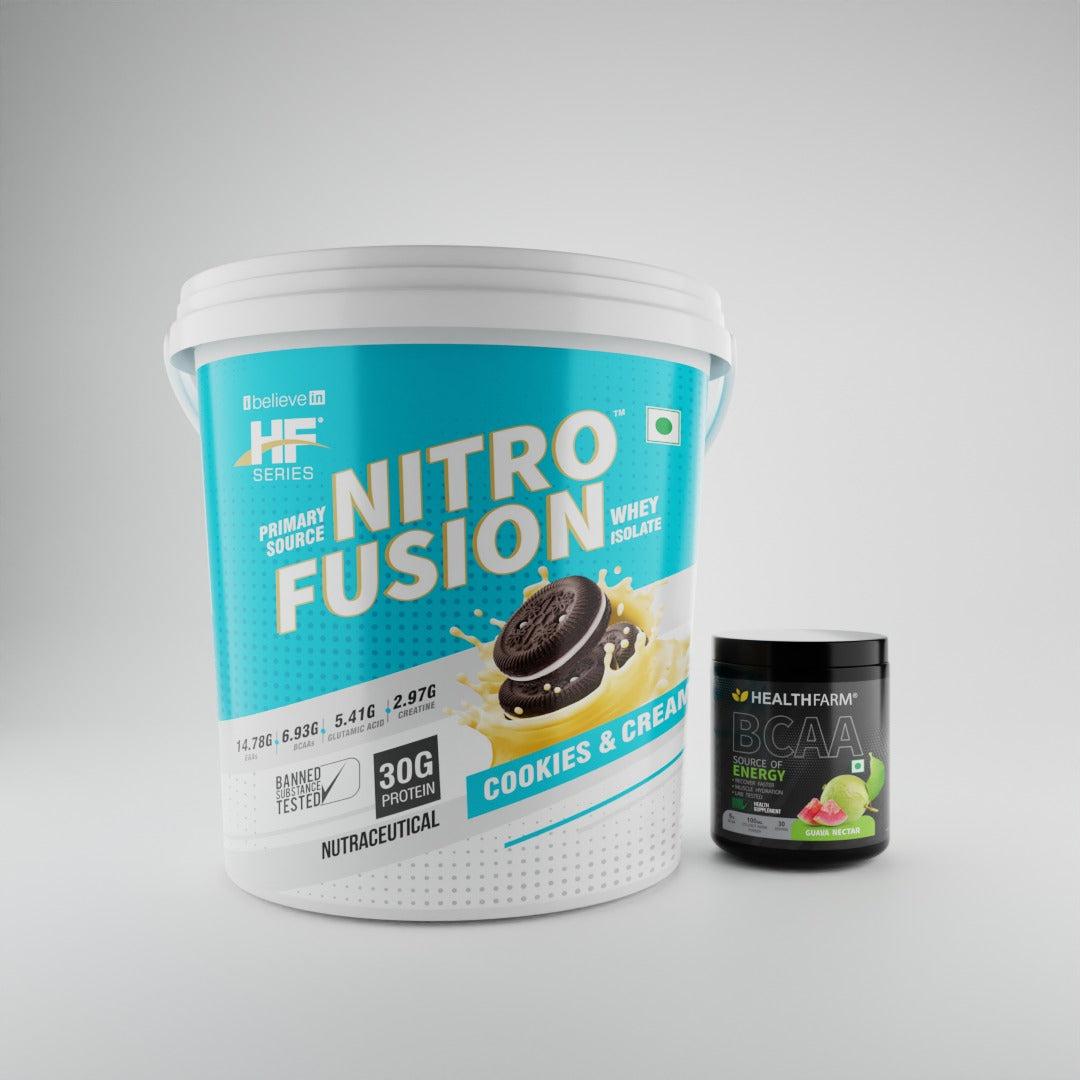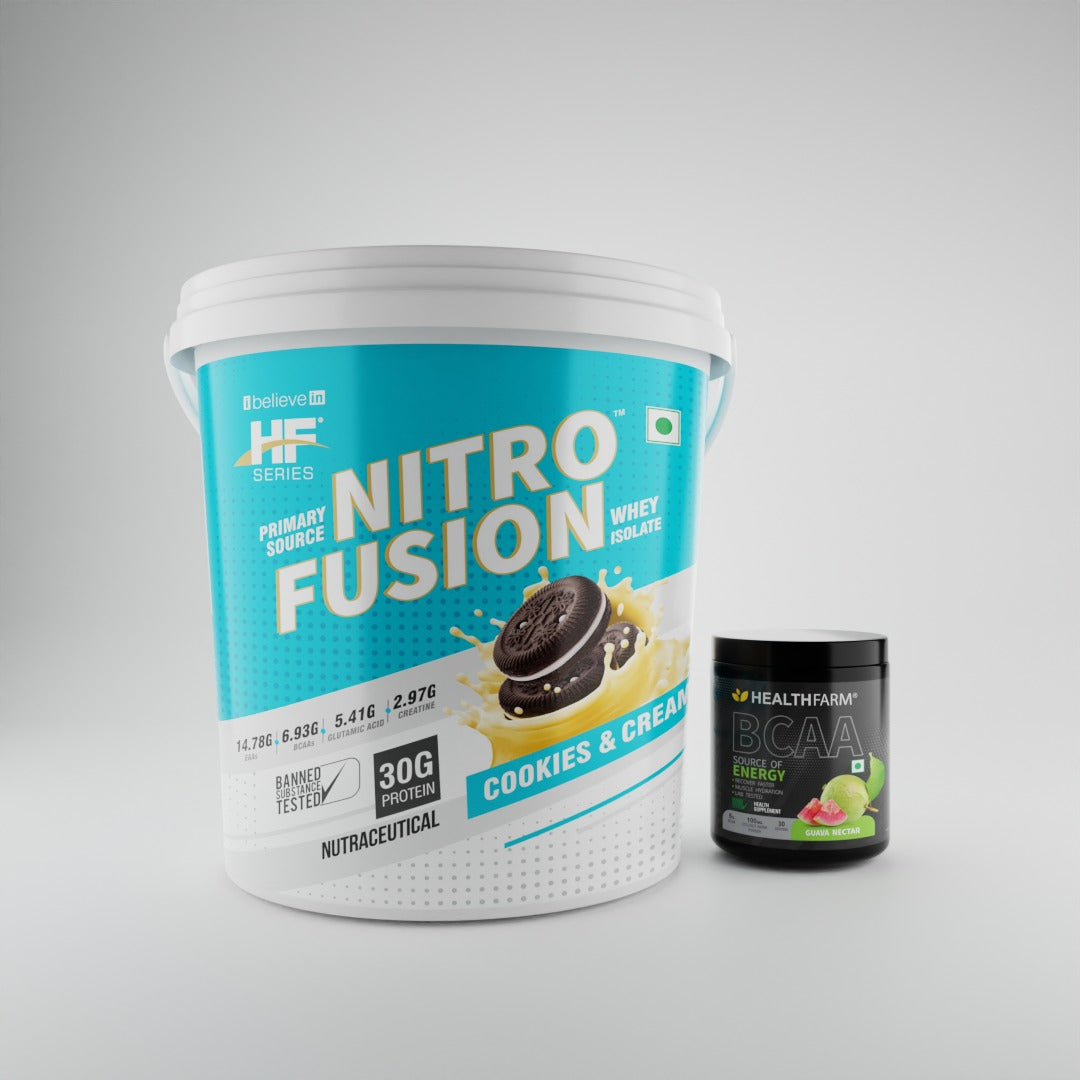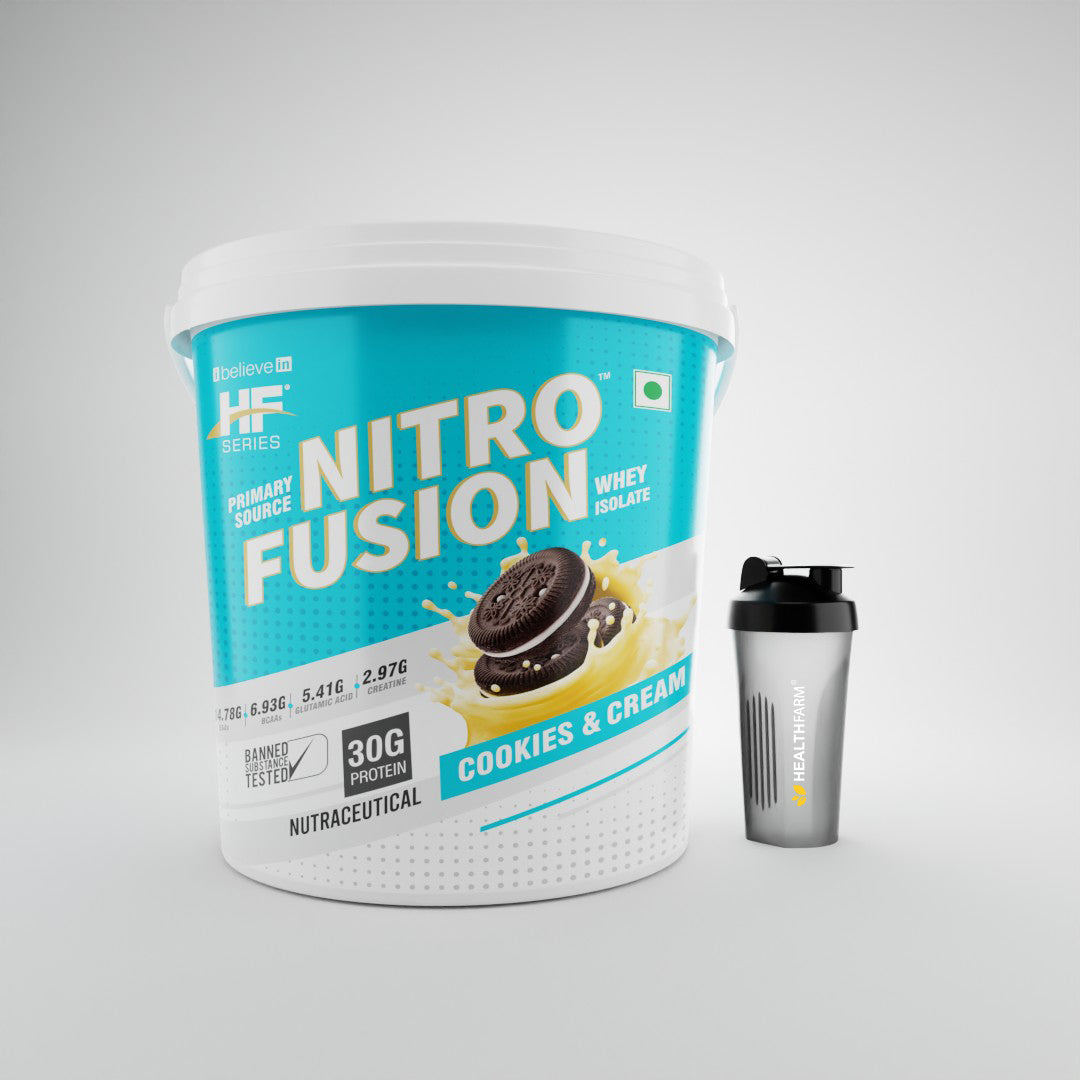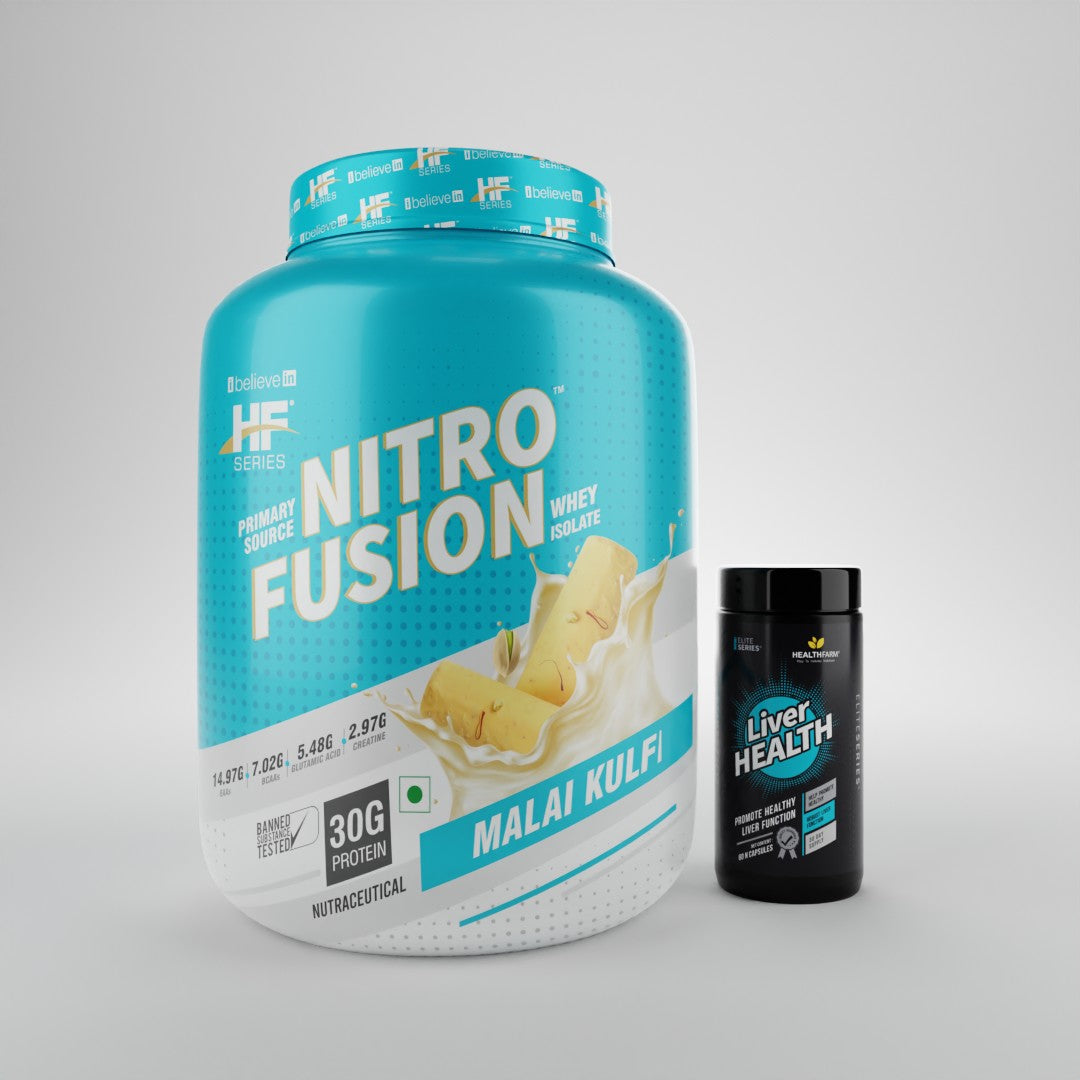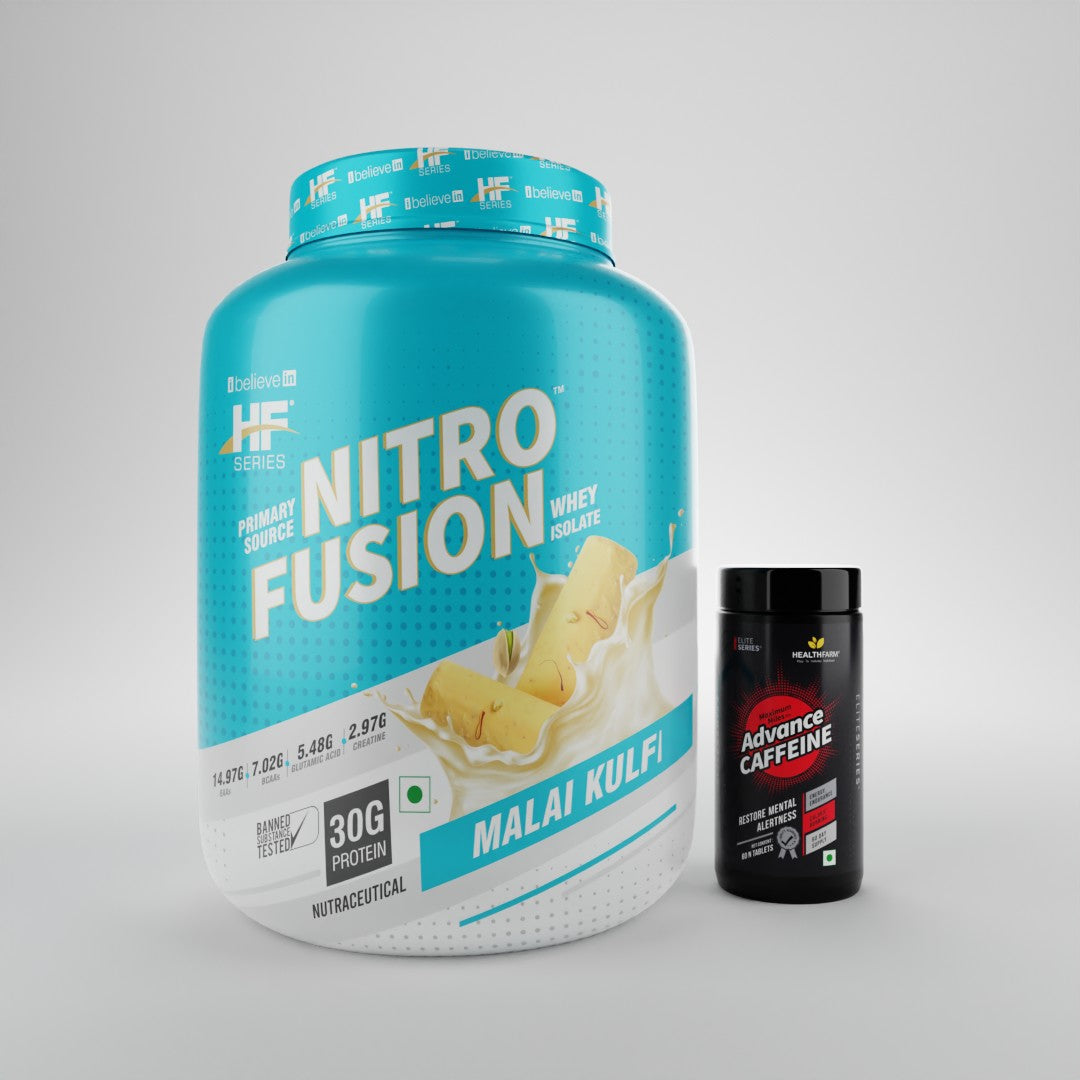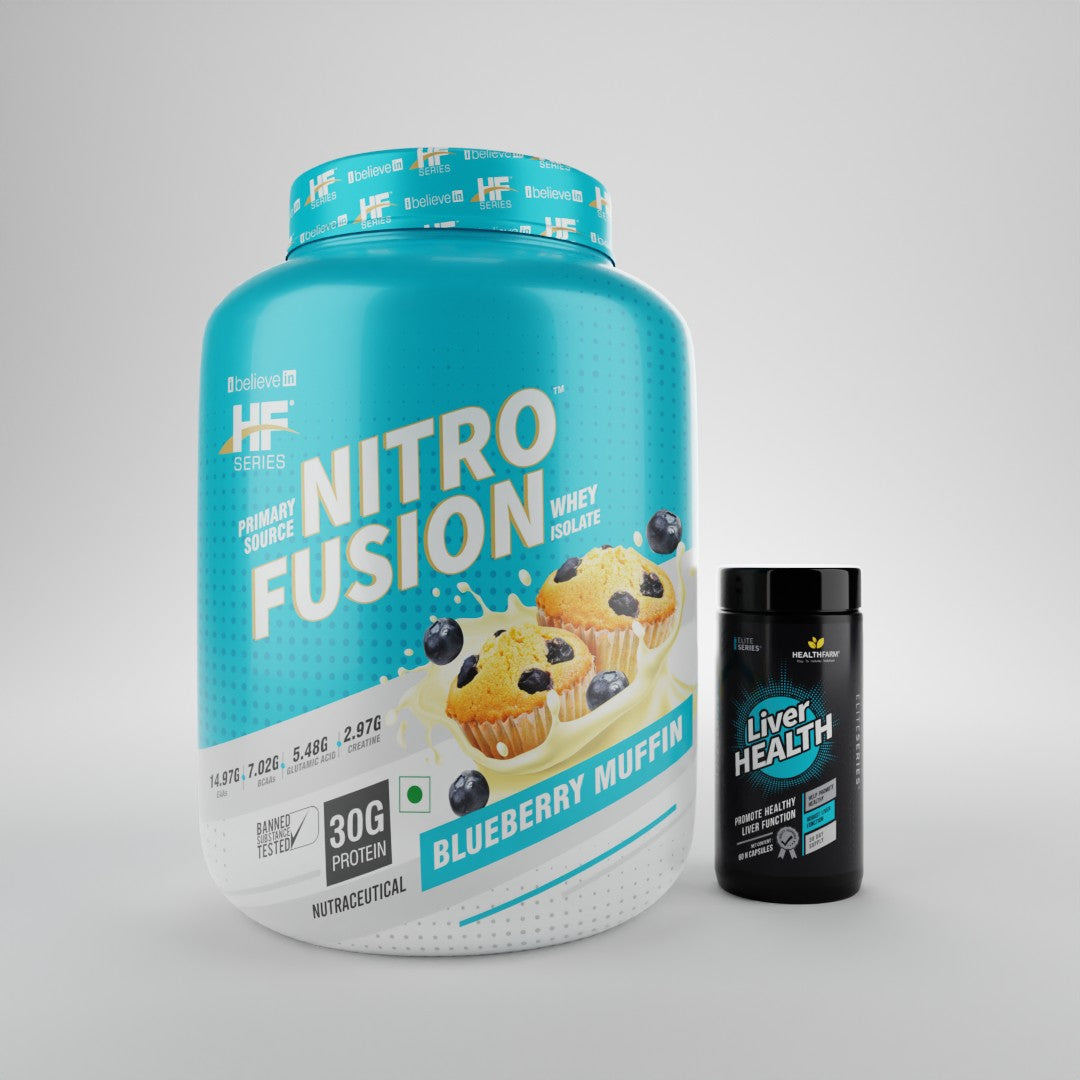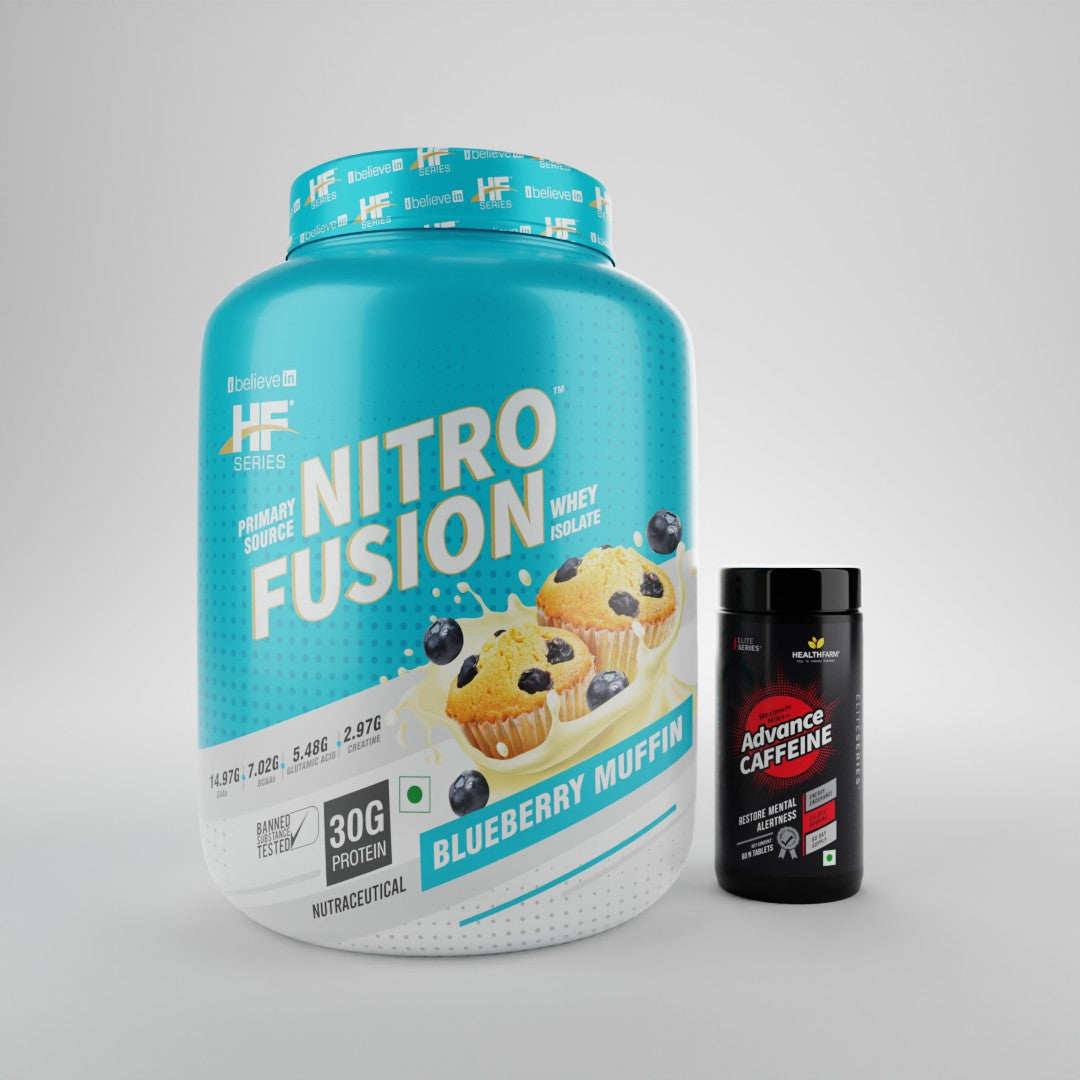 HF Series Nitro Fusion Whey Isolate Protein is a premium, high-quality whey protein powder that is designed to provide optimal results. It is carefully formulated using whey protein isolate, which undergoes a specialized filtration process to remove most of the carbohydrates, fats, and lactose, resulting in a highly purified protein product. This makes it an ideal choice for individuals who want to maximize their protein intake without the extra calories or digestive discomfort.
Product Details
Key Specifications

SPEEDY RECOVERY, BETTER PERFORMANCE
1 serving scoop of 45g delivers 30.60 proteins, 3g creatine, 3.1g leucine, 5.2 glutamine, 6.6g BCAAs, 14.4g EAAs with added multivitamins is great to strengthen your muscles. A pure vegetarian supplement formulated with CREATINE assists in enhancing muscle development, speedy muscle growth, quick muscle recovery, and encouraging muscle cells to produce more energy. More energy means better athletic performance. BCAAs prevent muscle breakdown and also reduce the risk of liver disease.

MUSCLE REGENERATION SUPPLEMENT
With extra added 3.1g Leucine, Nitro Fusion Whey Isolate Protein is a powerful nutritional supplement to regenerate muscles. More Leucine means more muscle formation. Achieve higher physical performance, assist in fat reduction, helps to stabilize blood sugar, this muscle synthesis diet is a great protein nutritive meal for every athlete.

CREATINE EMPHASIS HIGHLY RICHED PROTEIN DIET
Packed with 30g protein delivered from Whey Isolate Protein consists of a major portion of pure proteins efficiently to cater essential amino acids in your body. Protein with added EAAs (Essential Amino Acid) is super fast to do muscle recovery and efficient to eliminate muscle soreness after a workout. This essential fast-acting protein supplement is essential for every athlete or fitness enthusiast.

CHOCOLATY & CREAMY
Calm your cravings with delicious rich Chocolaty and Creamy, Nitro Fusion Whey Isolates Protein powder comes in two lip-smacking flavors-Cookies & Cream and Chocolate Infinity. Put a 1 scoop of Whey Isolate Protein in the water, mix well, drink, and enjoy.

Benefits

Muscle Recovery and Growth: With its high protein content and essential amino acids, HF Series Nitro Fusion Whey Isolate Protein provides the building blocks your muscles need for efficient recovery and growth after intense workouts. It supports the repair of muscle tissue and helps prevent muscle breakdown.

Convenience and Versatility: HF Series Nitro Fusion is incredibly convenient to incorporate into your fitness routine. It mixes easily with water or your choice of liquid, making it a quick and easy post-workout shake. Additionally, it can be used in various recipes, such as smoothies or protein pancakes, to add a boost of protein to your meals.

Fast Absorption: Whey protein isolate is known for its rapid absorption rate, which means that HF Series Nitro Fusion delivers essential amino acids to your muscles quickly. This makes it an ideal option for post-workout recovery when your muscles are primed to take in nutrients.

Low in Carbohydrates and Fats: For those following a low-carb or low-fat diet, HF Series Nitro Fusion is an excellent choice. It provides a concentrated dose of protein without the excess carbs or fats found in other protein supplements.


High Protein Content

Each serving of HF Series Nitro Fusion Whey Isolate Protein is packed with a substantial amount of protein, helping you meet your daily protein requirements more easily. Protein is essential for muscle repair, satiety, and overall health.

Unlock your fitness potential with HF Series Nitro Fusion Whey Isolate Protein. Packed with 14.4g of Essential Amino Acids (EAA), including 6.6g of Branched-Chain Amino Acids (BCAA) and 5.2g of Glutamine, this exceptional protein supplement fuels muscle growth, enhances recovery, and optimizes performance. Maximize your gains and take your fitness journey to new heights with HF Series Nitro Fusion Whey Isolate Protein.






Experience speedy recovery from muscle soreness and fatigue with HF Series Nitro Fusion Whey Isolate Protein. This premium protein supplement is specially formulated to support your body's post-workout repair process, helping you bounce back faster and stronger. With its advanced blend of high-quality ingredients, HF Series Nitro Fusion Whey Isolate Protein is your secret weapon for a quicker recovery and optimal performance.






The ultimate protein supplement that delivers lightning-fast results - HF Series Nitro Fusion Whey Isolate Protein. With its fast-acting formula, this high-quality protein supplement is designed to be rapidly absorbed by your body, providing the essential nutrients your muscles crave. Take your performance to the next level and experience the difference of fast-acting protein today.
FAQ's
What is Whey Isolate Protein powder?

Whey protein is extracted from milk. Whey Isolate Protein is the highest quality protein powder used by fitness enthusiasts as a workout supplement to get instant recovery, building muscle mass, gaining strength, boosting energy, and reducing fat.
Is whey protein isolate good for weight loss?

Yes, Whey protein isolates assist to encourage your protein intake. It cuts all unhealthy cravings and makes you feel full for a long time. When you consume -whey isolate protein every day and invest time in the workout or gym, it helps to reduce your weight rapidly.
When should I drink Nitro Fusion Whey Isolate Protein?

It is good to take Nitro Fusion Whey Isolate Protein after a hectic workout or exercise to gain muscle mass, instant muscle recovery and eliminate muscle soreness. You can also consume creamy chocolaty drinks during meals or before bed for serving strength to muscles.