HF Series Diet Whey, High Protein
Regular price

Rs. 4,549.00

Regular price

Rs. 6,499.00

Sale price

Rs. 4,549.00
Key Ingredients

30.57g whey, CLA, Carnitine, minerals, vitamins, and biotin
How to Use

SHAKE Add 1 scoop of Diet Whey per 300ml of water to a shaker cup, secure the top and shake vigorously for 30 seconds.
BLEND Add 1 scoop of Diet Whey per 300ml of water to a blender and mix. For a frosty shake, add a handful of ice cubes.
Benefits

Provide Healthy Body, Sharp Mind and Attractive Skin
Best Slimming Shake in India
How to Consume?

POST-TRAINING
After a workout, HF SERIES® OF DIET WHEY immediately starts repairing and building muscles.

BETWEEN MEALS
Drink 1 serving of HF SERIES® DIET WHEY between meals to maintain a positive nitrogen balance to put on lean body.

BEFORE BED
Drink 1 serving of HF SERIES® DIET WHEY before bed to feed your muscles throughout the night.
Share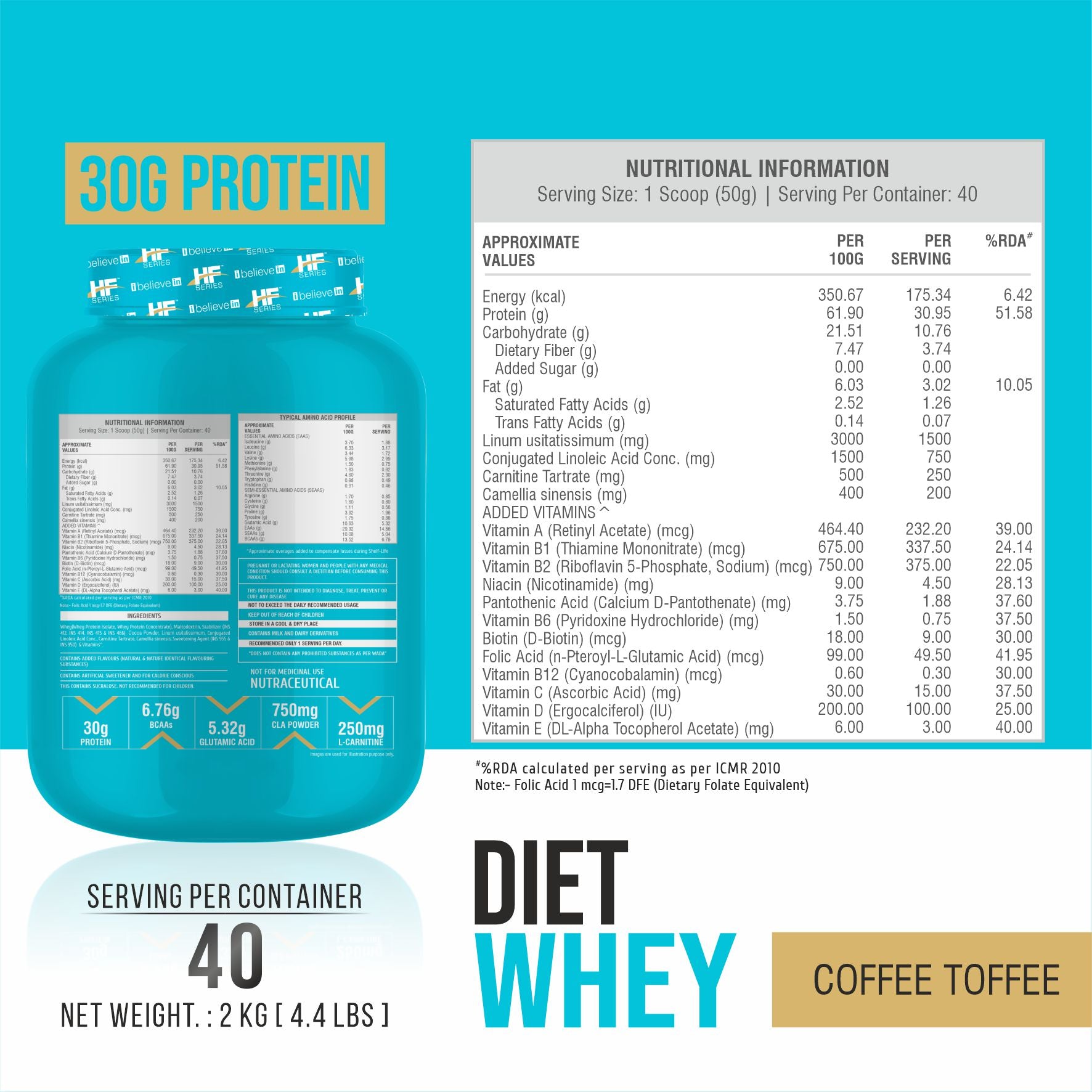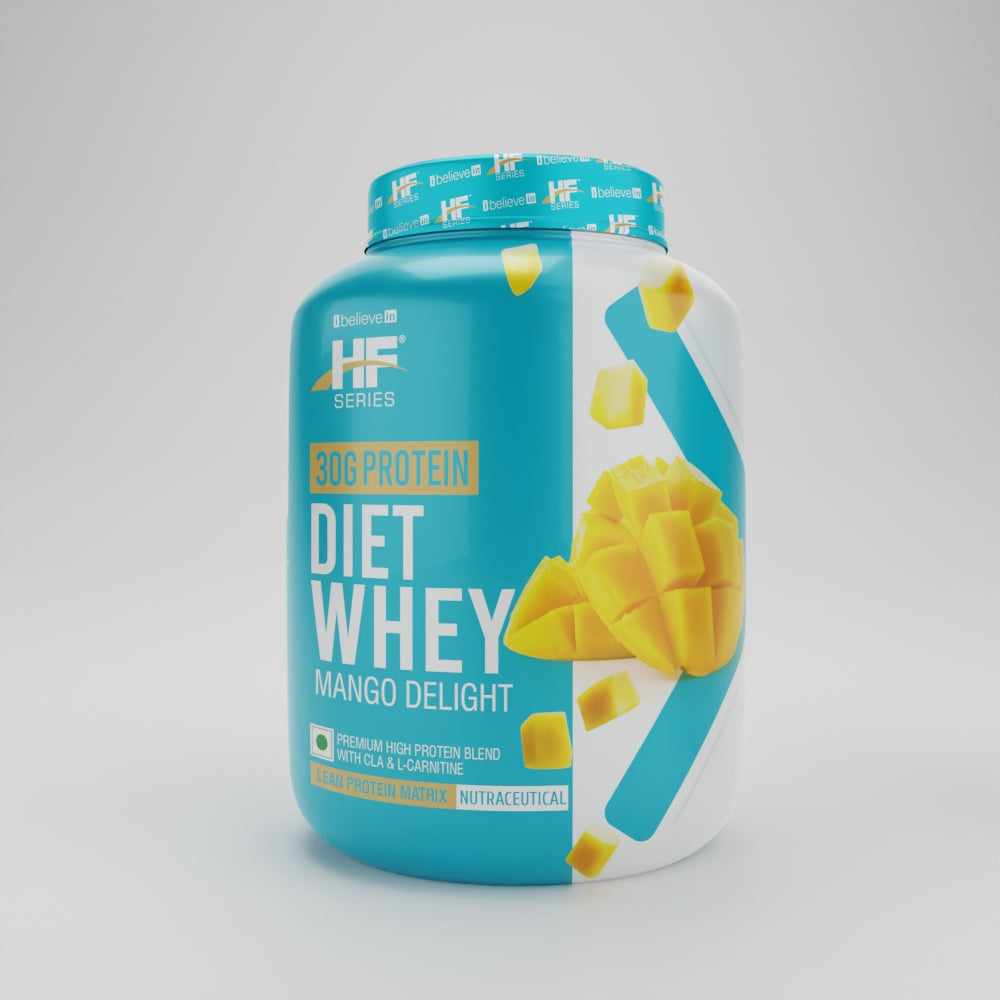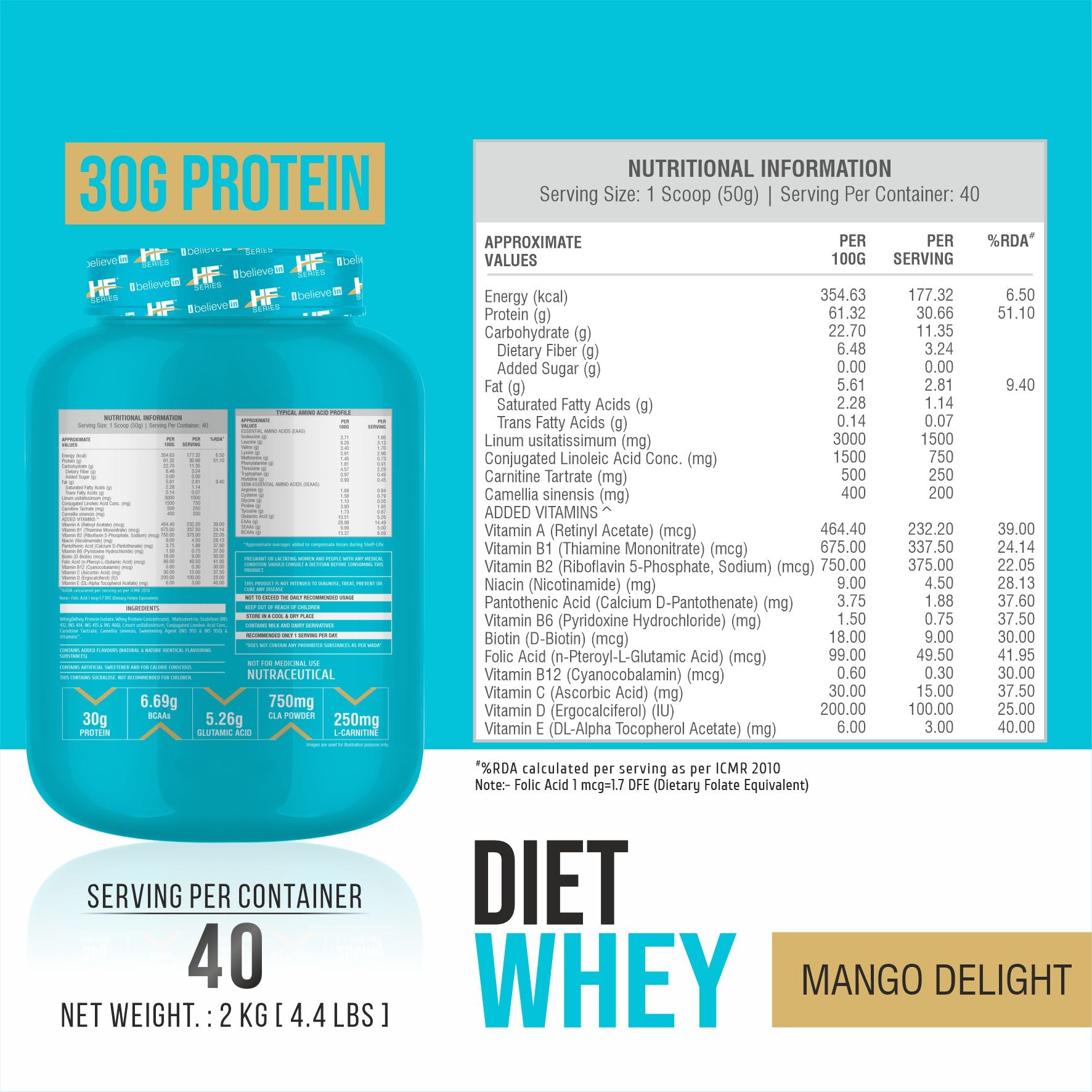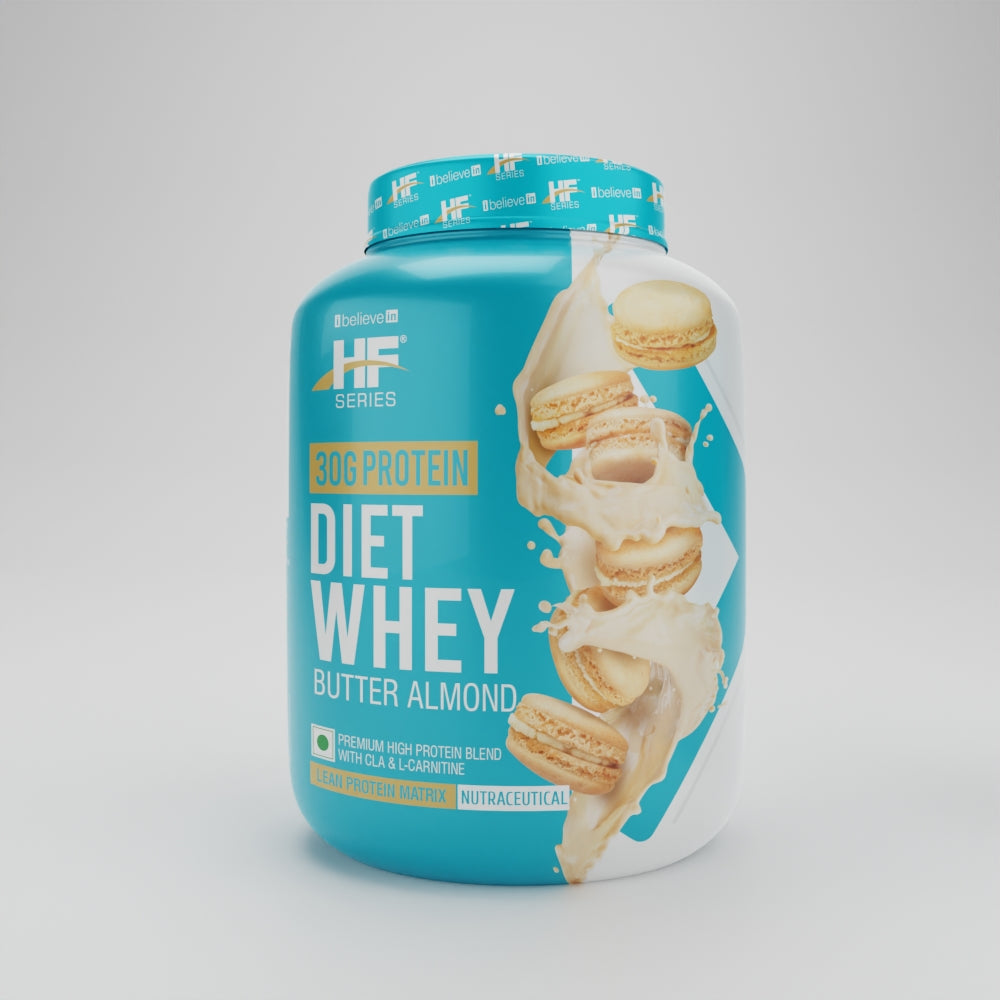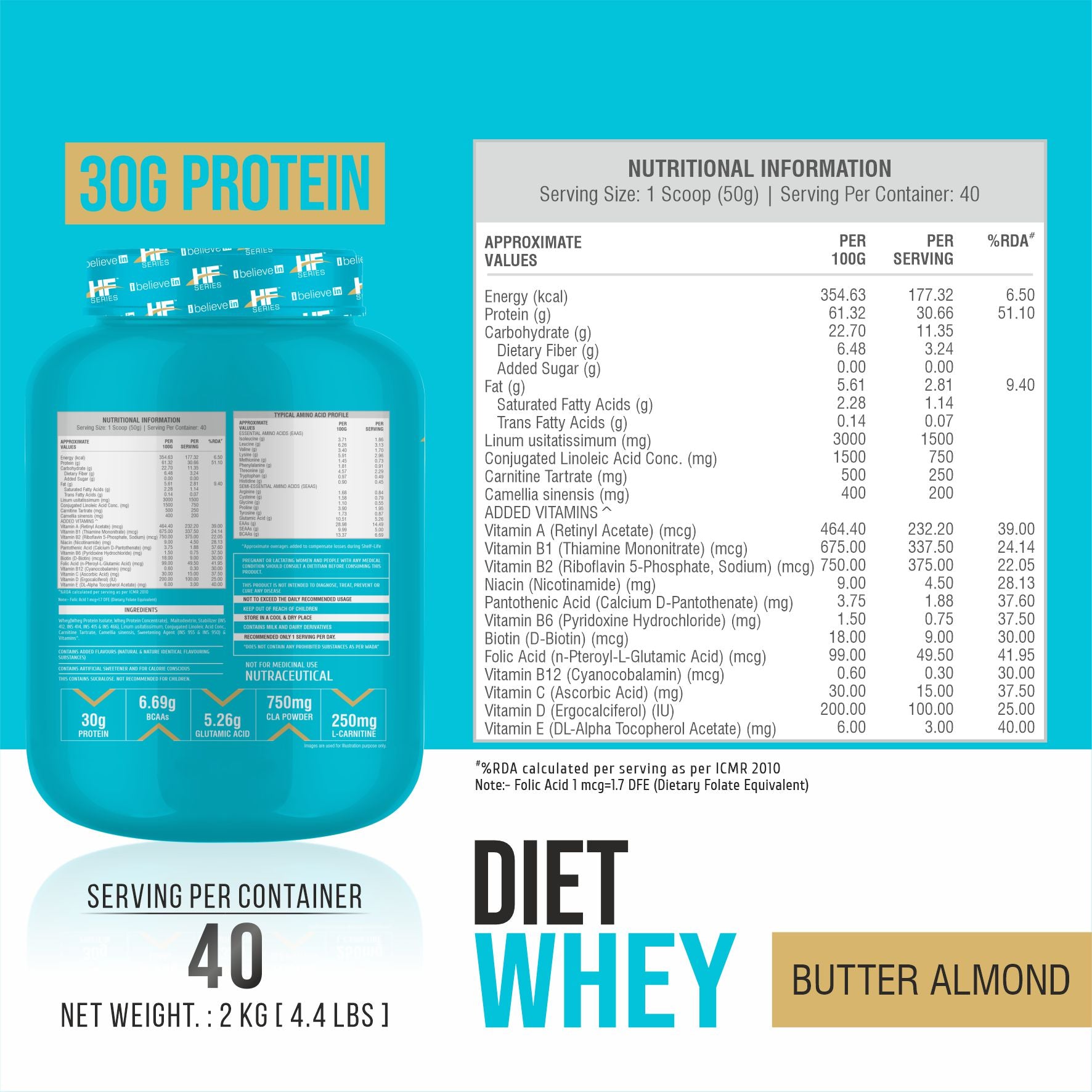 Are you in search of effective meal replacement shakes for weight loss that you can prepare at home? Look no further than Healthfarm HF Series Diet Whey. It is the ultimate slim shake powder for weight loss, packed with fiber and protein. This powerful formula contains 30.57g of whey, CLA, Carnitine, essential minerals, vitamins, and biotin, all of which provide your body with the necessary nutrients to achieve your fitness goals. Remember, staying happy starts with staying healthy! Our dedicated manufacturer puts in great efforts to ensure the highest quality at an affordable price. The best part is that Healthfarm HF Series Diet Whey is incredibly easy to prepare—just add water and shake well.
Product Details
Key Specification

TOP SLIMMING SHAKE IN INDIA
With a blend of 30.57g whey and 750 mg Conjugated Linoleic Acid, Conc., this slimming shake provides essential nutrients, minerals, and vitamins to your body. It enables you to easily replace 1 or 2 meals a day, keeping you feeling full for extended periods. Just one serving scoop of 50g fulfills your daily nutritional needs while curbing your hunger. ACHIEVE YOUR DESIRED BODY WEIGHT WITHOUT COMPROMISING ON NUTRIENTS!

ACHIEVE A FIT & SLIM BODY
One of the key components of this slim shake is Carnitine Tartrate, which aids in breaking down fatty acids and converting them into energy. This process provides strength and vitality to your cells, helping you attain a slim and attractive physique.

ENJOY A HEALTHY BODY, SHARP MIND & GLOWING SKIN
The ingredients in this pack, such as Linum usitatissimum, Biotin, and Pantothenic Acid, are powerful defenders against various ailments like heart attacks, hair problems, eye-related diseases, skin issues, and even the risk of skin cancer. It also ensures that your skin remains hydrated throughout the day, leaving you feeling fresh and rejuvenated.

NO CHEMICALS, NO SUGAR & NO SIDE EFFECTS
HF Series Diet Whey is 100% natural and free from artificial sugars, chemicals, and taste enhancers, ensuring it has no adverse effects on your body. It is designed for both men and women, offering them a healthy body and the perfect shape they desire. BECAUSE LOOKING GOOD ISN'T A CHOICE, IT'S A RIGHT!

Benefits

Muscle Recovery and Growth: With its high protein content, HF Series Diet Whey provides the essential amino acids needed to support muscle recovery and promote muscle growth after intense workouts.

Weight Management Support: Incorporating HF Series Diet Whey into your diet can help you manage your weight by providing a satisfying source of protein that can help control hunger and support lean muscle mass.

Convenient Meal Replacement: HF Series Diet Whey can be used as a convenient meal replacement option, offering a balanced combination of protein, carbohydrates, and essential nutrients in a single serving.

Versatile Usage: This product can be used as a post-workout shake, a protein-packed snack, or an ingredient in various recipes, such as smoothies or protein pancakes, to add a nutritional boost to your meals.

High-Protein Formula

HF Series Diet Whey is formulated with a high-quality blend of proteins, including whey protein concentrate and milk protein isolate, to provide a rich source of essential amino acids. Each serving of HF Series Diet Whey delivers a substantial amount of protein to support muscle recovery and development.
Healthfarm HF Series Diet Whey is the best slim shake powder for weight loss is rich in fibre and protein, consisting of requisite content 30.57g whey, CLA, Carnitine, minerals, vitamins, and biotin that are best to deliver all the lively nutrients to your body to obtain the right fitness goals.

Enjoying this delicious drink is not limited by age or gender, and it comes in two delightful flavors: Chocolate and Mango. Each serving scoop delivers 50 grams of goodness while also addressing various skin issues. It also combats life-threatening chronic diseases and safeguards against hair problems. This product is completely free of soy and dairy, making it suitable for those with dietary restrictions.


Fuel your body with the power of 30g of pure protein and unleash your true potential. This exceptional formula provides you with the fuel you need to build lean muscle and support your weight loss efforts. With its carefully selected blend of premium ingredients, it supports muscle recovery, boosts metabolism, and helps you stay fuller for longer.
FAQ's
What is the major nutrient content of the product?

HealthFarm-HF Series Diet Whey packed with all necessary healthy ingredients with 30.57g whey, 750g CLA, and 250g carnitine best to fight several chronic diseases and provide minerals, nutritions and all 9 essential amino acids to the body despite skipping a meal to control weight.
Do slim shakes reduce weight?

Yes! Carnitine helps to cut down fatty acids and turn them into energy which keeps you full all day and you can easily control your hunger and cravings which are required to lose weight.
How much weight can you lose drinking meal replacement shakes?

Save up to 500kcal in a day by swapping your meal daily with a slim shake. It means you are reducing 70g weight loss per day which helps you to decrease 2.1kg weight for 30 days.
Who can use HF Series Diet Whey?

Anyone can take the benefit of this meal replacement shake to control their body weight. There is no age or gender restriction.
Can I drink this shake twice a day?

You need to consume it once a day.