HealthFarm TrueGain Protein Powder for Weight Gain
Regular price

Rs. 1,049.00

Regular price

Rs. 1,399.00

Sale price

Rs. 1,049.00
Key Ingredients

18g Protein, 3.93g BCAA, 3 g Glutamine, EAAs 8.52
Easy Digestion, Super Yummy Flavors
Zero Sugar
Assist in Muscle Growth & Recovery
Key specifications

BEST WEIGHT GAINER FOR BEGINNERS Provide 657.05 kcal calories, 18g Protein, 3.93g BCAA, 3g Glutamine, and EAAs 8.52, makes it easy for you to take relevant calories, protein, and essential vitamins to build muscles and gain weight. It's a complete bundle of relevant nutrients, proteins, and calories every gym freak needs to gain weight in a healthy manner. TRUE GAIN is the first choice for the people who are beginners in their weight gain journey as it provides lots of benefits at every affordable price. gainer.
ASSIST IN MUSCLE GROWTH & RECOVERY Muscle growth and muscle development is the crucial function of the True Gain weight gainer supplement. Mass gainer makes sure you take only relevant fat. One serving scoop of 150gm delivers a 657.05 calories intake that helps you to acquire lean muscles.
RICH IN MULTIVITAMINS & MINERALS A True Gain mass gainer is the rich source of multivitamins and minerals that fulfill every deficiency of your body that helps to stay healthy such as provide healthy-aging, treat skin problems, reduce risk of heart disease, reduce cancer threat, improve vision, provide strong hair, no more hair fall, smooth food digestion and maintain a good level of hydration in your body.
EASY DIGESTION, ZERO SUGAR, SUPER YUMMY FLAVORS 1.68g fiber contains in the True Gain eliminates toxins from the body. Consuming fibers every day is vital for good digestion and reduce bloating. It has zero sugar so no more fear of getting fat. Creamy Chocolate Ice Cream and Banana Caramel FLAVORS at such an affordable rate no one wants to miss out!
Benefits

Removes toxins from the body
Good Source of energy
Helps in muscles recovery and building muscle mass
Get healthy heart
No more wrinkles
Get thick and strong hairs
Improve skin texture
Better immunity function
No unhealthy cravings
Feel full for a longer time.
Stay active every second, every time.
Share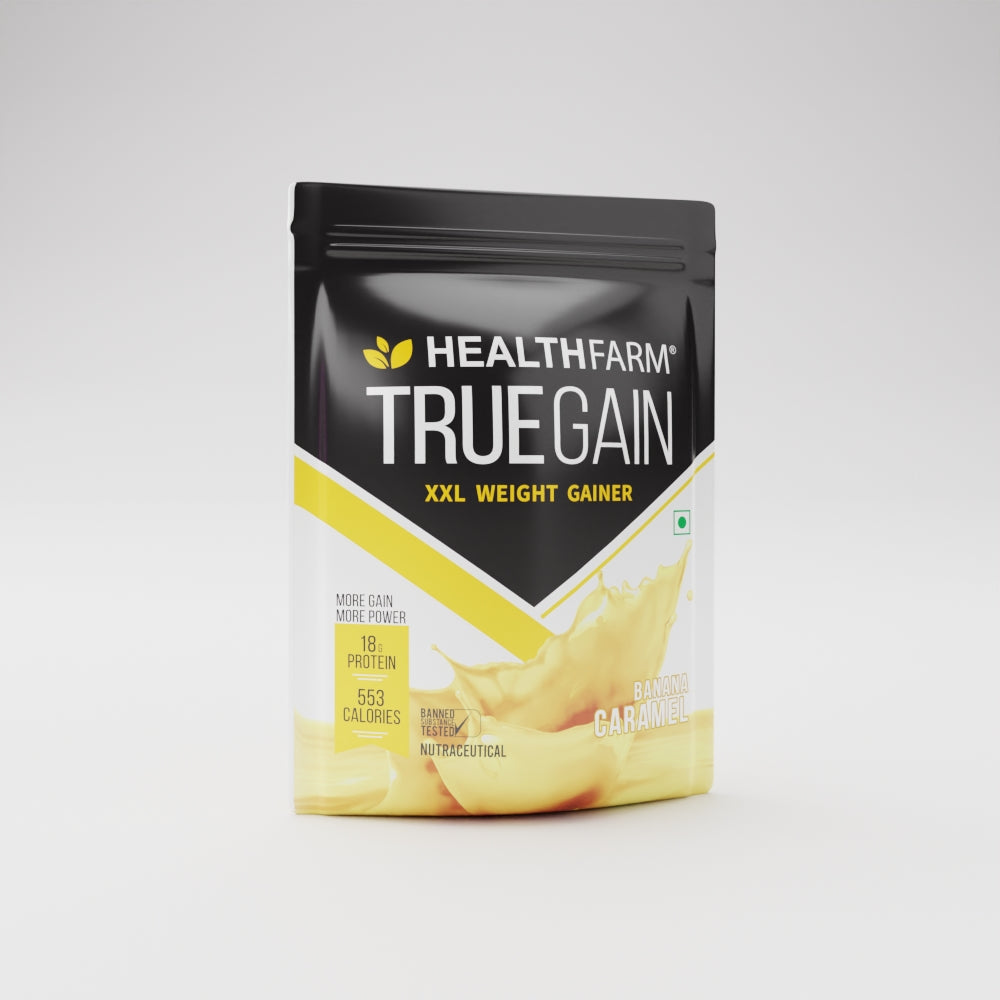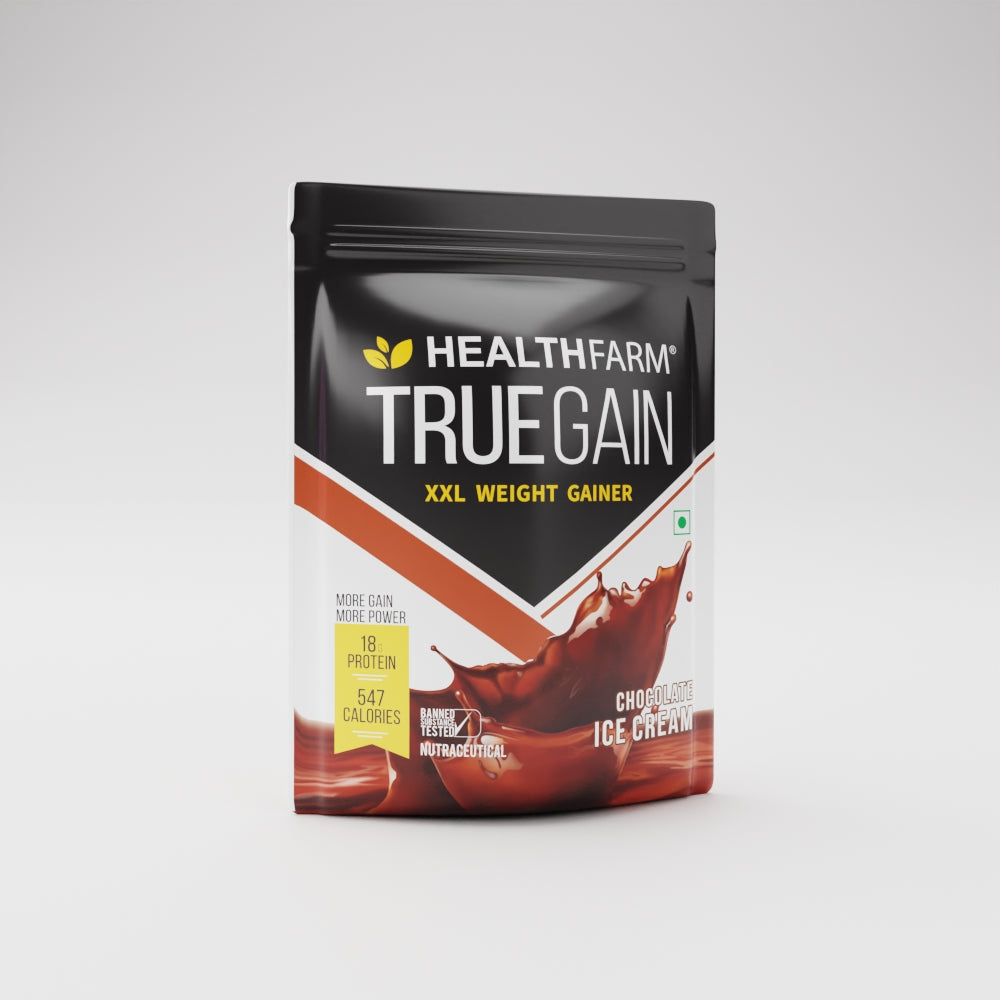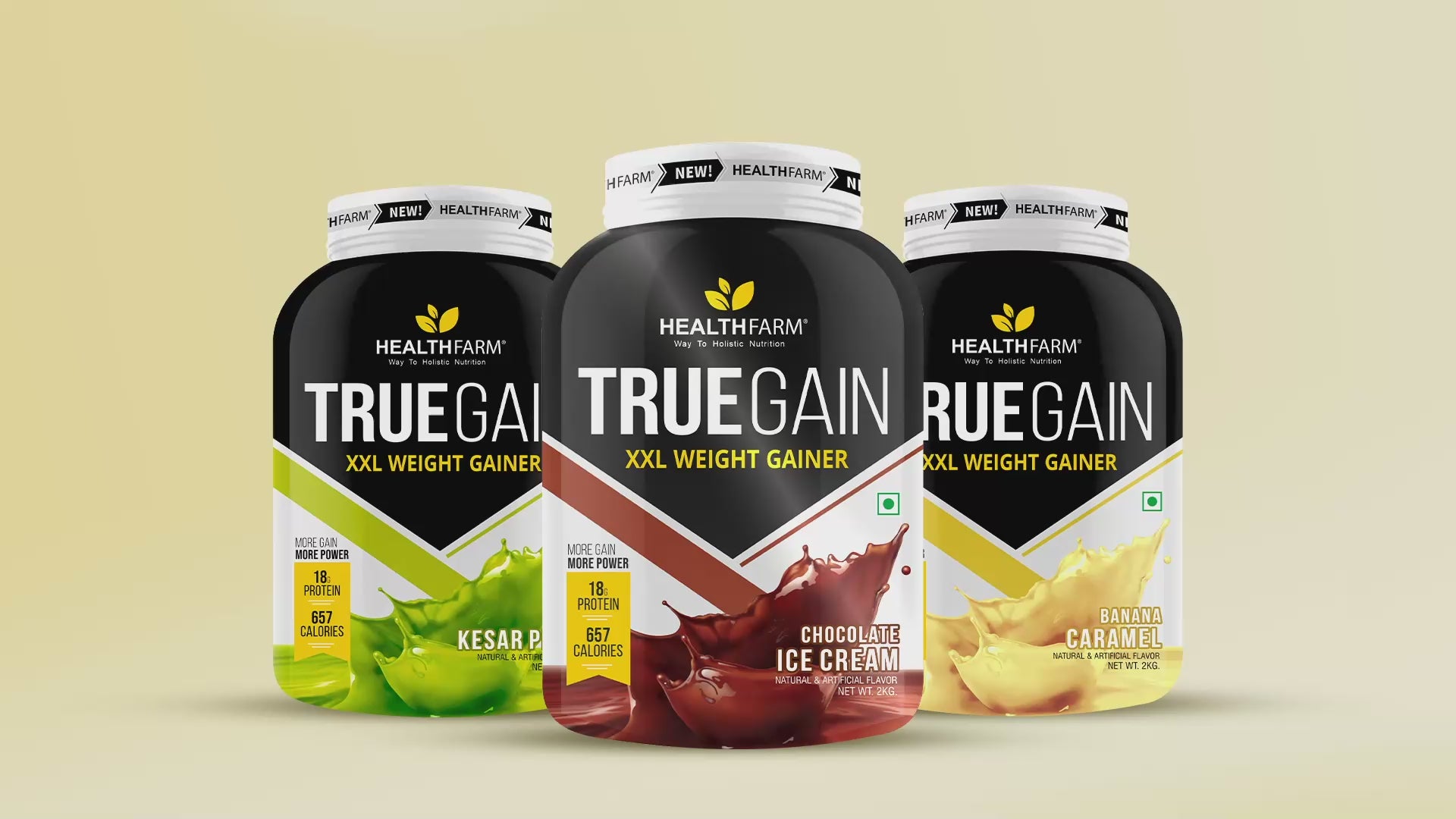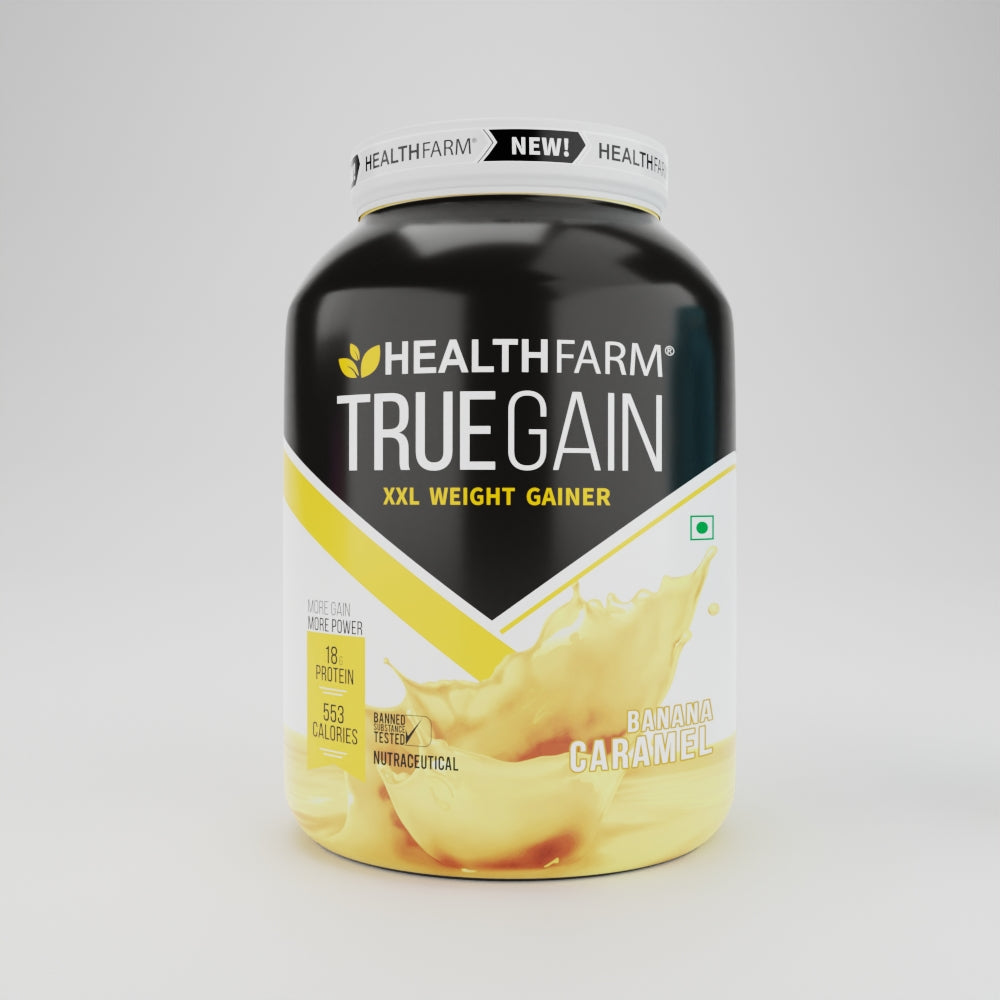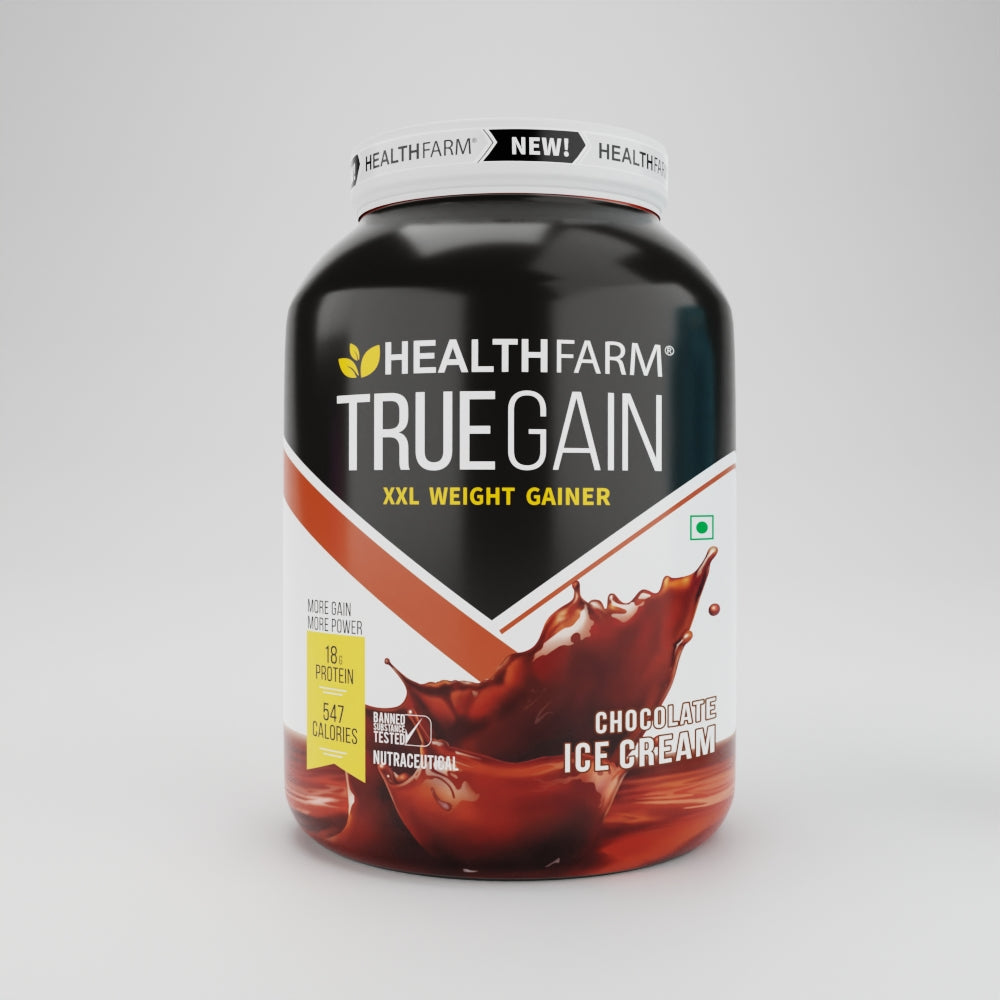 FAQ's
Does weight gainer increase fat?

Yes, weight gainer makes you fat if you don't sweat in the gym. Weight gainer doesn't increase fat if you consume this product while doing exercising regularly. The main motto of the TRUE GAIN weight gainer supplement is to help the person to gain weight and build muscles.


How to take weight gainer with water or milk?

Take it with water or skimmed milk. It is entirely your choice.


Can we take a weight gainer empty stomach?

Yes, Our Healthfarm nutrition TRUE GAIN is a super healthy mass gainer or weight gainer people can enjoy an empty stomach and feel full for longer.


Should I take mass gainer everyday?

If you are serious about getting balanced and healthy weight gain and have an intense desire to get perfect body shape, you should take weight gainer every day.


When to take weight gainer?

Enjoy TRUE GAIN weight gainer with breakfast, in-between the meals, or before sleep.