Healthfarm Premium Anti-Aging Marine Collagen Powder | Paleo Friendly, Non-GMO (250gm)
Regular price

Rs. 1,386.00

Regular price

Rs. 1,849.00

Sale price

Rs. 1,386.00
Key Ingredients

Hydrolyzed Marine Collagen, Glucosamine HCL, Vitamin c
How to Use

HOW TO TAKE IT?
You can take collagen supplement powder with water. Take a glass of water (120-150ml) Add 1 serving of collagen peptides in a glass. Mix firmly. The drink is ready.
WHEN TO TAKE?
Drink anytime throughout your busy schedule.
Key specifications

Promise Healthy Joints, Skin, and Nails Collagen is a protein that helps to get healthy joints, skin, and nails. With age, Collagen present in your body breaks down, and it creates wrinkles, fine lines, muscle weakness, joint ache, brittle hairs & nails, So your body needs a regular dose of 'COLLAGEN'. protein. This Premium Anti-Aging hydrolyzed Marine Collagen Powder consists of 5.6g protein, NON-GMO, Gluten-free rejuvenates your skin, hair, and nails naturally.
Promise Healthy Bones & Joints Loss of bone density and joint pain is common, especially in older adults. Cartilage tissue present in your body covers the end of bones in joints, however, over time, the cartilage wears off due to repeated movements and aging so you suffer joint pain, joint stiffness, and joint inflammation. Collagen protein brings joint flexibility and mobility. Daily intake of this Paleo-friendly, Non-GMO Wild-Caught Hydrolyzed Fish Collagen Peptides help to repair and growth of cartilage tissue.
Better Quality Gut-Friendly Protein Consisting of natural glycine, commonly known as the "anti-aging amino", this best collagen supplement in India is sourced from wild-caught fish in the pristine waters. Flavored, supports a healthy metabolism, muscles, joints, bones, ligaments, cartilage, absorbed by the body quickly. Take it in the morning, afternoon, or evening. It all depends upon your choice!
Non-Veg, Yum In Taste 1Despite being sourced from fish, this non-vegetarian collagen protein powder is odor-free and has no fishy smell or fishy taste. Available in lip-smacking flavors, collagen protein powder is easy to prepare. Take (120-150ml) water, add collagen powder, shake good and drink it to get magical results.
Benefits

Improve skin elasticity
Reduce wrinkles & dryness
Prevent joint pain & better joint support
Strengthen hair
Healthy Nails
Promise strong bones
Share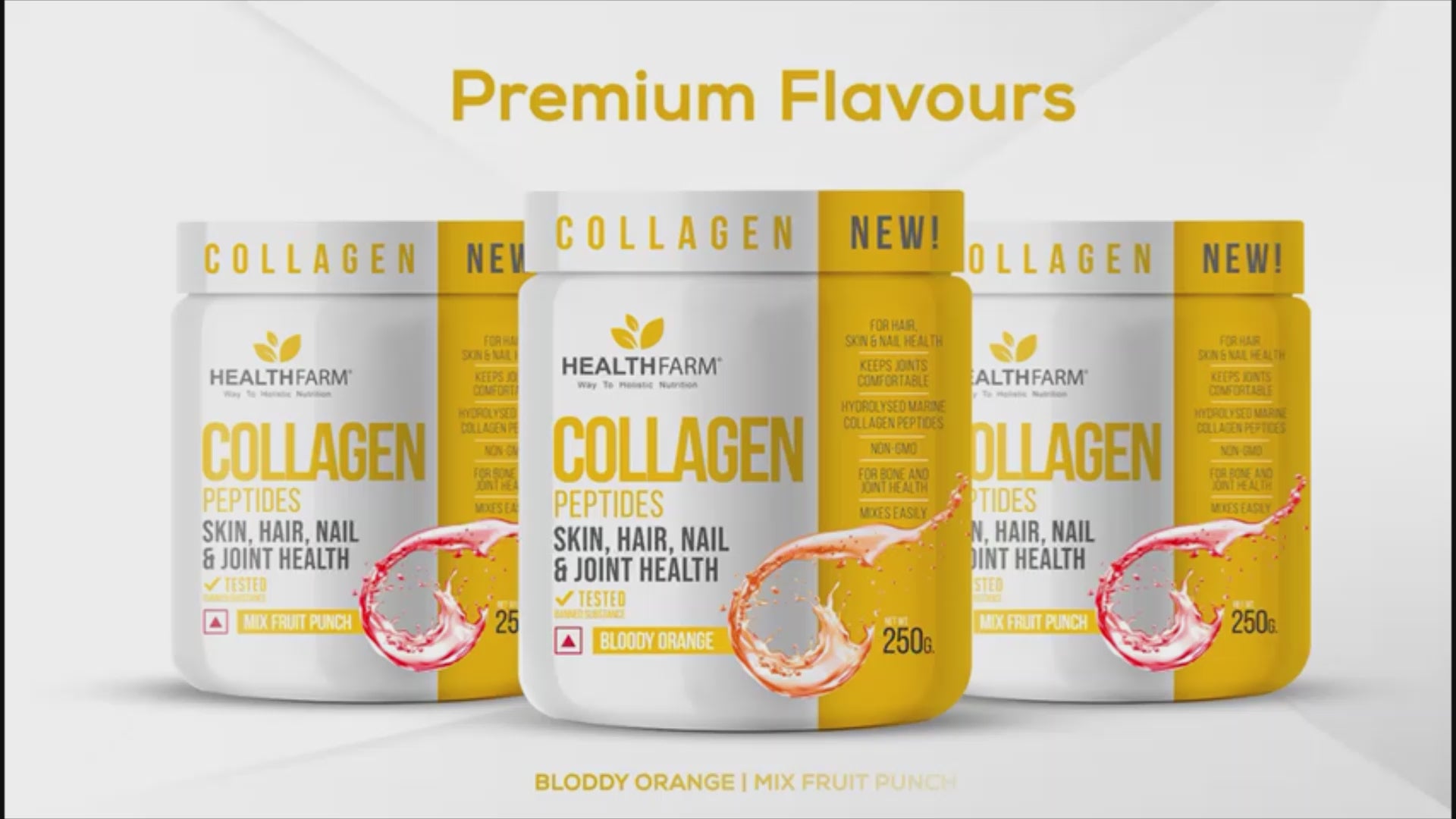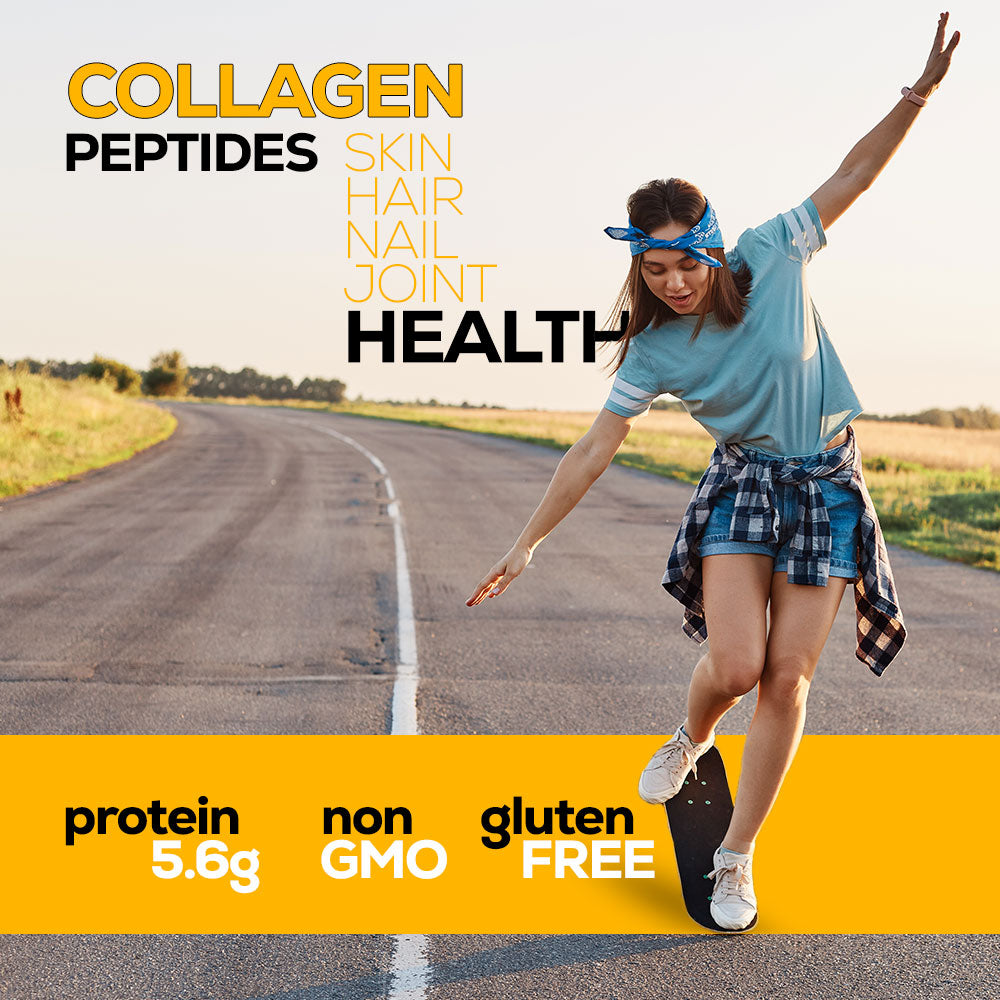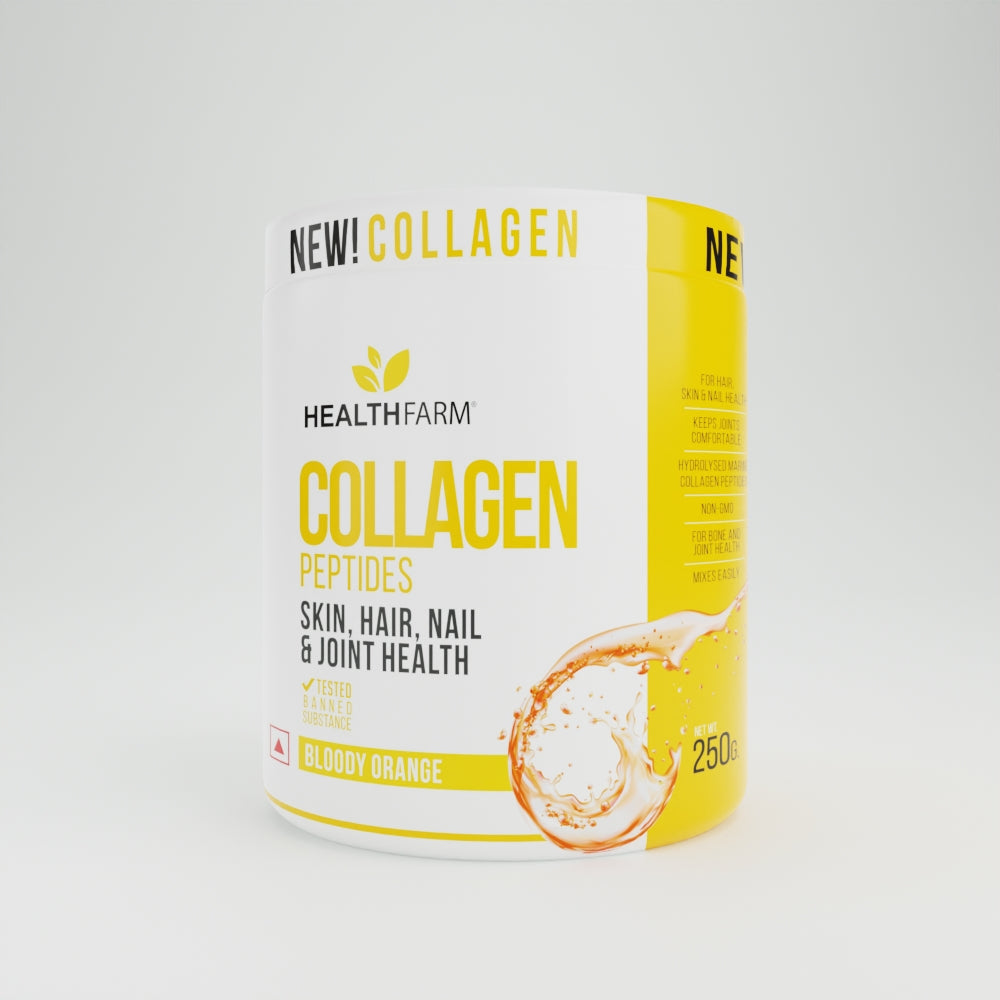 How do you know if collagen is working?

Collagen peptides benefit skin, joints, nails, and bones, and, all these magical benefits are associated with your age. After 30, your body produces less amount of collagen so it may vary from person to person. If you have crossed the age of 30 and have an extremely low status of collagen protein in your body, you will see the miraculous difference within a matter of weeks.
Do collagen powders make you gain weight?

No, Definitely not. It is an essential protein everyone needs daily for glowing skin, healthy hair, strong joints, and strengthening bones. It helps to promote a more efficient metabolism for attaining a healthy weight.
Is powdered collagen safe?

Yes, Healthfarm Paleo friendly, NON-GMO, gluten-free, tested banned substance is entirely safe for consumption.
What should I mix collagen with?

Healthfarm marine collagen powder is available in delicious flavors. Add in the water, mix firmly and enjoy it.