HealthFarm Omega 3 Fish Oil 60 Softgel
Regular price

Rs. 649.00

Sale price

Rs. 454.00
Key Ingredients

180 MG of EPA, 120 MG of DHA
How to Use

HOW TO TAKE IT?
Simply take it with a glass of water after 15 to 20 minutes of your regular diet.
WHEN TO TAKE?
The right time to take an omega-3 fish oil capsule after 15 to 20 minutes after your daily meal.
Key specifications

SUPPORTS HEALTHY HEART, BRAIN, AND JOINTS 60 soft gel capsules wrapped in a pack contains Omega 3 Fatty Acids (1000mg), EPA (180mg), and DHA (120mg) are best to improve your heart health, make your joints strong, develop memory and increase eye-sight. 2 Capsules in a day recommended to both men and women is best to maintain fast blood flow circulation in your body. HEALTHFARM fishoil omega 3 multivitamin tablets India is an ultra-purified supplement produced from deep ocean fish using molecular distillation is safer to consume with water, giving no fish burps.
BEST ATHLETIC SUPPLEMENT FOR QUICK MUSCLE RECOVERY Great supplement for the athletes or bodybuilders or even fitness enthusiasts to get the speedy recovery of muscles after a heavy workout. Assist in performing best and for a long time by eliminating body fatigue.
HEALTHY HAIR, SKIN & VISION omega 3 multivitamin tablets India is a rich source of proteins that promote easy circulation that fights hair fall, split ends, and provides a smooth scalp with long shiny hair. Great anti-aging features hydrate skin, eliminate skin irritation or skin acne. Treat dry eyes and improve eye visibility as well.
BOOST STAMINA, BETTER IMMUNITY Get rid of cold and cough with a regular dose of omega 3 fishoil supplements. Anti-inflammatory properties help in decreasing body inflammation and increase the immunity level that is essential to fight, injuries, viruses, and infections.
NO UNREALISTIC COLORS OR FLAVORS Completely authentic best omega 3 supplement brand manufactured under the vision of experts contains no artificial colors or flavors. This Gluten-free and Dairy-free double strength omega 3 fishoil benefits every group of class and cause no allergic reactions.
NO FISHY, NO BURPS, SAFE CONSUMPTION Non-vegetarian fishoil capsules are easy to take with water. Safer to consume for every age group, take it after your daily meal after 15 to 20 minutes, drink plenty of water to avoid fishy burps, taste good for the non-vegetarian people.
Benefits

FIGHT DEPRESSION AND ANXIETY.
MAKES YOU STRONG AND ENERGETIC
HELPS ATHLETES IN BUILDING MUSCLES MASS.
DELAY MUSCLE TIREDNESS DURING INTENSE WORKOUTS.
ASSIST IN EASY BLOOD CIRCULATION AND NO BLOOD CLOTS.
BETTER MEMORY, EYE HEALTH, AND VISION ENHANCEMENT.
Share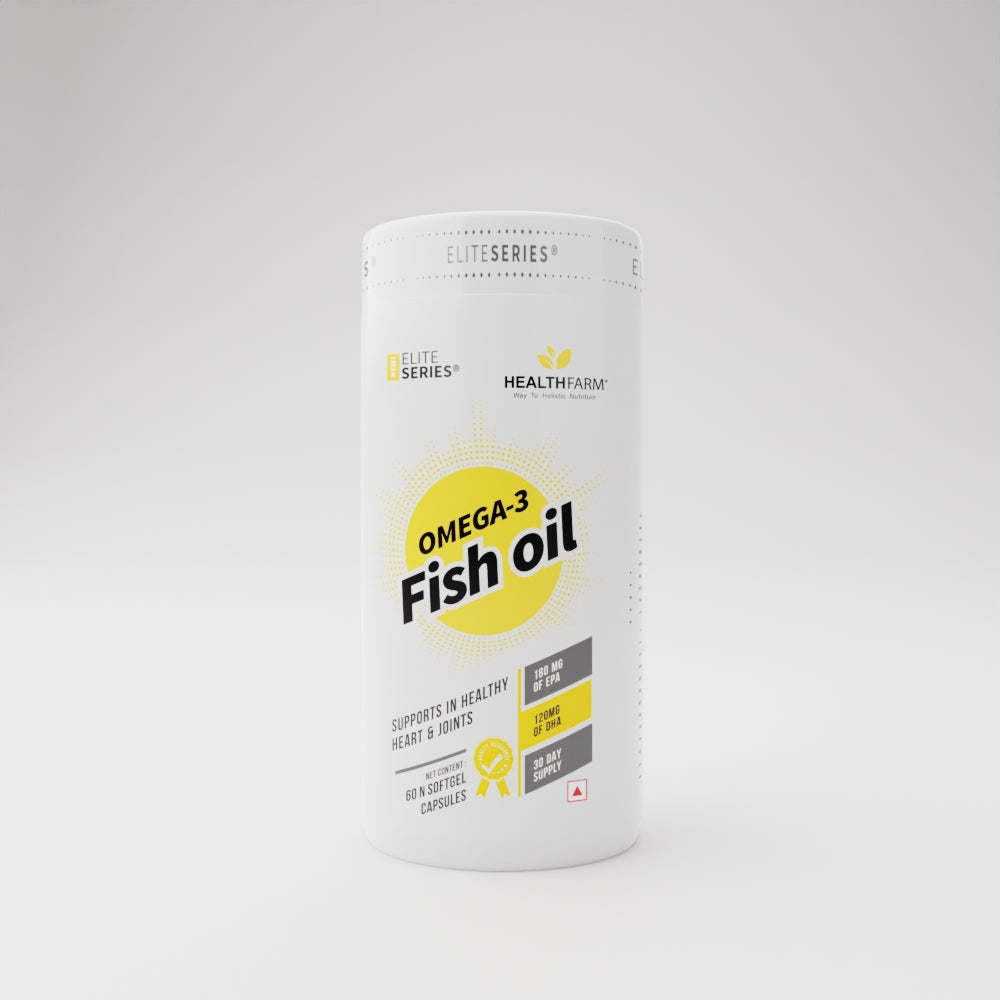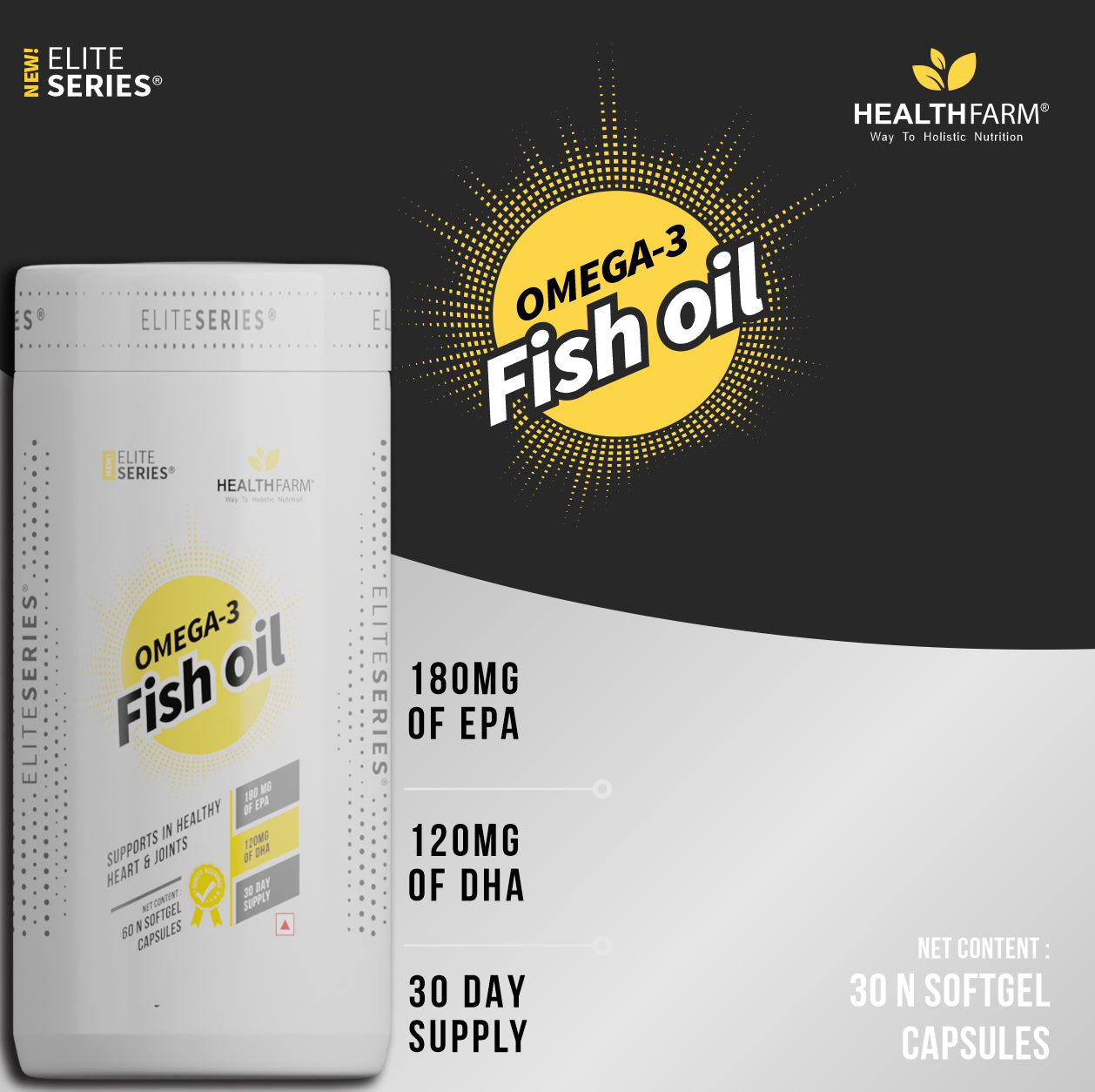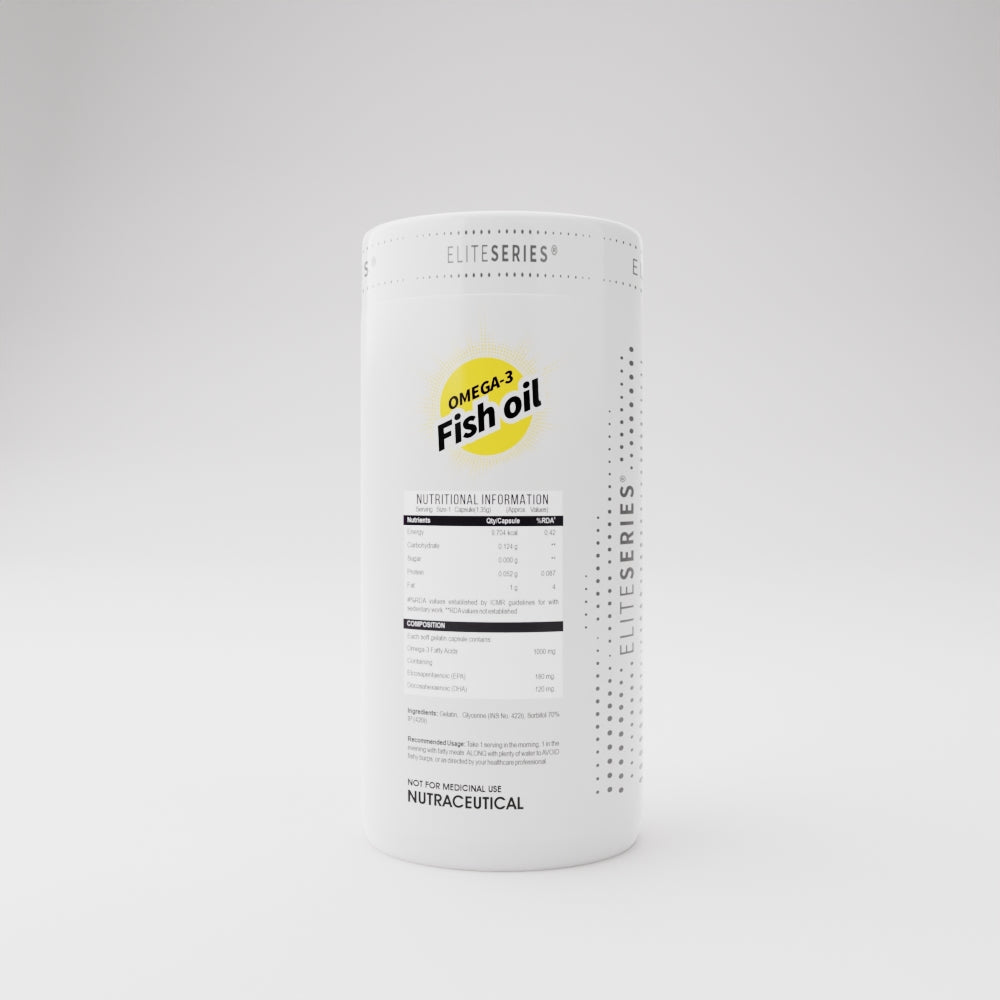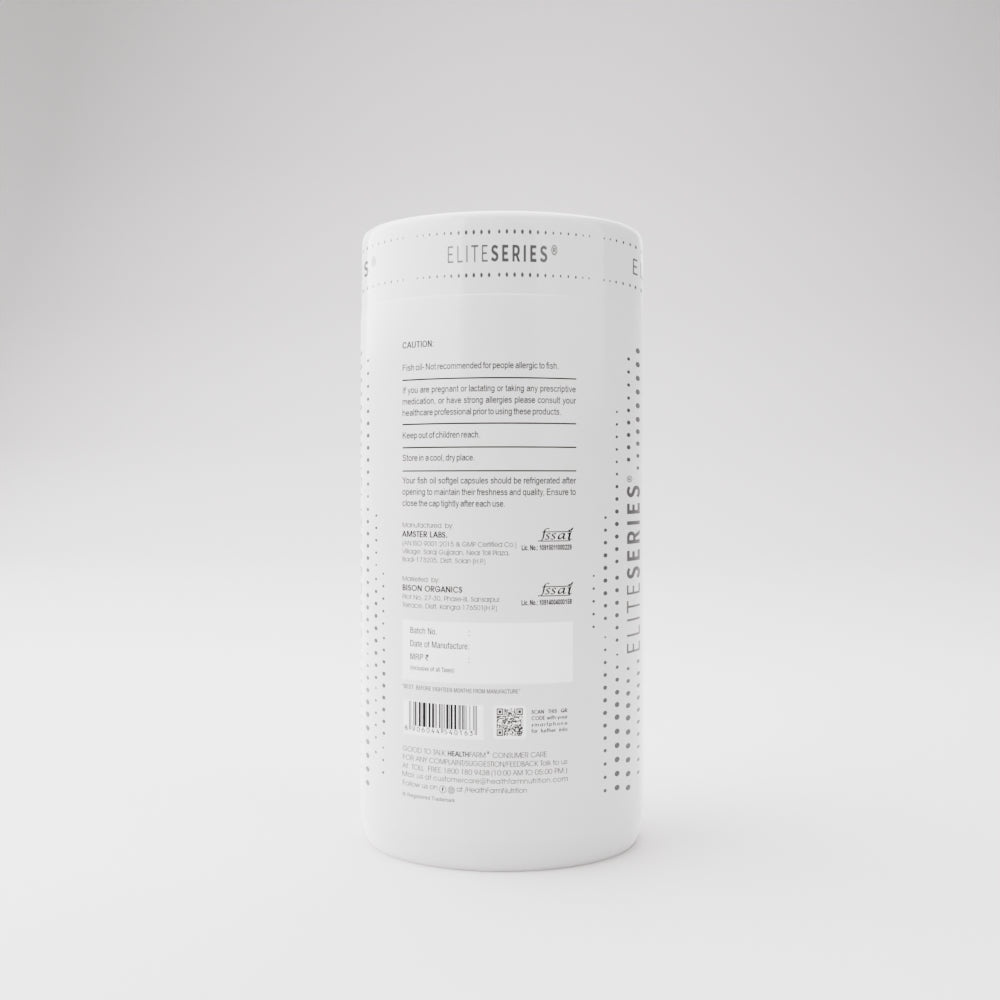 FAQ's
Does omega 3 helps in weight loss?

Omega-3 is the fish oil derived from the tissue of fish. It is best to decrease feeling of hunger in your body, and you will feel fuller for long hours. Additionally, It helps to increase the metabolism rate in your body. A high metabolism rate means your body is capable to burn more calories in a day. Hence, your body ends up reducing weight loss.
What is the best time to take omega 3 capsules?

Take 2 capsules in a day once in the morning and another one in the evening after 15 to 20 minutes after your meal.
How to consume omega 3 capsules?

Consume it with plenty of water after your daily meal. Take 2 capsules in a day (One in the morning and the second one in the evening).
Is it safe to take omega-3 capsules?

Yes, the product is made with omega-3 oil- an oil taken from the deap ocean fish. Manufactured from the carefully selected ingredientsunder the supervision of our highly qualified and experienced team. Contains no harmful chemicals or synthetic content or flavor, Gluten-free, dairy-free, Omega 3 multivitamin tablets india is entirely safe and beneficial for everyone.
Can we take omega 3 capsule with milk?

It is entirely related to your digestive system. Milk contains lactose (sugar contains in the milk) and if you have some issues digesting lactose, then it may cause discomfort to you otherwise there is no harmful effect associated if you take a fish oil capsule with milk.