HealthFarm Muscle Whey Protein + Freebies
Regular price

Rs. 2,099.00

Regular price

Rs. 3,299.00

Sale price

Rs. 2,099.00
Key Ingredients

Whey Protein Isolate & whey protein concentrate (89.80%) Maltodextrin(7.00%) Stabilizing Agent (INS 414, 415 & INS 466), sweetening Agent (INS 955), Anticaking Agent(INS 551) and Vitamins. Allergen Advice: Contains Milk
Share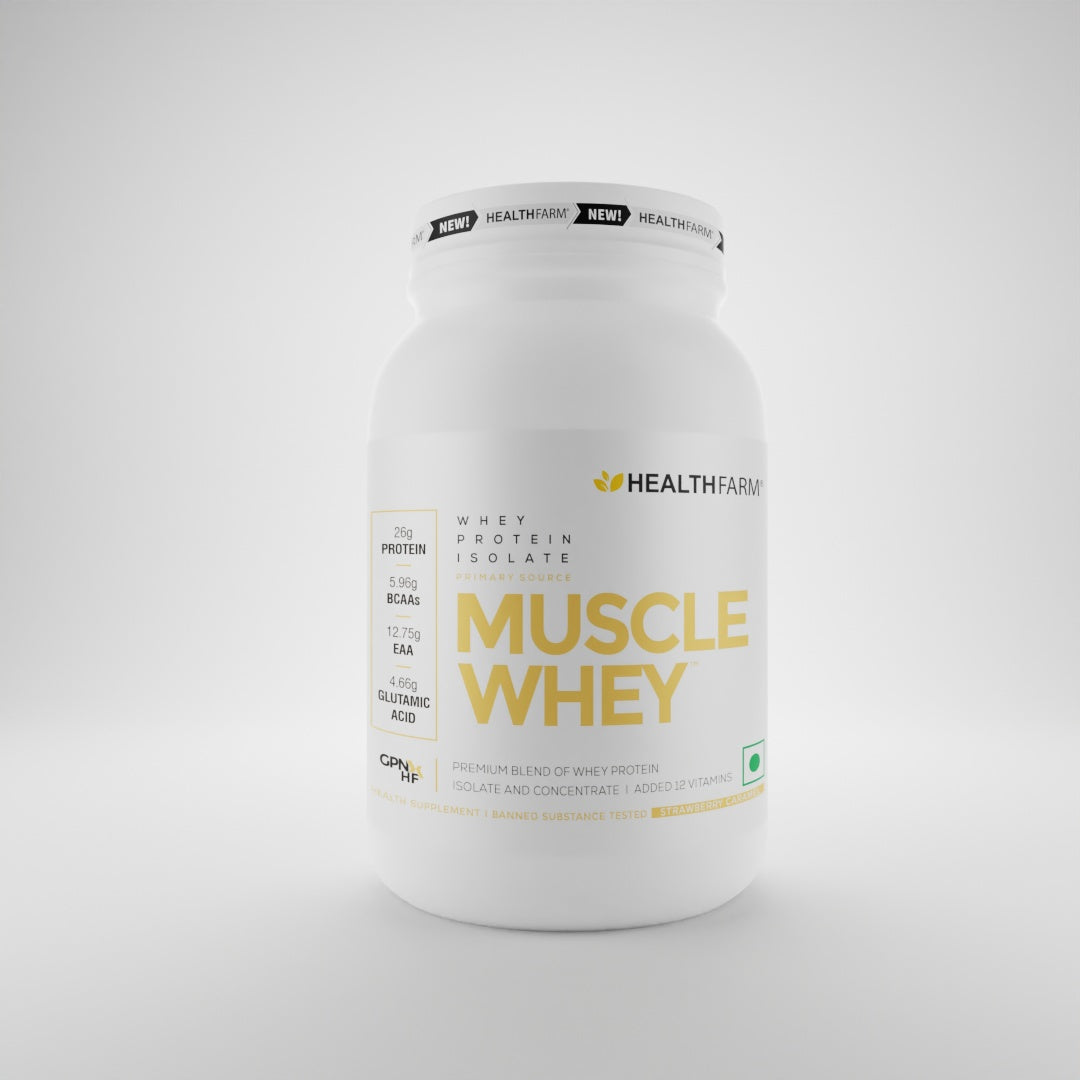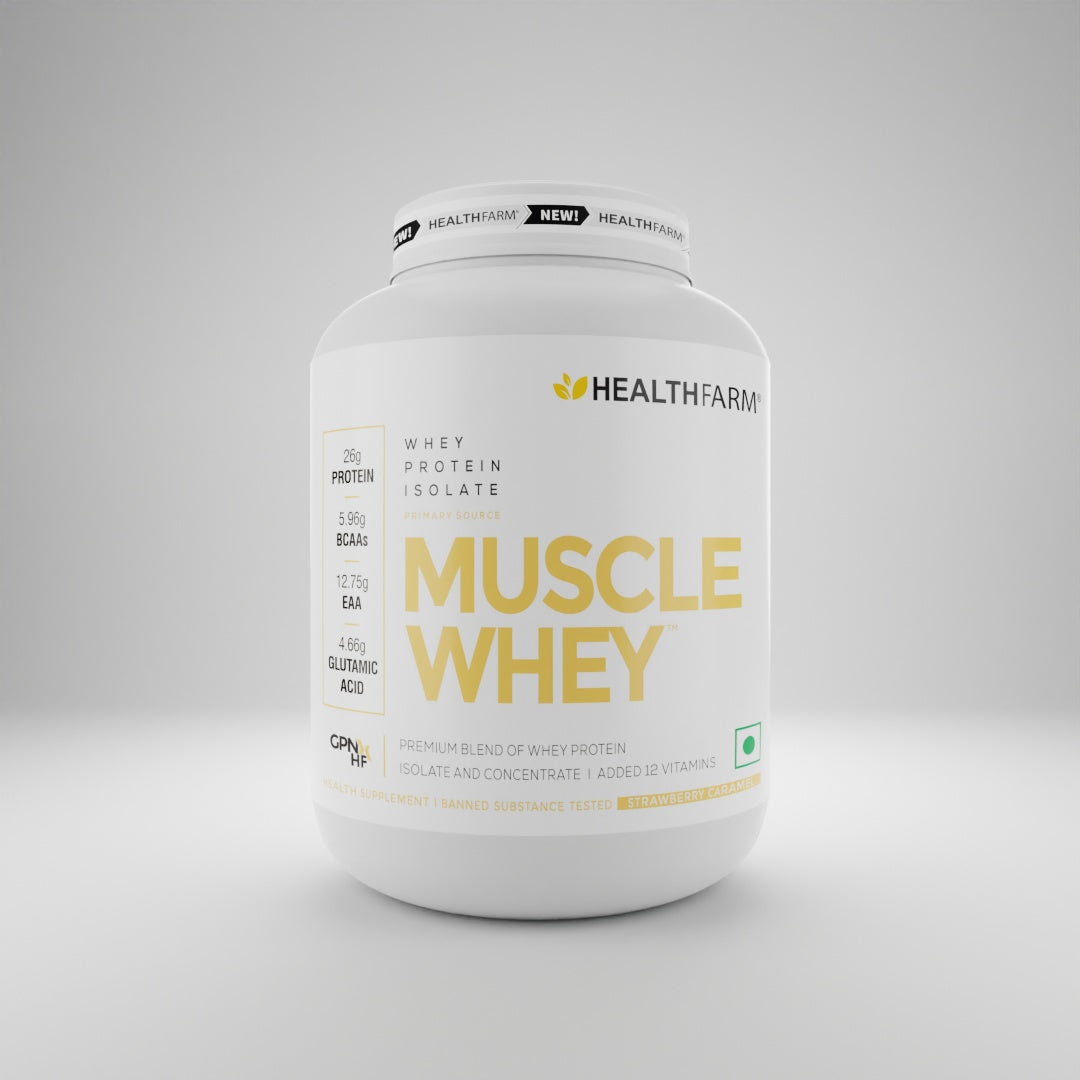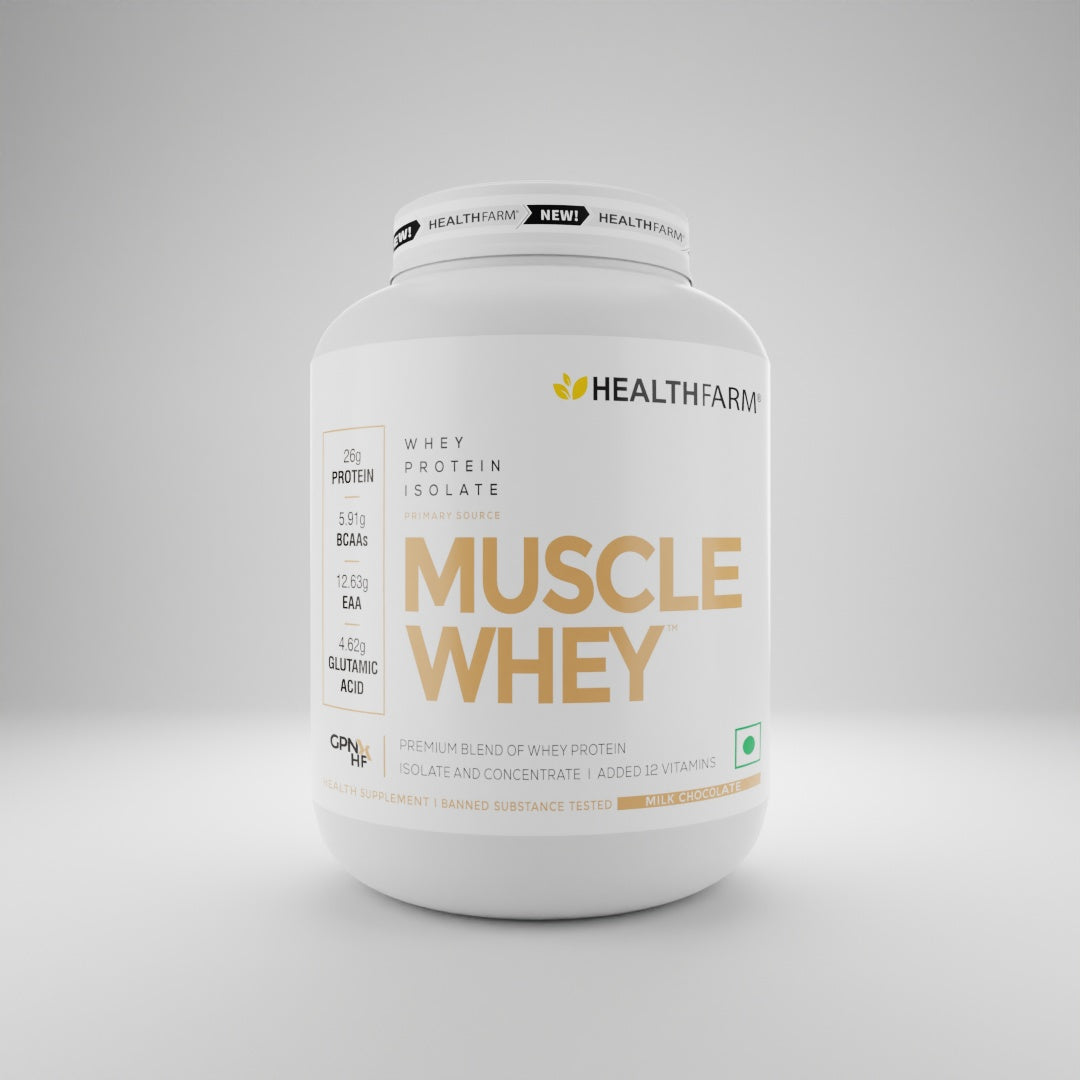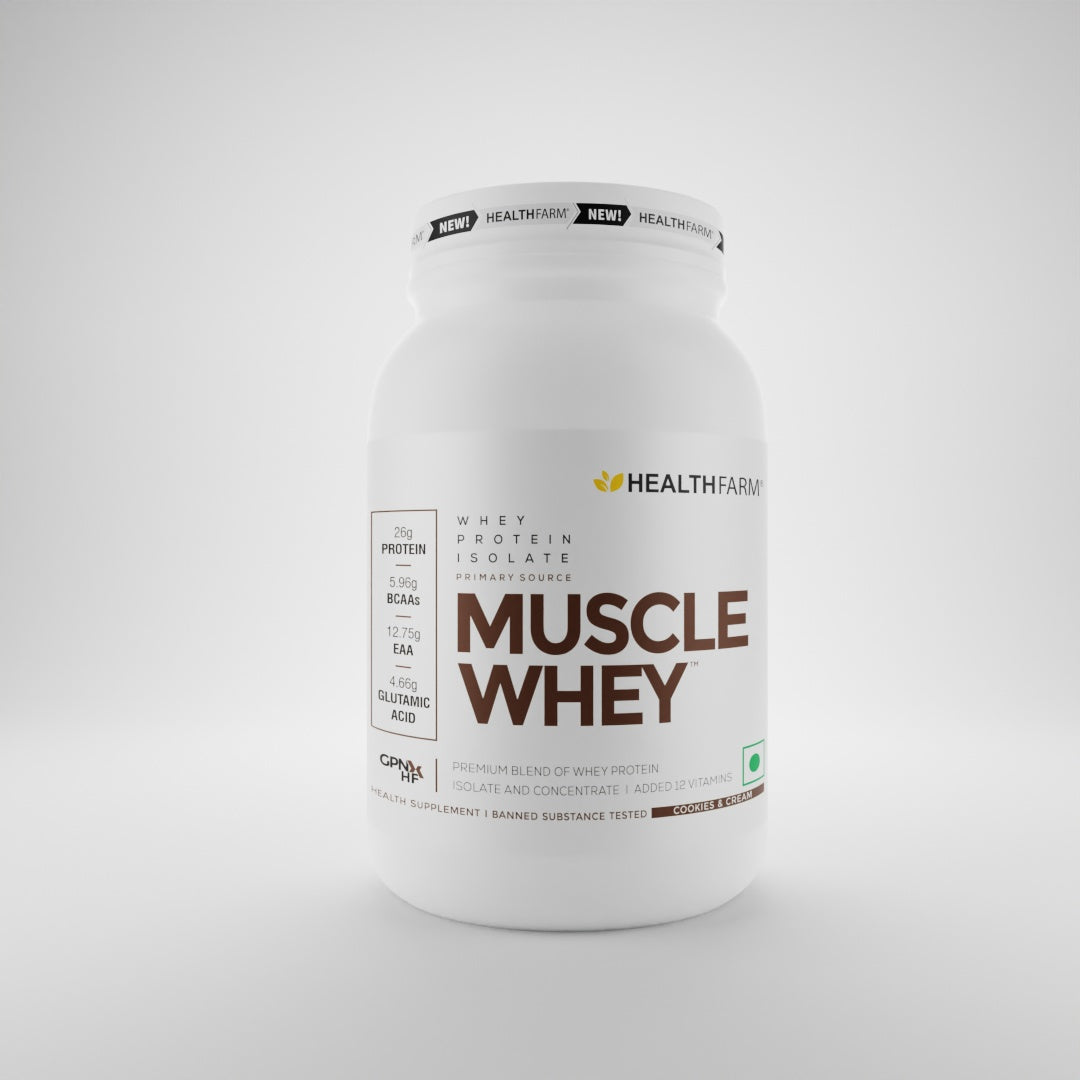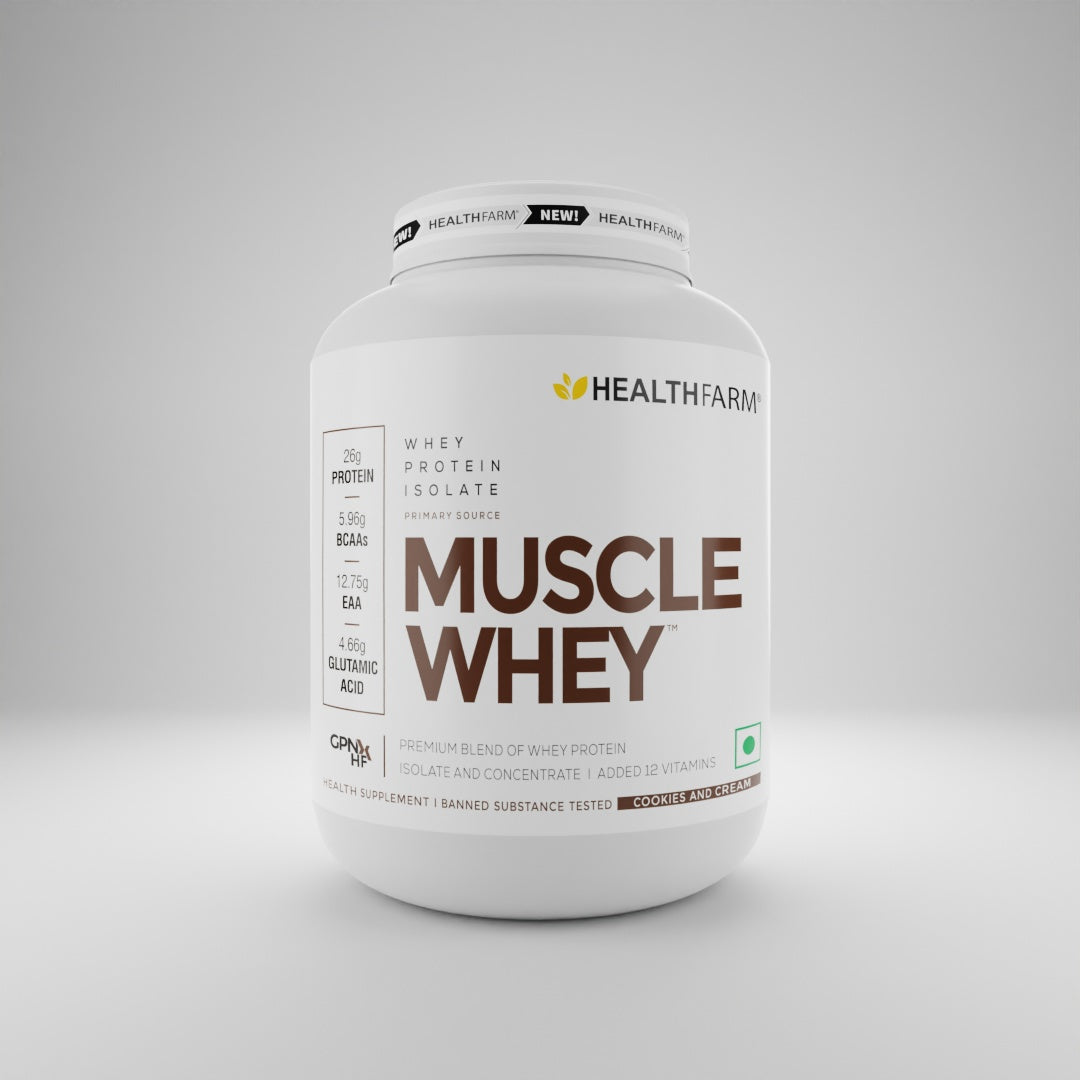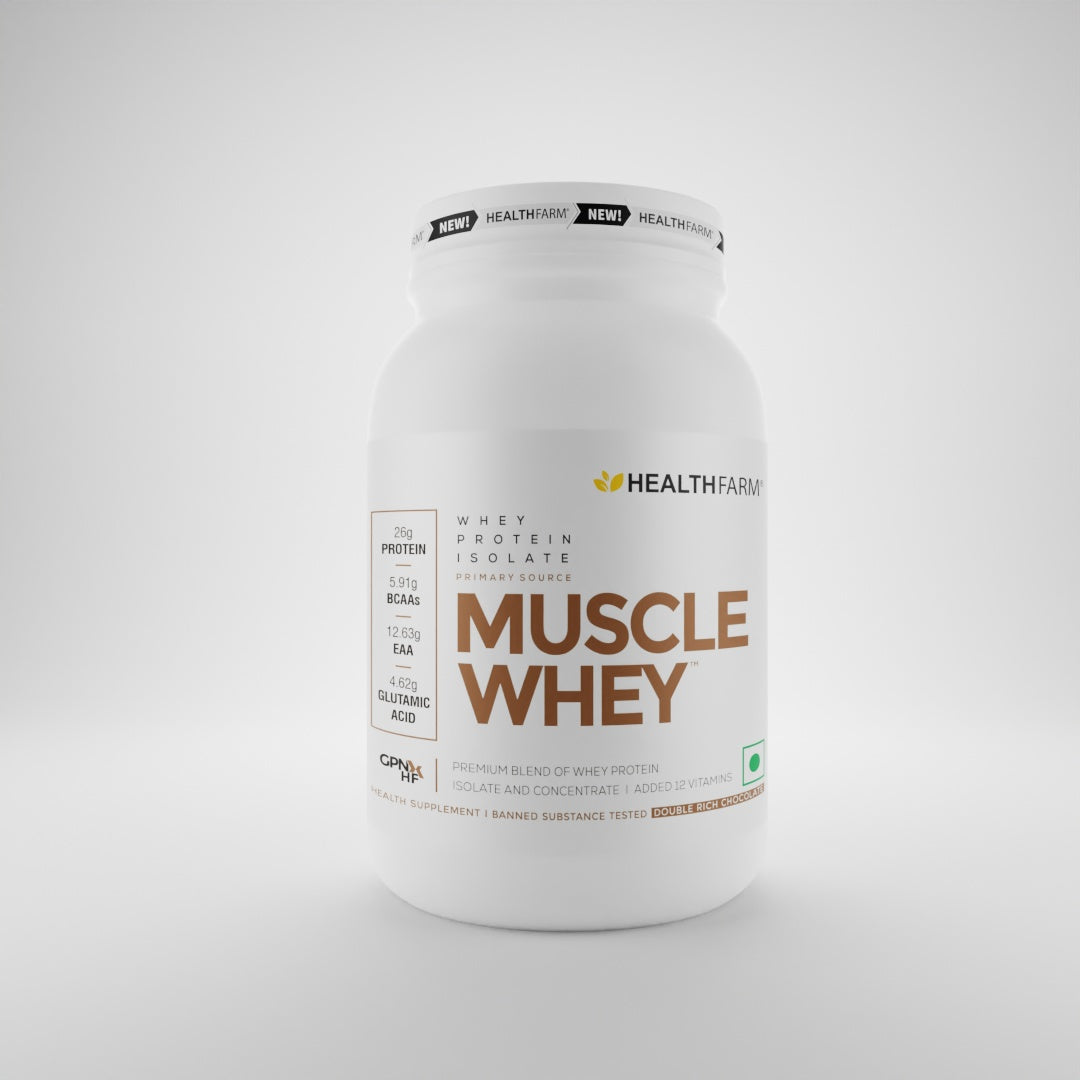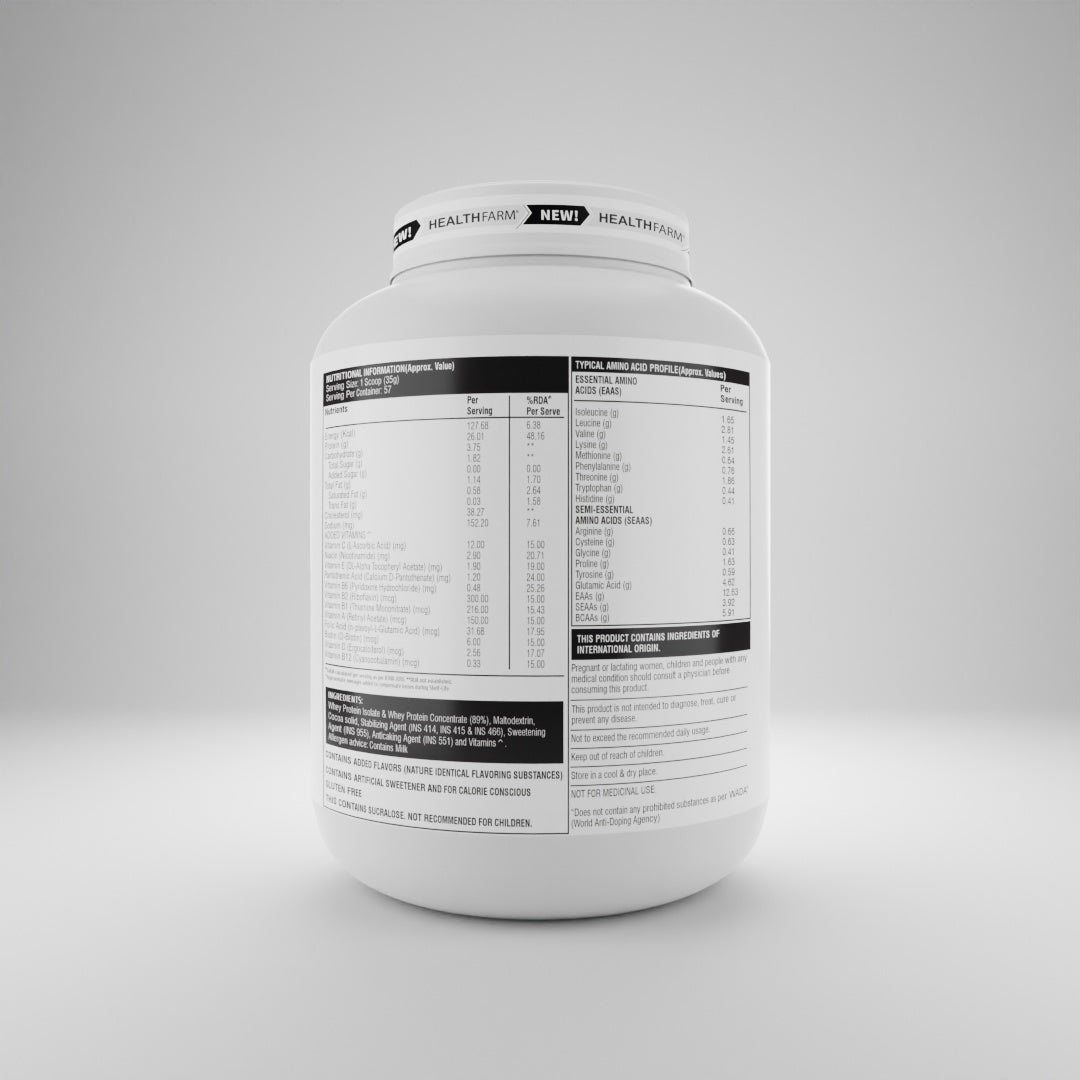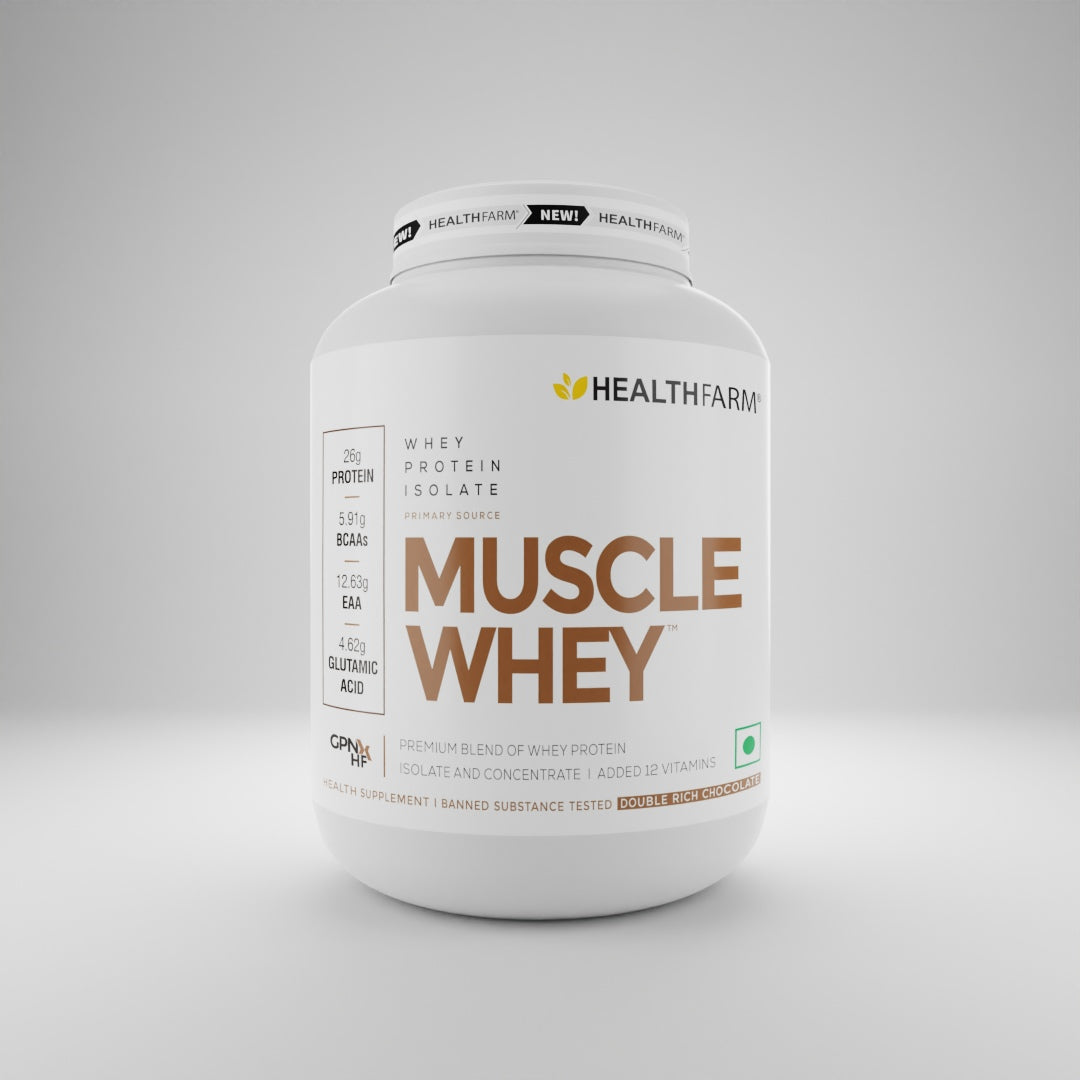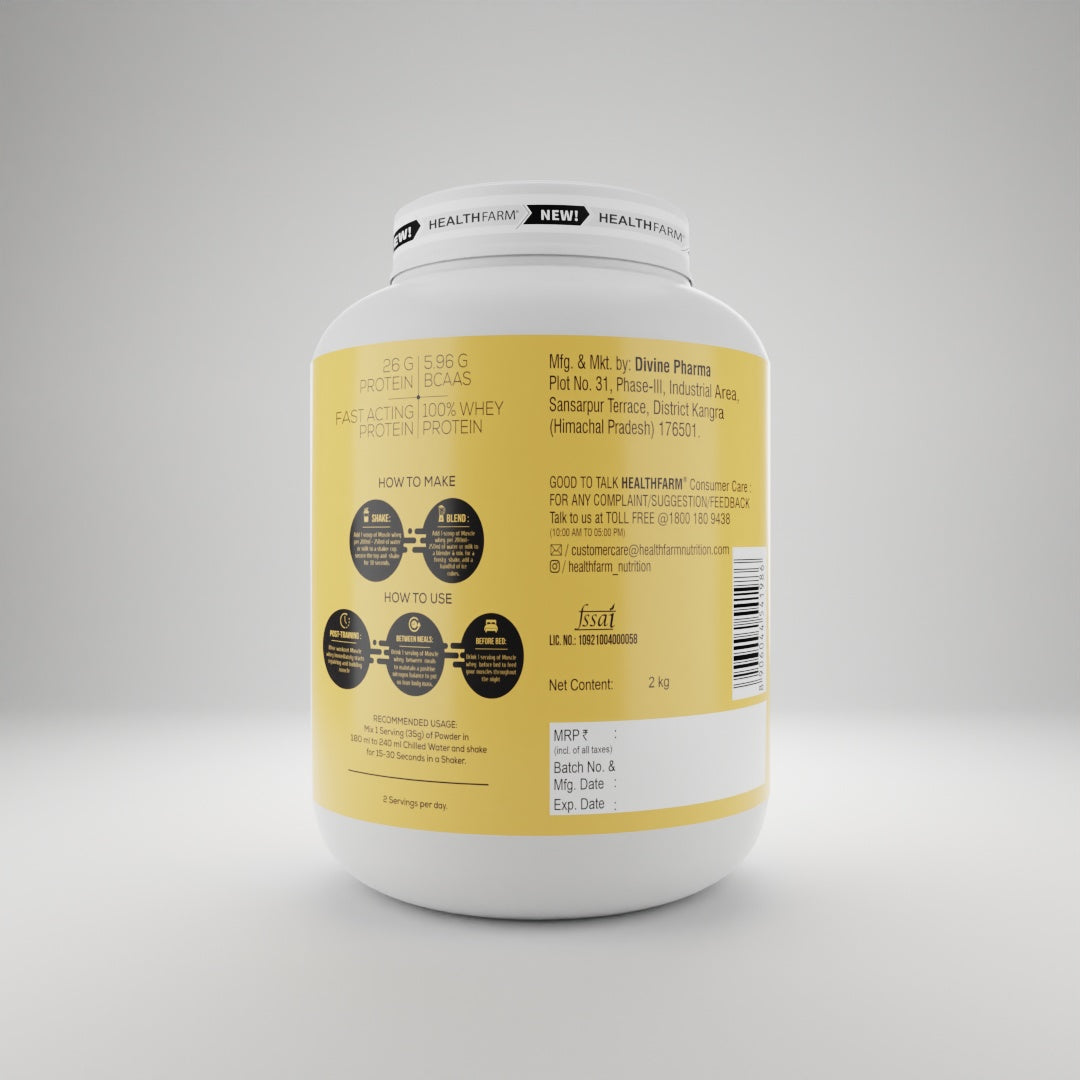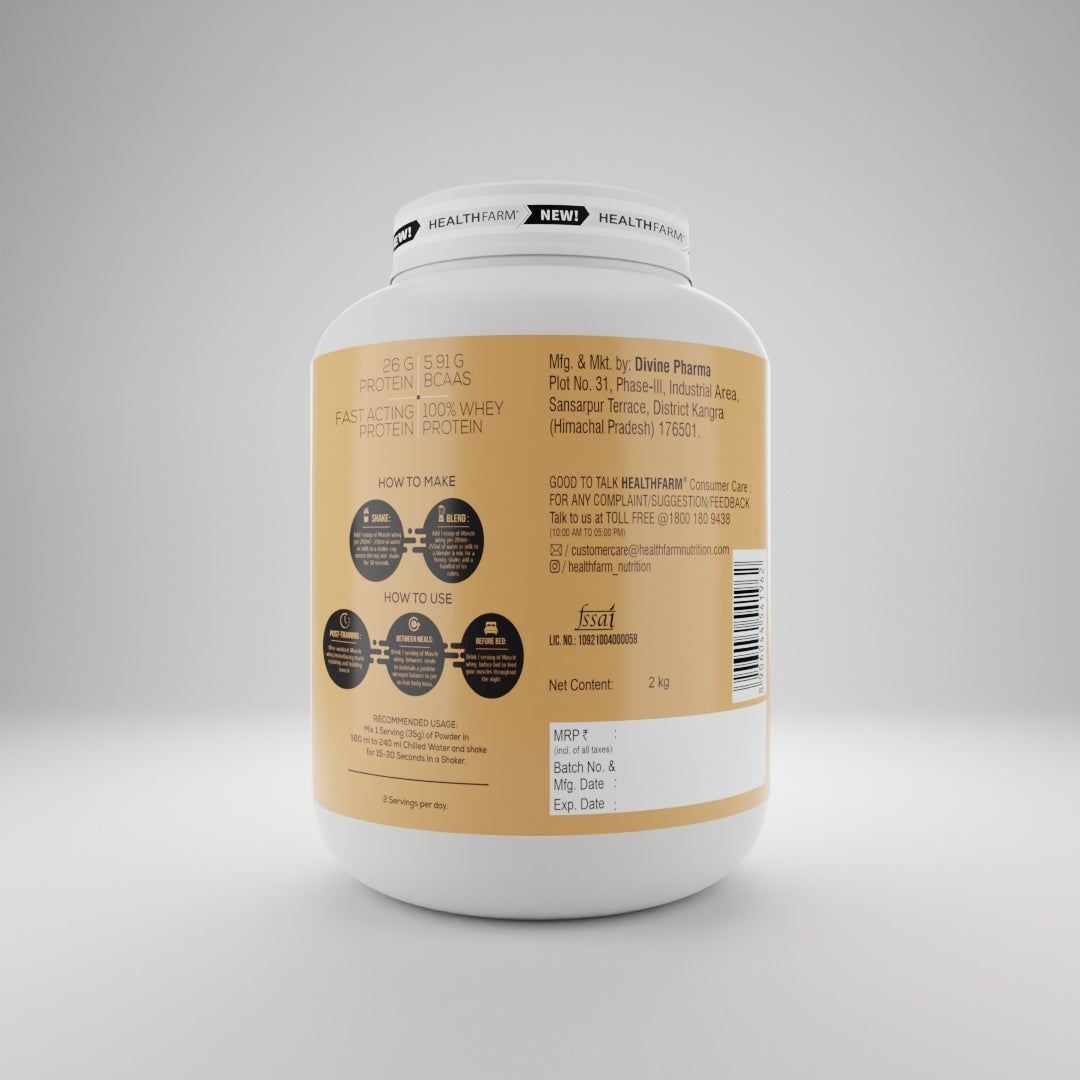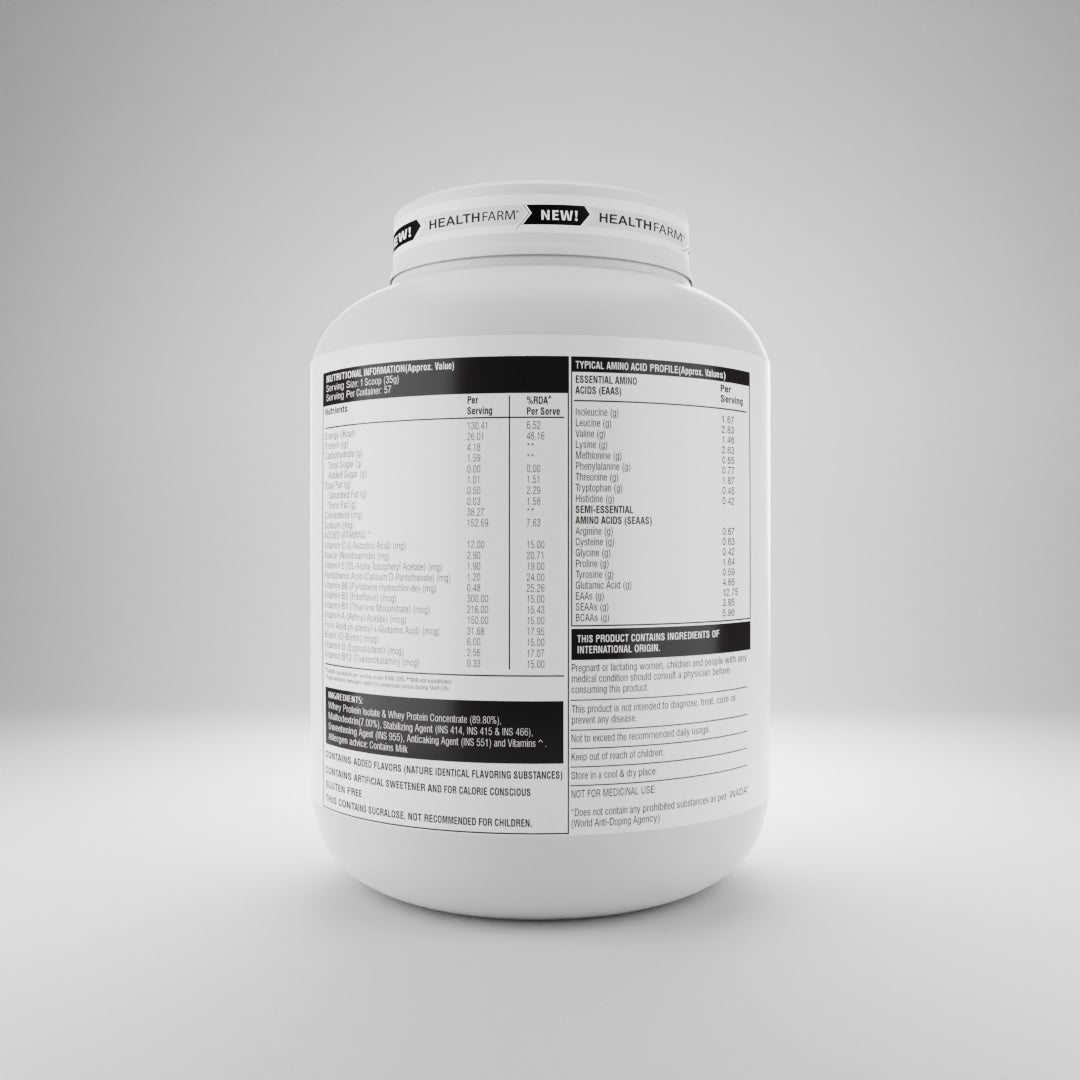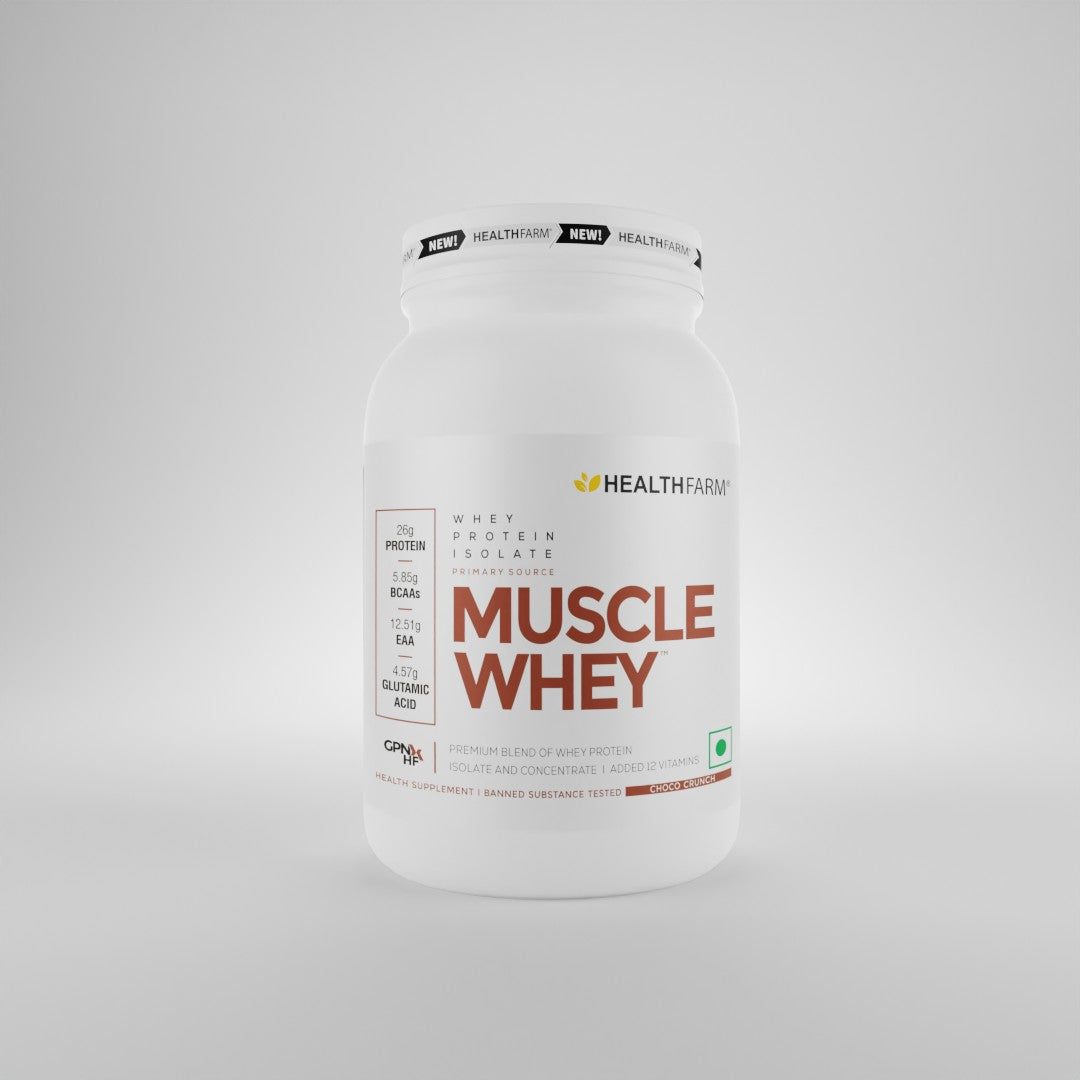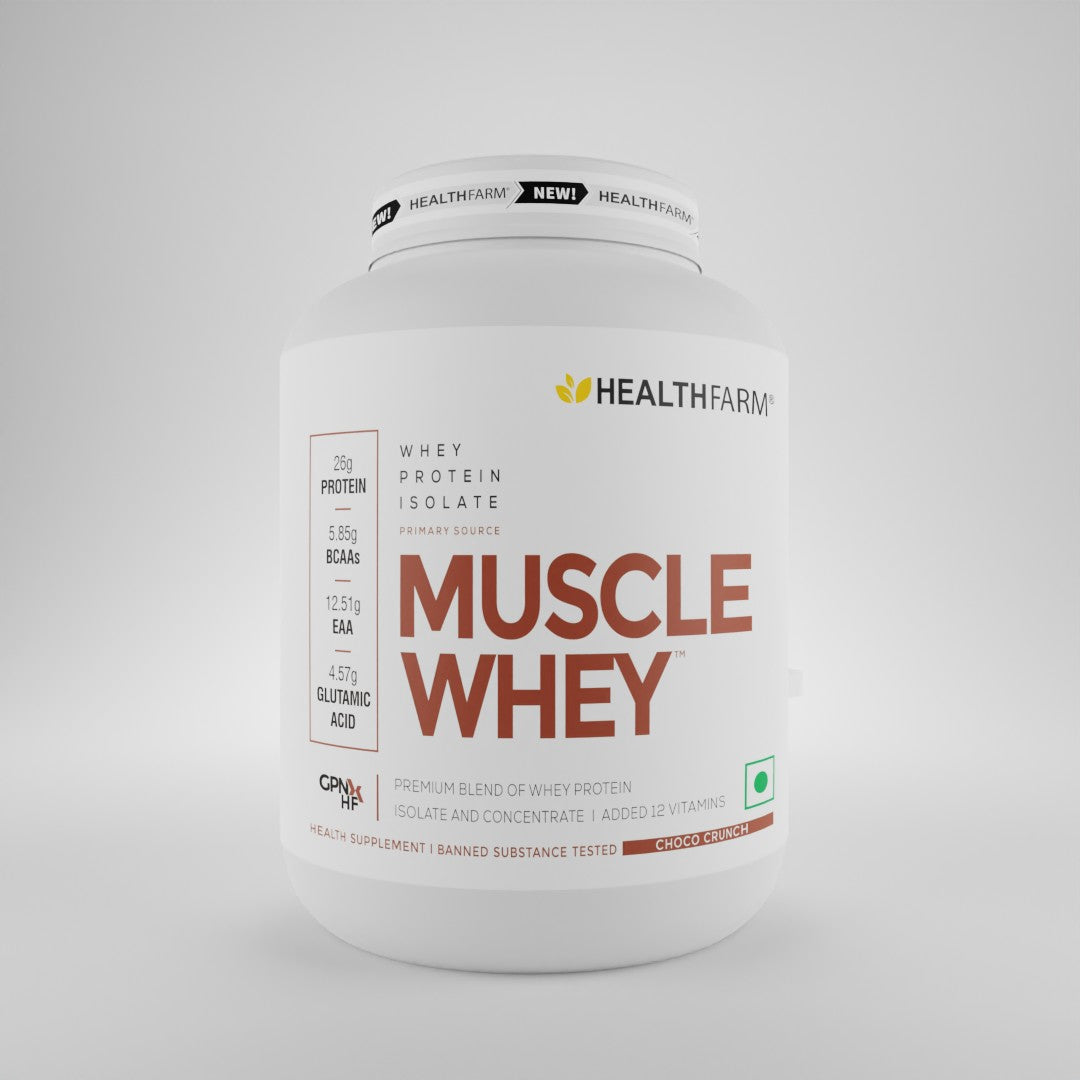 When it comes to selecting the best whey protein supplement, HealthFarm Muscle stands out as a trusted brand known for delivering outstanding results. With 26g of high-quality protein per serving, our product provides you with a substantial amount of protein, supporting muscle development and recovery. It comes in various delectable flavors, making it a delightful addition to your daily routine. The powder dissolves easily, creating a smooth and enjoyable protein shake experience. Consuming Whey Protein after a workout helps replenish glycogen stores and aids in muscle tissue repair, facilitating faster recovery.
Product Details
KEY SPECIFICATIONS

Protein Content: Each serving contains 26g of protein, derived from a blend of whey protein isolate and concentrate.
Branched-Chain Amino Acids (BCAAs): Muscle Whey Protein offers 5.96g of BCAAs per serving, crucial for muscle repair and growth.
Essential Amino Acids (EAAs): With 12.75g of EAAs, this supplement supports overall muscle recovery and promotes an anabolic environment.
Glutamic Acid: Each serving contains 4.66g of glutamic acid, aiding in muscle protein synthesis.
BENEFITS

Muscle Growth and Repair: The high protein content in Muscle Whey Protein stimulates muscle protein synthesis, facilitating muscle repair and growth.
Enhanced Recovery: The inclusion of BCAAs and EAAs supports post-workout recovery by reducing muscle soreness and promoting faster repair.
Increased Strength and Performance: Regular consumption of Muscle Whey Protein can lead to improved strength, endurance, and overall athletic performance.
Weight Management: Protein-rich diets promote satiety, helping to control appetite and manage weight effectively.
Optimal Nutrient Absorption: The addition of 12 essential vitamins ensures that your body efficiently absorbs and utilizes nutrients for enhanced overall well-being.
High-Quality Protein

HealthFarm Muscle Whey Protein Isolate & Concentrate is a testament to our commitment to quality. Each serving packs a powerful punch of 26g of high-quality protein, sourced from the finest whey protein isolate and concentrate. With every scoop, you fuel your body with the purest and most effective protein available.


Experience the excellence of Muscle Whey Protein, a product with an uncompromising commitment to quality. With its zero spiking amino profile, you can trust that every serving delivers genuine and effective results. Each scoop is packed with 26g of protein, including an impressive 5.96g of Branched-Chain Amino Acids (BCAAs) to enhance muscle recovery and 12.75g of Essential Amino Acids (EAAs) for comprehensive muscle support. Additionally, the formula includes 4.66g of glutamic acid, aiding in replenishing and repairing fatigued muscles.


Muscle Whey stands out as the superior choice for your protein needs. With its 100% amino profile disclosure, you can trust that every serving delivers a complete range of essential amino acids for optimal muscle support. What sets Muscle Whey apart is its commitment to quality and safety. Each batch undergoes rigorous testing to ensure purity and potency, providing you with a safe and effective product. Additionally, Muscle Whey is fortified with 12 essential vitamins, further enhancing its nutritional value.



Choose Muscle Whey for its outstanding benefits. It provides high-quality protein with 26g per serving, sourced from whey protein isolate and concentrate. This premium blend is ideal for building your body, supporting muscle growth and recovery. Muscle Whey is lab tested for quality assurance, ensuring you receive a safe and effective product. Trust in Muscle Whey to fuel your fitness journey and achieve your goals.