HealthFarm ISO 7 Lean Muscle Whey Protein
Regular price

Rs. 5,249.00

Regular price

Rs. 6,999.00

Sale price

Rs. 5,249.00
Key Ingredients

Protein, EAAs, BCAA & Glutamine
How to Use

HOW TO TAKE IT?
SHAKE:
Take 250-300ml water in a shaker cup.
Add 1 scoop of ISO lean protein powder (serving size-45g) to the water.
BLEND:
Pour 250-300ml water into a blender.
Add 1 scoop of ISO protein powder into it. Add ice cubes if you can, Blend to mix properly.
WHEN TO TAKE?
AFTER WORKOUT Drink isolate protein drink after a workout to get fast recovery and building muscles.
BETWEEN MEALS Consume between meals to maintain Nitrogen balance to put on lean body mass.
BEFORE BED Enjoy a delicious ISO Whey Protein drink before sleeping to nourish muscles the whole night.
Benefits

Increase muscle size
Easy & early muscle recovery
Delay muscle soreness
No more muscle cramps
Incredible taste
Boost immunity
Enhance workout performance
Burn extra calories
Reduce bodyweight
Elevate mood
Share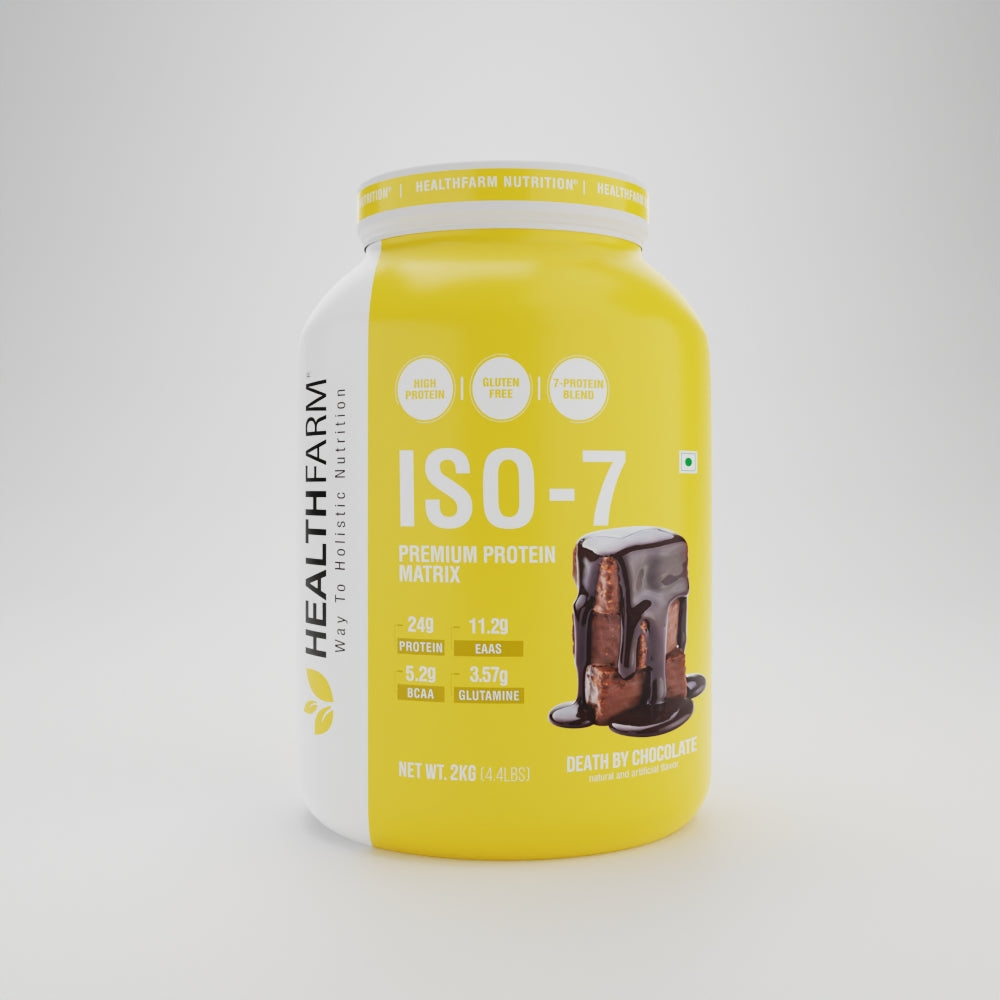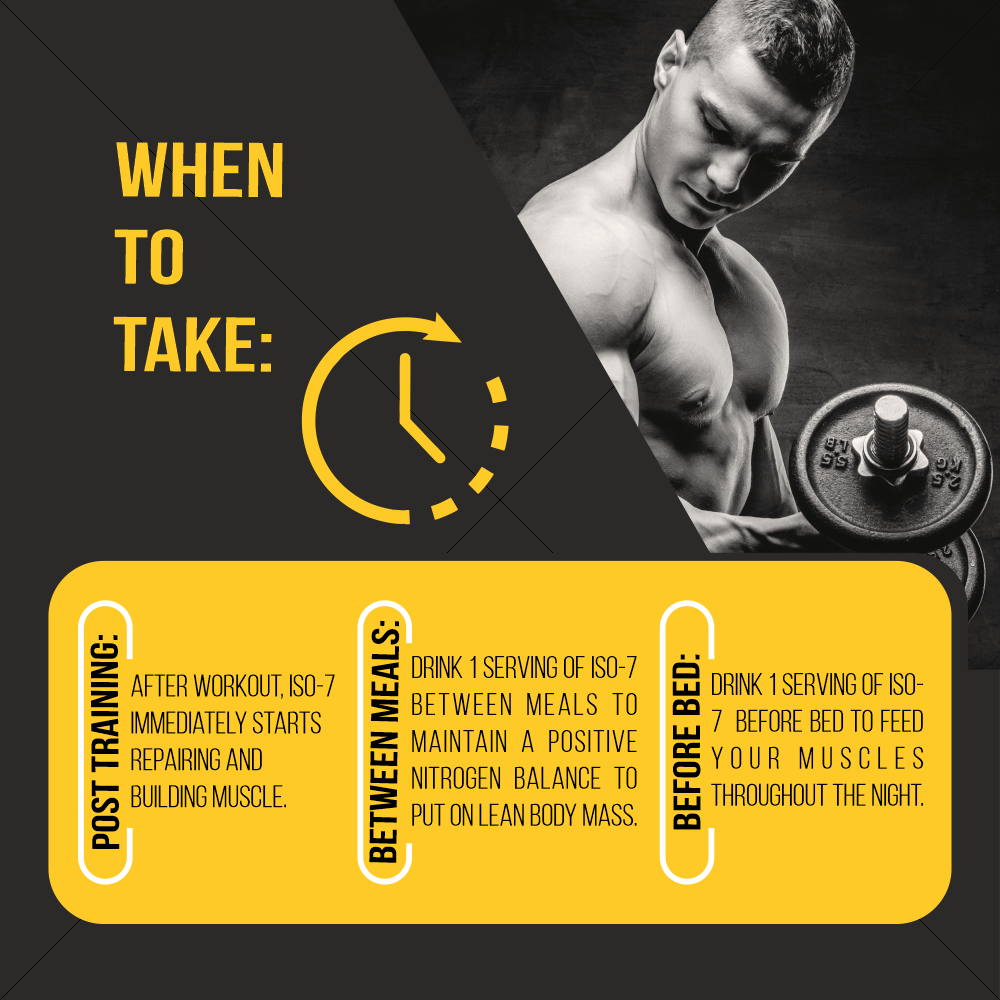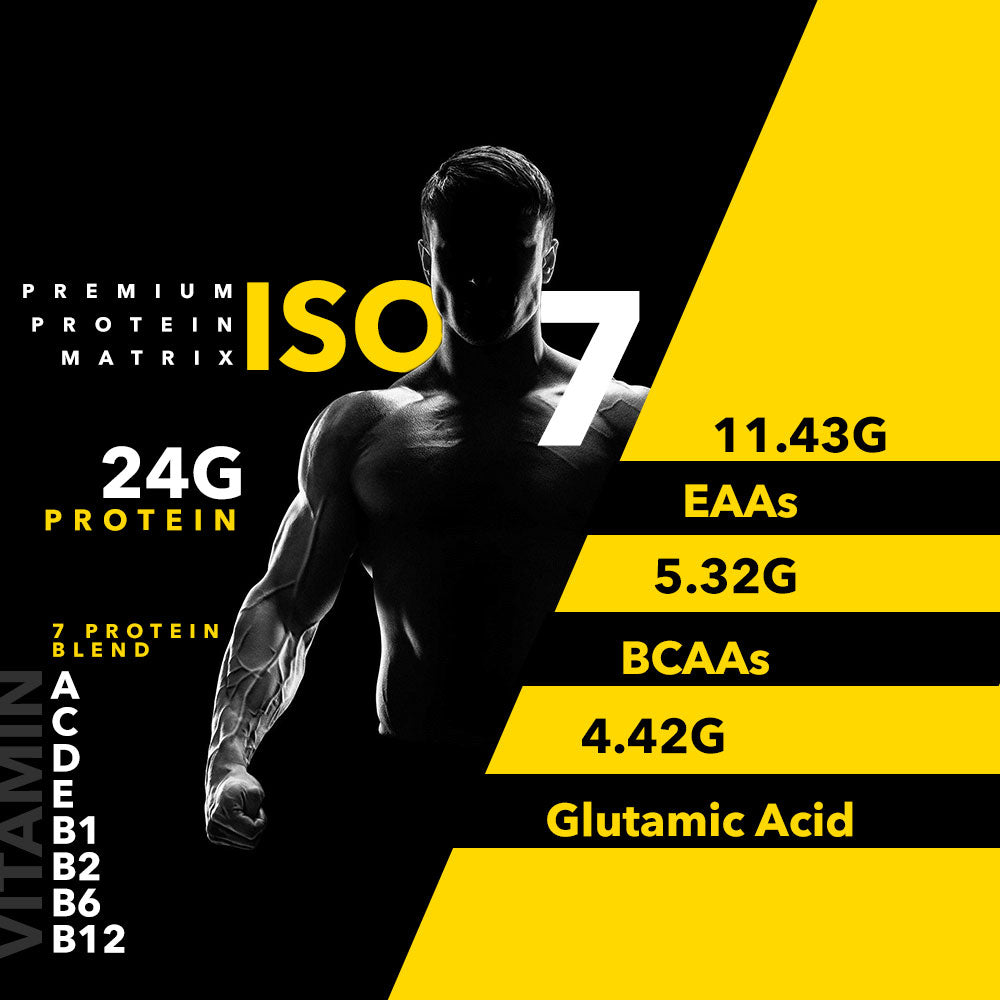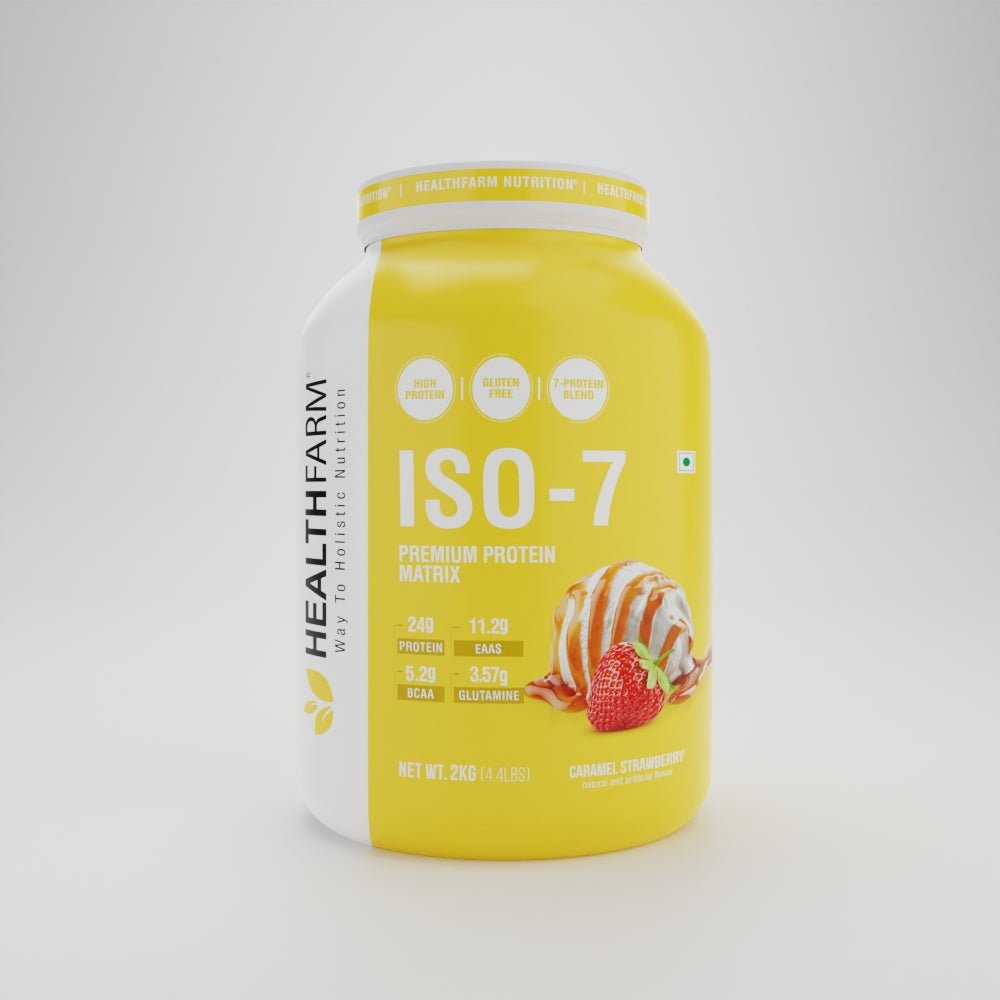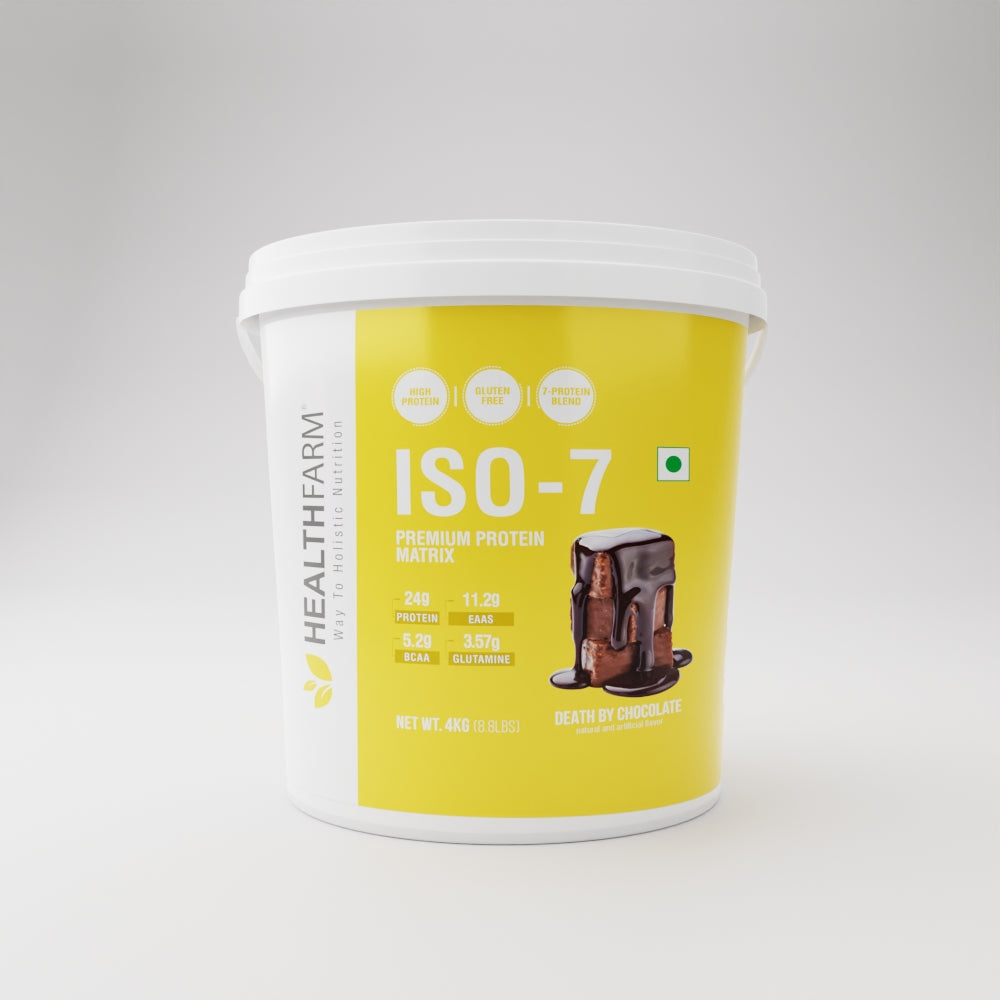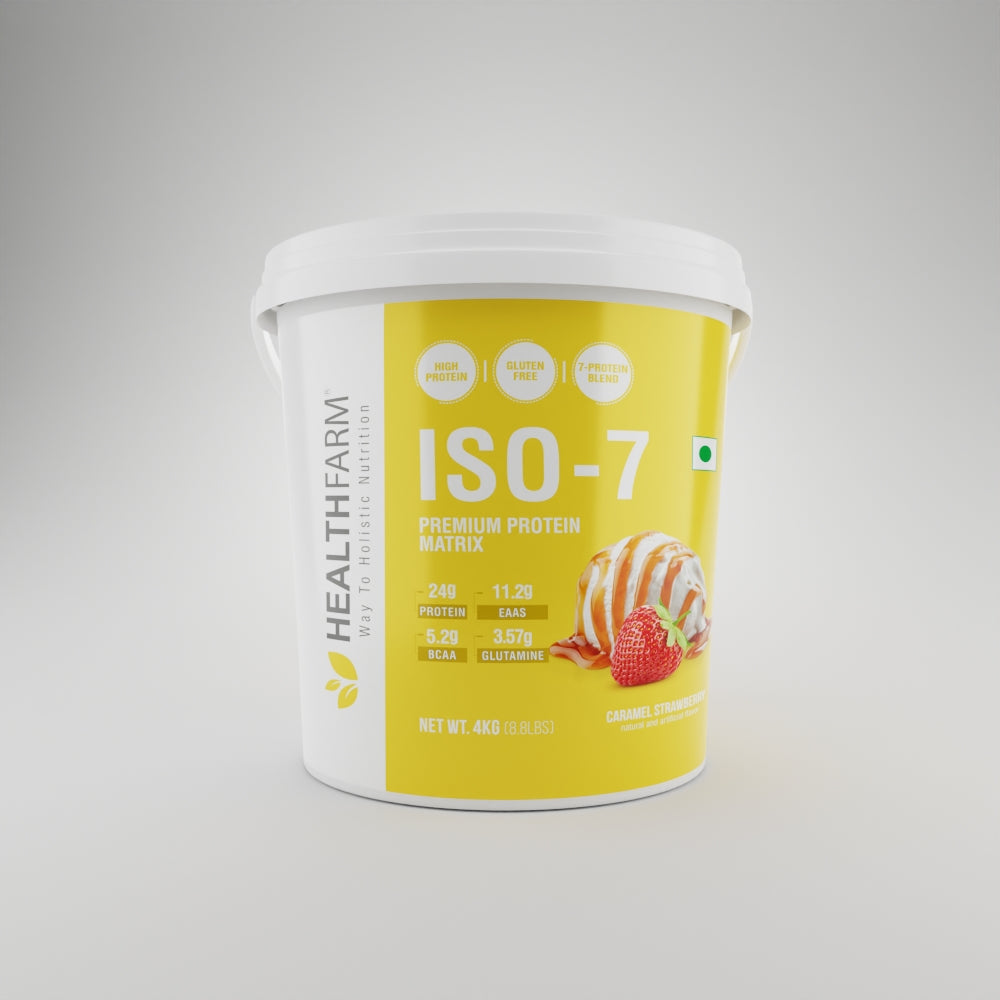 HEALTHFARM ISO 7 is a highly recommended protein supplement suitable for athletes of all levels, whether you're an advanced athlete, a regular mediator, or just starting out on your fitness journey. This exceptional supplement combines the power of WHEY ISOLATE, BCAA, Glutamine, and EAAs (Essential Amino Acids). With each scoop (45g), you get a generous serving of 24g protein, 11.2g EAAs, 5.2g BCAAs, and 3.57g Glutamine, fulfilling the crucial amino acid requirements for muscle growth, size, reduced soreness, and extended workout endurance.
Product Details
Key Specifications

100% WHEY ISOLATE+EAAs
Powerful integration of WHEY ISOLATE plus EAAs (Essential Amino Acids) is the best protein powder for lean muscle and better replacement of regular protein supplement caters to the need of essential amino acids in your body. It is a vital protein supplement for every athlete to raise muscle size, increase exercise time, quick muscle recovery, and enhancing strength in your body. EAAs push muscle protein synthesis (A process of creation of protein by cells) in which the body burns fat instead of muscles so it's a great weight loss supplement too.

WITH ADDED BCAAs + GLUTAMINE BCAAs
(Branched Amino Acid) are great to reduce muscle soreness, prevent muscle breakdown & encourage muscle growth. Glutamine improves muscle gains and boosts workout performance. Glutamine is also the prime energy source of intestinal & immunity cells. Glutamine is also a popular key ingredient to boost the immunity system of the person and good immunity is the sign of a healthy body as it acts as a shield against perilous dust or bacteria.

EASY DIGESTIBILITY
Gluten-free premium protein matrix, vegetarian, natural, sugar-free, soy-free with no unrealistic mixing, fully tested authentic delicious sensational in taste ISO 7 protein drink is easy to digest and recommended to every man and woman.

Benefits

Enhanced Recovery: The 11.43g of EAAs (essential amino acids) present in HealthFarm ISO 7 Lean Muscle promote optimal recovery after intense workouts. These amino acids aid in reducing muscle soreness and accelerating the repair process, allowing you to bounce back quicker and train harder.

BCAA Support: HealthFarm ISO 7 Lean Muscle contains 5.32g of BCAAs (branched-chain amino acids), including leucine, isoleucine, and valine. BCAAs play a crucial role in muscle protein synthesis and can help prevent muscle breakdown during intense exercise, supporting your muscle-building goals.

Immune System Boost: With 4.42g of glutamine per serving, HealthFarm ISO 7 Lean Muscle helps support a healthy immune system. Glutamine plays a vital role in immune function, particularly during times of intense physical activity, helping you stay strong and healthy as you push your limits.

High-Quality Protein for Muscle Building

Packed with 24g of high-quality protein per serving, HealthFarm ISO 7 Lean Muscle provides the essential amino acids necessary for muscle growth and repair. By supporting muscle protein synthesis, this whey protein powder helps you develop lean muscle mass and improve overall strength.

With its high protein content, added BCAAs (Branched-Chain Amino Acids), and EAAs (Essential Amino Acids), this premium protein powder provides a comprehensive solution for lean muscle development and recovery. This formula ensures efficient nutrient delivery to your muscles, helping you maximize your results.

Packed with an impressive 24g of protein per serving, this premium protein powder is specially formulated to support your fitness goals and help you achieve lean muscle growth and recovery. With a powerful blend of 11.2g of Essential Amino Acids (EAAs) and 5.2g of Branched-Chain Amino Acids (BCAAs) per serving, it provides your body with the essential building blocks necessary for muscle repair, growth, and overall well-being.

Packed with multivitamins is a rich source of energy for weightlifters. Helps in burning calories, excluding stress and anxiety, delay ageing, give strength to your bones, repair body tissues and encourage accurate functioning of your nerve system.
FAQ's
Does ISO 7 Protein powder help you get lean?

Yes, HEALTHFARM ISO 7 Isolate Protein Plus has EAAs (Essential Amino Acid) that is the prime ingredient a person needs to take from a supplement to get a lean body. The major role of EAAs is to do muscle protein synthesis (A process of creation of protein by cells) in which burns the fat from the body and makes you lean and fit.
Who can use ISO 7 Isolate Protein Plus?

ISO 7 Isolate Protein Plus is produced for adults (Man and women). It is the best post-work supplement to do instant recovery, eliminate muscle soreness, and building muscle mass. You can also consume during regular meals to maintain nitrogen balance to remain active throughout the day. ISO 7 Isolate Protein Plus is recommended to every athlete, bodybuilder, or weightlifter to be king in their fitness journey.
Can I take ISO 7 Isolate Protein Plus with milk or juice?

Yes, you can. Add 1 scoop in milk or with your favorite juice, stir well, and enjoy.
Can pregnant women take ISO 7 Isolate Protein Plus powder?

Pregnant women should consult with their doctor before direct consumption of ISO 7 Isolate Protein Plus.