HealthFarm HYDRO GAIN High-quality Mass Gainer
Regular price

Rs. 3,074.00

Regular price

Rs. 4,099.00

Sale price

Rs. 3,074.00
Key Ingredients

Whey Protein isolate with hydro filtration as the primary ingredient. 84g* Protein, 18g* BCAA, 15g* Glutamine, 136g Carbs 8.46 grams of Leucine and zero grams of lactose Stabilizers and a mineral plus vitamin blend. Zero percent sugars
How to Use

HOW TO TAKE IT?
Mix 1 serving scoop (125g) in water or skimmed milk. ● Shake to mix up well. ● Drink 1 to 3 shakes every day.
WHEN TO TAKE?
Hydro Gain is easy to prepare by mixing in the water or milk. It gives you the option to consume it in the morning, between meals, or even before sleep. Take it once a day or twice a day or thrice a day that's completely your choice
Key specifications

GET 458.77 HIGH-CALORIES IN ONE SERVING 125g serving scoop supplies 458.77 calories to your body that every underweight, skinny person or weightlifter needs to take every day to gain weight. A perfect mass gainer supplement in India to fulfill your calorific requirements and help you to get a muscular body.
GET PERFECT BODY SHAPE Get rid of a slim or skinny body, this mass gainer or weight gainer contains 136 carbs, 84g protein, and 18g BCAA improves muscle mass, eliminate muscle soreness, repair damage muscles and a major source of energy for your body. If you are slim or skinny, hydrogain manages your weight in a healthy way.
Benefits

Assist in muscle growth and muscle mass
Get abdominal shape and perfect biceps
Helps in extending workout sessions
Prevent muscle breakage.
Get rid of food cravings
Share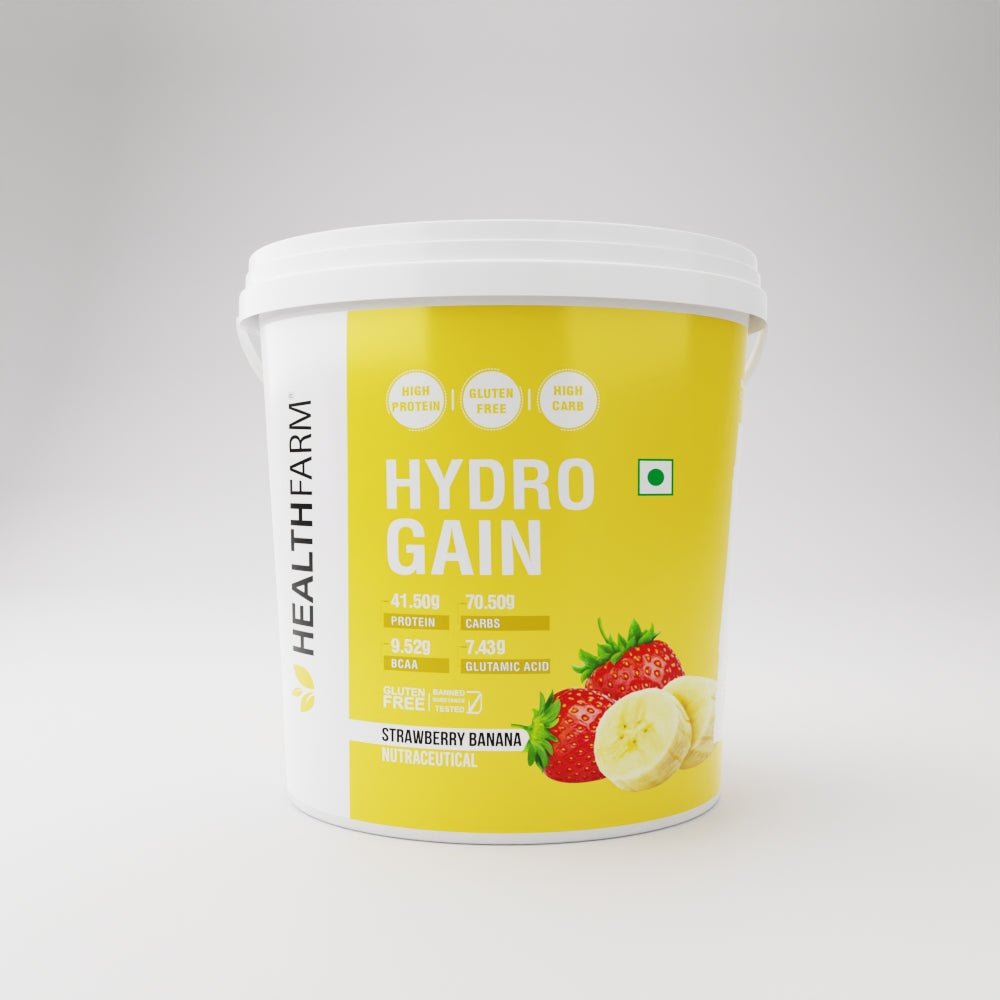 FAQ's
Which is the best weight gainer for skinny guys?

Healthfarm nutrition's hydro gain has 84g protein, 136g carbs, 18g BCAA added 15g glutamine and multivitamin content is best to cater to the needs of every active person or advanced level athletes. 125g serving scoop size delivers so many benefits such as muscle recovery, building muscles, muscle growth, and digestion to every age or gender is a super delicious shake to manage your weight in an ideal way and provide an attractive physique.
Does a weight gainer help build muscle?

A mass gainer is specifically designed to get the extra high-quality protein and calories your body needs to build muscles. Healthfarm nutrition hydro gain is a rich source of 84g Protein, 136g Carbs, 18g BCAA, and 15g of Glutamine and Multivitamins. It is perfect to provide energy and eliminating fat from your body.
Does weight gainer increase fat?

The role of a Weight gainer or mass gainer is to build muscles and get a perfectly toned body. If the person begins taking mass gainer without involving in physical exercise or gym activities then definitely you are likely to get fat rather than muscles. Healthfarm nutrition's hydro gain is an excellent mass gainer/weight gainer supplement to lose weight and maintain proper nutrition in your body.
Can we take a weight gainer empty stomach?
When is the best time to take weight gainer?

Enjoy Healthfarm's hydro gain mass gainer or weight gainer supplement whenever you want. You can drink it during your breakfast meal or consume it -in between meals to take energy. If you want to fuel your muscles while sleep then drinks it before 45 to 60 minutes of sleep.