HealthFarm Creatine Micronized, 100% Pure Monohydrate (250g)
Regular price

Rs. 1,599.00

Sale price

Rs. 999.00
Key Ingredients
Key specifications

100% ULTRA-PURE UNADULTURED CREATINE CONTENT 100 percent vegetarian ultra-pure lab-tested post-workout supplement has zero mixings, unflavored, no sugar, dairy-free, soy-free, no unethical content recommended to men, women, and adults. The best Creatine Monohydrate post-workout supplement is the top choice of many renowned athletes which supports giving high-intense workout performance.
RECOVER MUSCLES MORE QUICKLY Creatine Micronized Monohydrate (3000 mg) is the primary content of the product that helps to recover the damaged muscles. It is effective to hold the water content in the muscles that assist in building muscles, provides lean muscle mass, and gives strength to the body. Age has no bar, everyone can get the benefit of this post-workout supplement.
MAKES YOU UNSTOPPABLE IN THE GYM 1 serving of 3gm Creatine Monohydrate Micronized powder is sufficient to meet your daily workout goal. Creatine Micronized is highly beneficial for protein synthesis, and creatine content in the body aids in producing ATP energy.
EASY MIXABILITY, DIGESTIBILITY & AFFORDABLE Easy-to-prepare by mixing in the water or take it along with your favorite juice. This healthier shake is easy to digest for every age. Affordable in price, this best creatine is Micronized Monohydrate that sustains you to meet your daily fitness goals.
Benefits

High Potency
Pure Vegan
Unflavored
Sugar-Free
Dairy Free
soy-free
lab-tested post-workout supplement
Share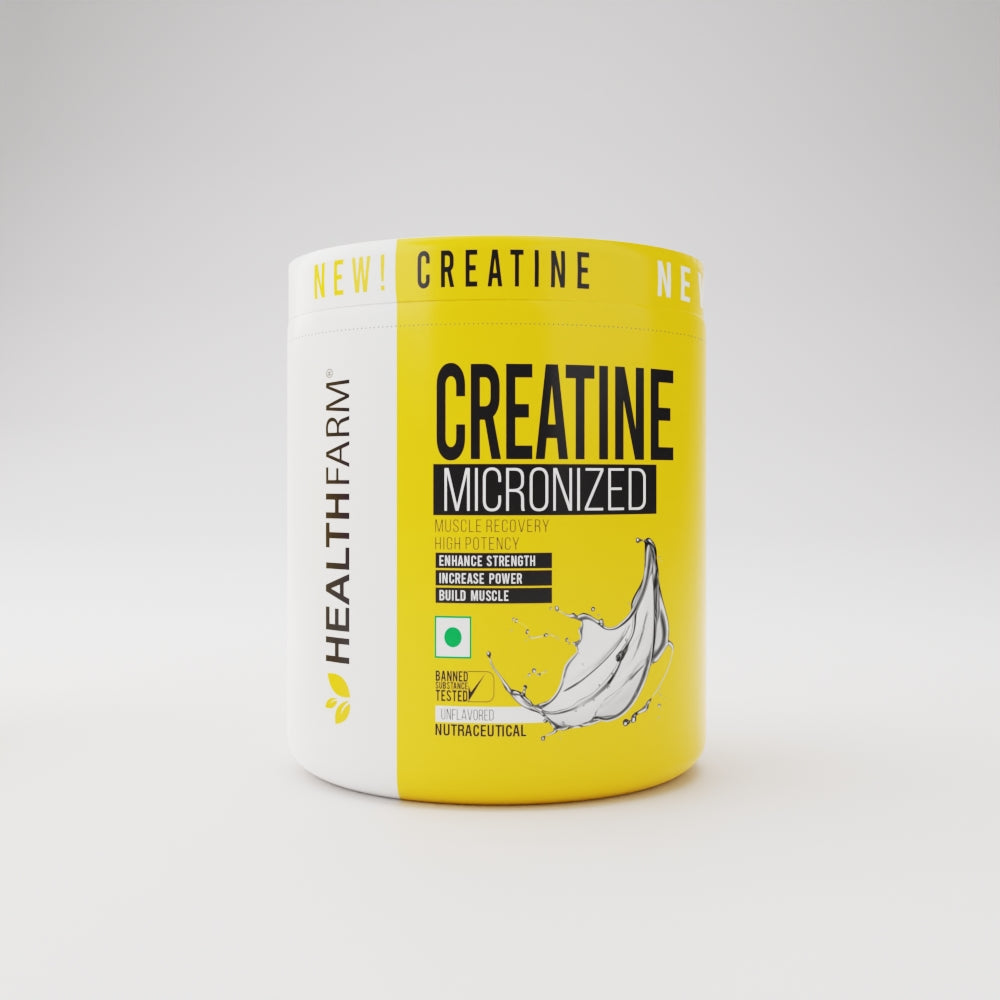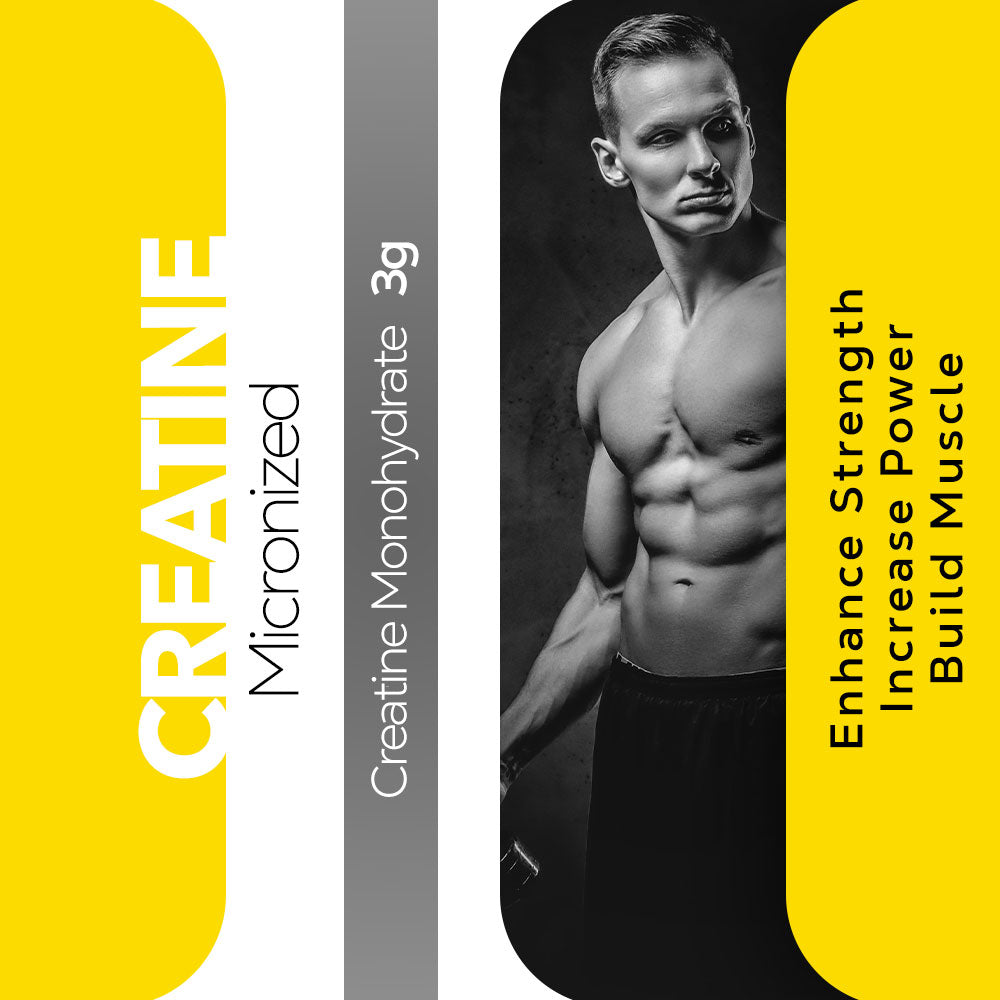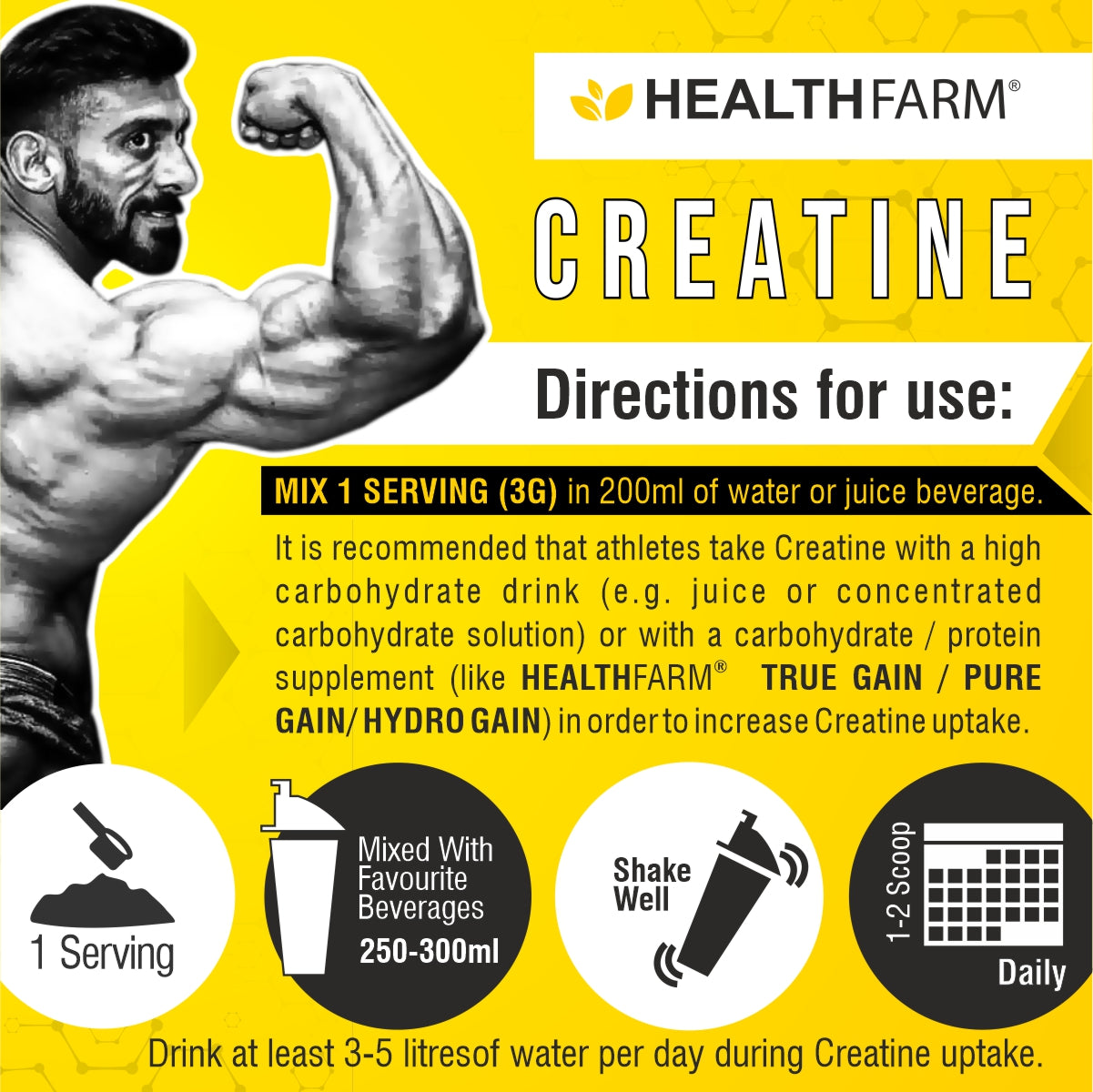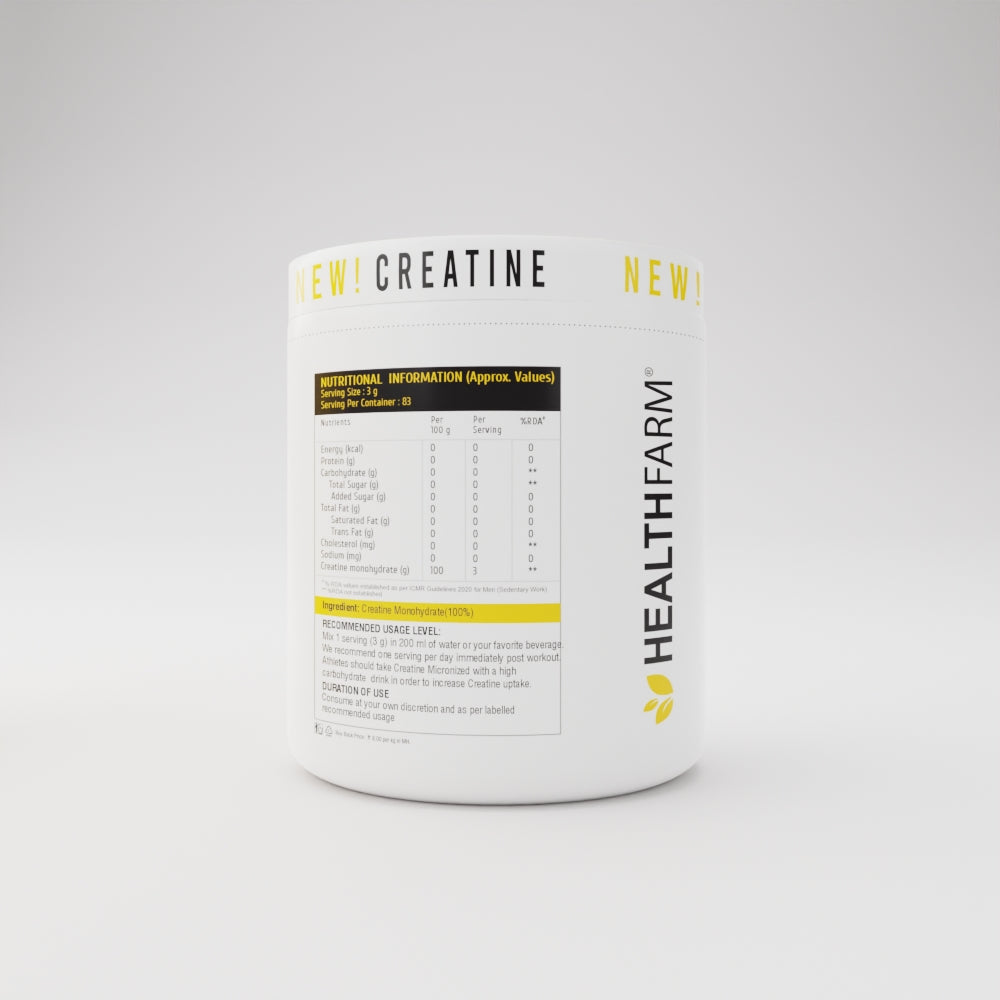 What are the benefits of Micronized creatine?

Micronized creatine benefits in producing more energy, speed in muscle recovery, building muscles, damaging muscles, improving exercise performance, fighting diabetes, and lowering blood sugar levels.


Does micronized creatine cause bloating?

Micronized creatine is especially used by athletes or trainers to get big muscle size, power, strength, and high-intense workout performance. Creatine is the strong and powerful content recommended to men and women however some may experience bloating at the initial stage that is mainly known as the loading phase.


How much Creatine Monohydrate should I take per day?

The body produces 1 to 2g of creatine every day naturally. If you want to get a big muscle size, take 3-5 gm of creatine per day. HEALTHFARM nutrition Creatine Micronized post-workout supplement delivers 3000gmg creatine monohydrate in 1 serving (3gm scoop size) which caters to the required need of your body.


How much water should I drink with creatine?

Drink 3 to 5 liters of water every day during creatine uptake.


Does Micronized Creatine absorb better?

Yes, creatine is micronized content that is processed to refine water solubility that leads to improving the overall capacity of the body to absorb it.