HealthFarm Citrulline Mallate for Muscle Power & Pump (100gm)
Regular price

Rs. 999.00

Sale price

Rs. 749.00
Key Ingredients
How to Use

In Shaker Take 250-300ml water in a shaker. Add 1 scoop (3g) of best citrulline malate powder to it. Shake well to stir well. In Blender Take 250-300ml water in a blender. Put 3-4 ice cubes if you desire. Add 1 scoop (3g) of citrulline malate powder in a blender. Blend well to mix well. In glass Take a glass of water. (250-300ml) Put 1 serving scoop (3g) of powder in a glass. Mix it with a fork or spoon. Shake is ready.
WHEN TO TAKE? Citrulline Mallate benefits as a pre-workout and post work out supplement. Take it before the exercise to give outstanding performance in the gym or workout. Take it after the exercise to get a quick recovery and remove muscle soreness
Key specifications

PERFORMANCE BOOSTER DRINK An athlete's body needs 3000g citrulline daily to give power blaster performance in the gym or sports competition. Citrulline is simply a nonessential amino acid and malate is malic acid. Citrulline+malate stimulates energy in the body and assists to perform people well more than their expectations by increasing nitric oxide, enhancing blood flow, and reducing fatigue. HEALTHFARM Citrulline Mallate product serves 1 scoop (3g) and provides 3000g Citrulline Malate to your body so you have to consume it daily with water (250-300ml) or juice to attain true goals in your fitness journey.
FHEALTHY MUSCLE FOOD It brings improvement in muscular contraction efficiency and when a muscle contracts well against load it functions in an optimum way. No muscle fatigue, get bigger muscles, no muscle cramps, build muscle mass, raise the level of oxygen in the muscles and eliminate full-body fatigue, Our CITRULLINE MALLATE assists to get extreme results in the workout or sports.
DELAY MUSCLE FATIGUE A pure mixer of Citrulline and Malate encourages fast blood circulation in your body and also removes ammonia and lactic acid which ultimately helps you to do a workout for a long time without getting tired.
PURE PREWORKOUT+POSTWORKOUT Unflavored pre-workout, the post-work supplement has no artificial taste enhancer, Sugarcubes, or component. Highly pure, vegetarian, authentic good in taste pure l citrulline malate powder promises lots of health benefits to fitness enthusiasts such as no tiredness, no cramps, enhancing stamina, boosting energy and fast recovery.
Benefits

High stamina
Powerful performance
Build muscle mass
Increase blood flow
Delay workout fatigue
Fast workout recovery
No muscle cramps/muscle soreness
Share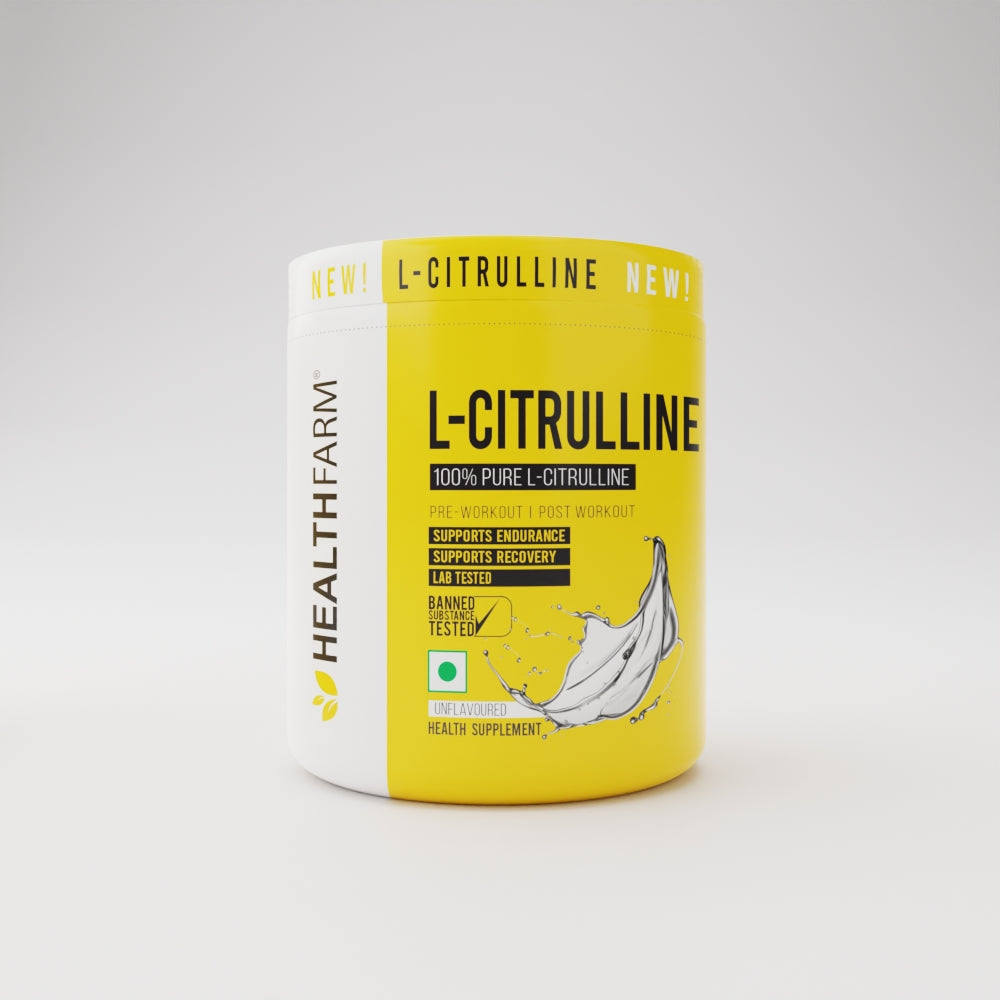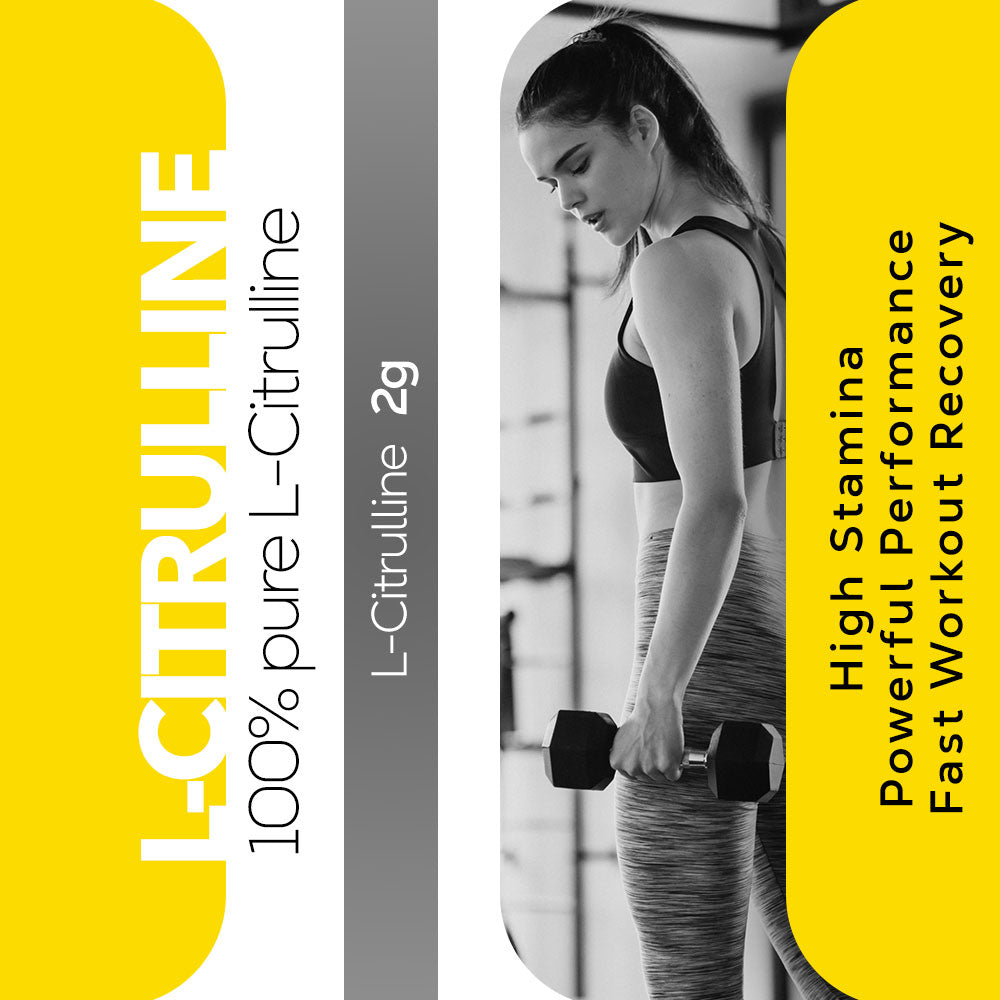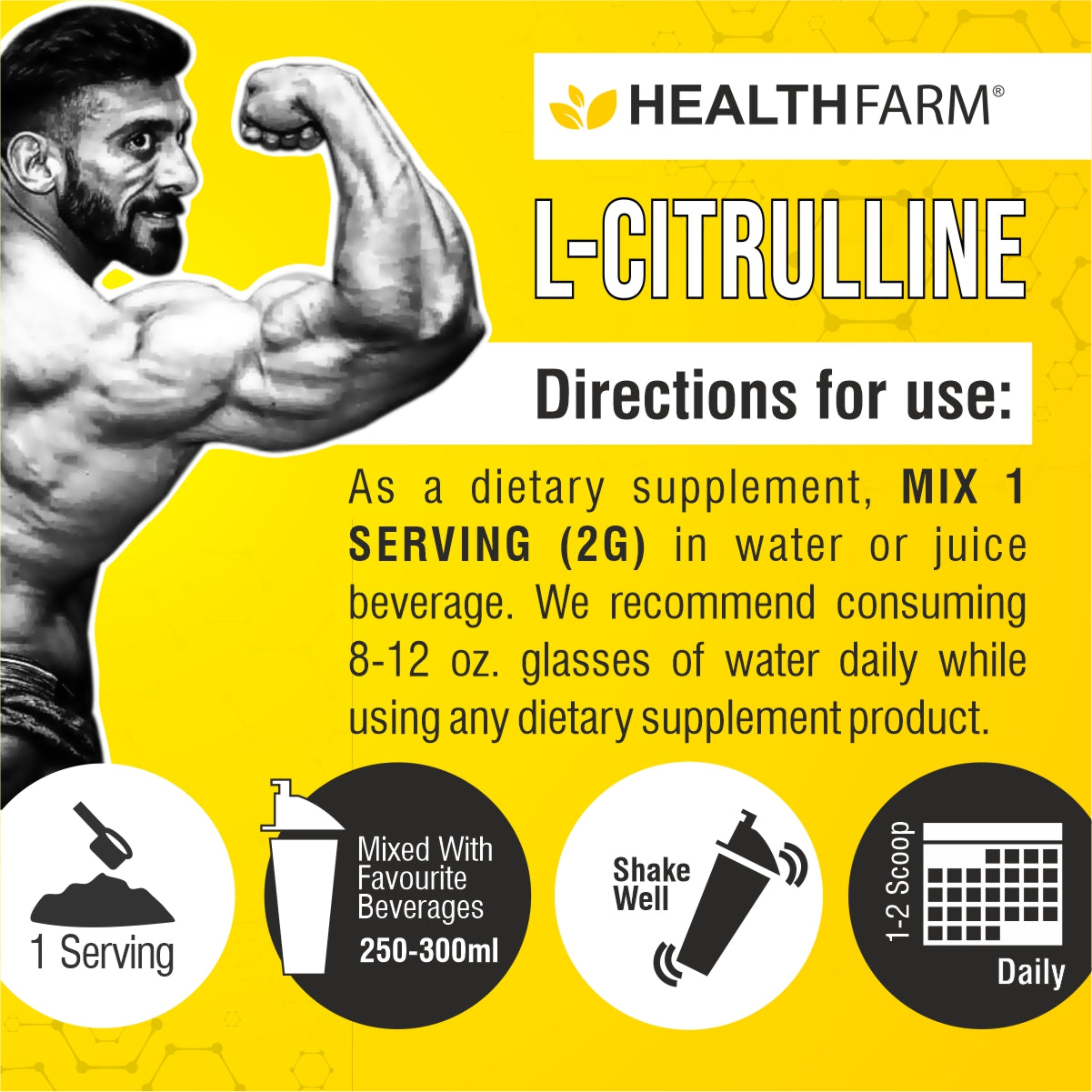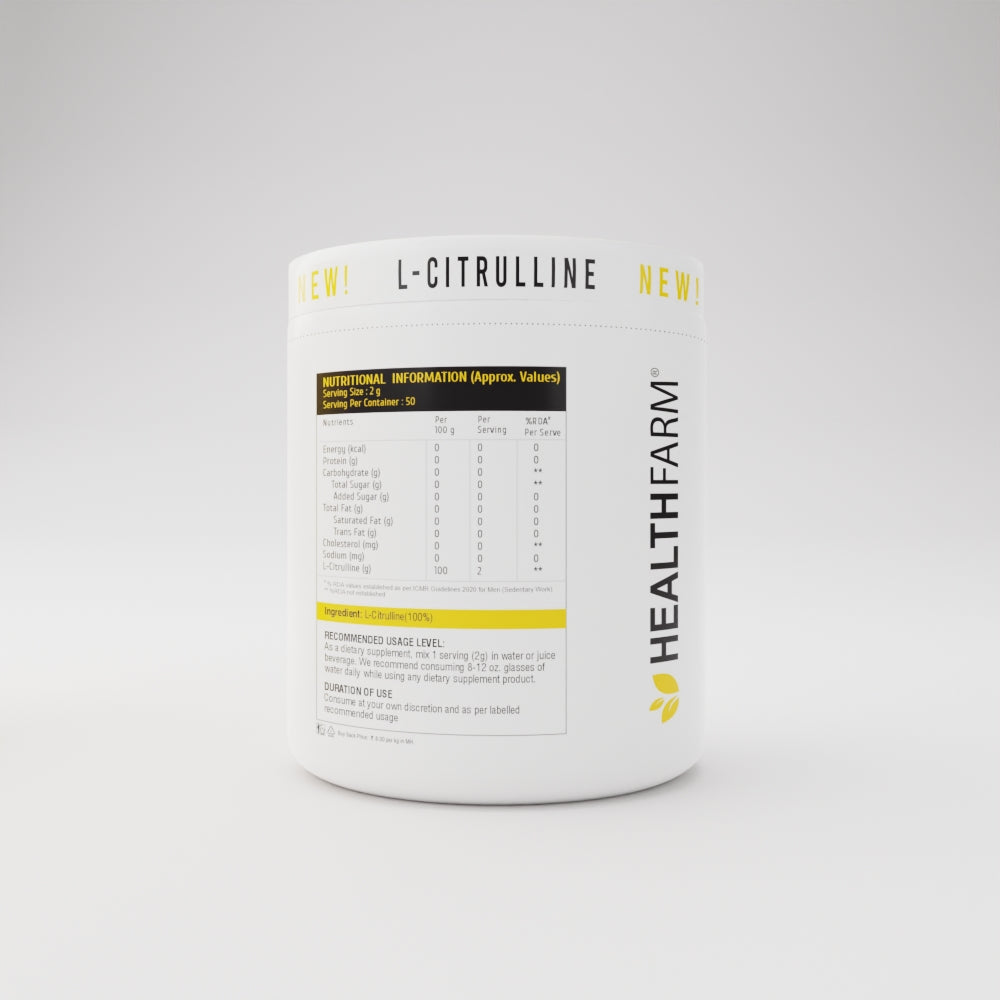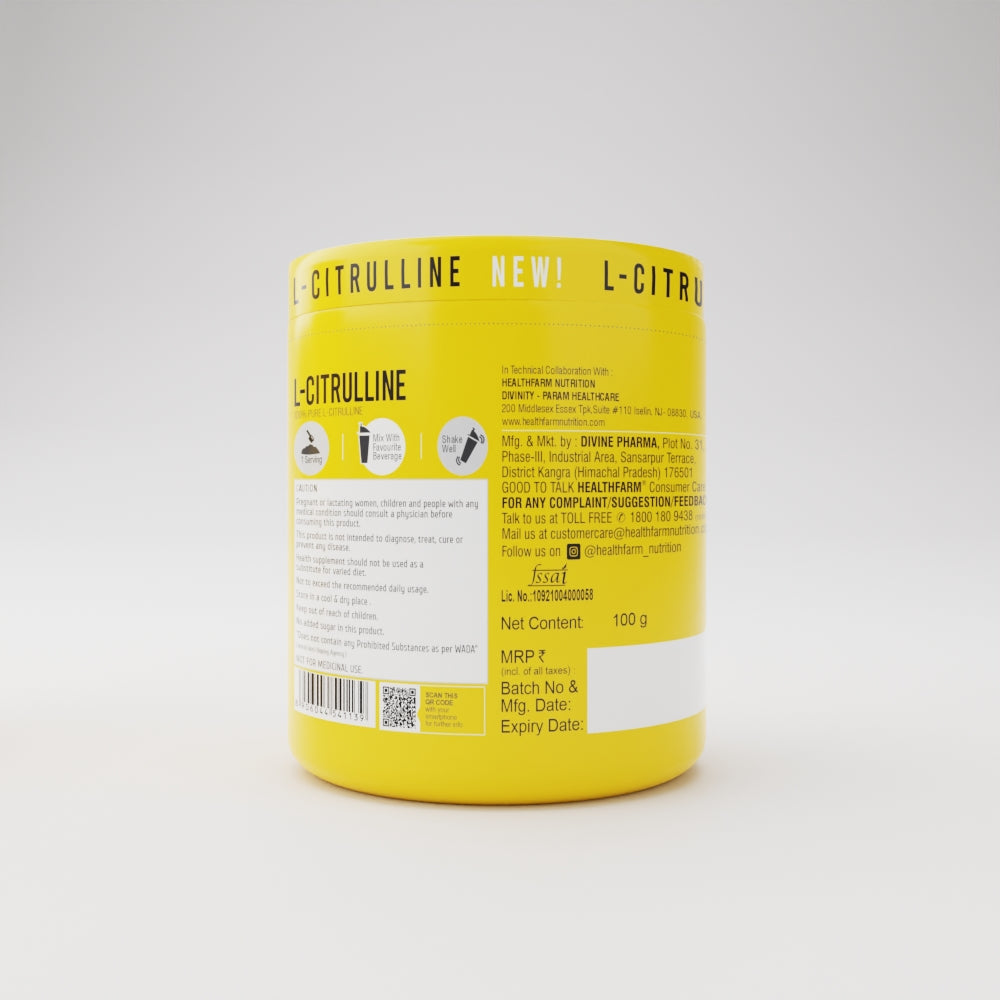 FAQ's
How much citrulline malate before a workout?

Daily you need to take 3000g citrulline malate to give a fantastic performance in the workout or sports. HEALTHFARM provides 1 scoop which has a serving size of 3g and serves 3000g which is highly needed for your body to perform well. It is an adequate amount to delay muscle soreness, provide energy, provide oxygen to muscles, increase blood flow and enhance endurance.
Can I mix Citrulline Malate with BCAA?

Yes, You can. Citrulline Malate benefits alone and also you can combine it with other health supplements. Citrulline malate with BCAA (Branched Chain Amino Acids) is the most beneficial pairing for athletes or bodybuilders. Supports the protein synthesis process, it assists you to give unbeatable performance and reduce fatigue.
How to take Citrulline Malate powder?

You need to prepare a shake of citrulline malate powder by mixing it in the water or juice. Put 1 scoop of citrulline malate powder in 250-300ml water, mix well and shake. Enjoy with your friends or family.
Is it bad to take Citrulline Malate every day?

Not at all. Every human body requires 3000g of citrulline malate to gain maximum output from this pre-workout and post-workout supplement.