HealthFarm ZMA SPORTS TAB, Boost Immunity, BUY 1 GET 1 Offer
Regular price

Sale price

Rs. 899.00
Key Ingredients
How to Use

HOW TO TAKE IT?
Take 3 tablets a day, Consume it with water.
WHEN TO TAKE?
Take 3 tablets every day. NOTE: Take the suggestion of a healthcare professional or physician before direct consumption if struggling with serious medical concerns.
Key specifications

'MAGNESIUM PLUS SULFATE'-KING OF MUSCLE RECOVERY Every athlete, bodybuilder, swimmer, player, or runner, a body of sports person, demands 10-20% more magnesium. 100mg magnesium ZMA sports tablets with 3mg sulfate & 0.6mg vitamin B6 help you to perform like a master blaster. Magnesium helps your muscle to get relaxed after a hard workout instantly. Magnesium prevents injury by losing the tightness of muscles. Control biochemical reactions, blood pressure, protein synthesis, magnesium runs your nerve system accurately.
IMMUNITY BOOSTER TABS Zinc is the most demandable compound to increase immunity. Along with normal human beings, sportspeople or bodybuilders should take care of their immunity level to get prevention from physical stress, viral, infections, or bacteria. Poor immunity causes illness so boosts your immunity system with ZMA SPORTS TAB. 3MG SULPHATE keeps your immunity system strong. It also raises your testosterone level, body growth, regular blood sugar, promotes skin health and improves heart health.
IMPROVE SLEEP QUALITY ZINC plus Vitamin B6 promise better & peaceful sleep. Vitamin B6 reduces stress, depressions, and feeling of anxiety and elevates mood. Promote brain health, prevent anemia, reduce heart-related risks and promote eye health. No more wakeups at night but experience peaceful good dream sleep and wake up with a refreshing mood & mind.
PERFECT FITNESS SUPPLEMENTS FOR ADULTS An ideal performance enhancer supplement recommended to all men and women is a cost-effective product. Loaded with multivitamins and minerals, 3 doses of ZMA SPORTS daily encourage the better function of your body. ZMA SPORTS TAB keeps you forever strong, forever fit!
Benefits

QUICK WORKOUT RECOVERY
BETTER MOOD, QUALITY SLEEP
PROMOTE BRAIN HEALTH
REGULATE BLOOD SUGAR LEVEL
GOOD FOR EYES AND VISION NCREASE PERFORMNCE
INCREASE IMMUNITY LEVEL
Share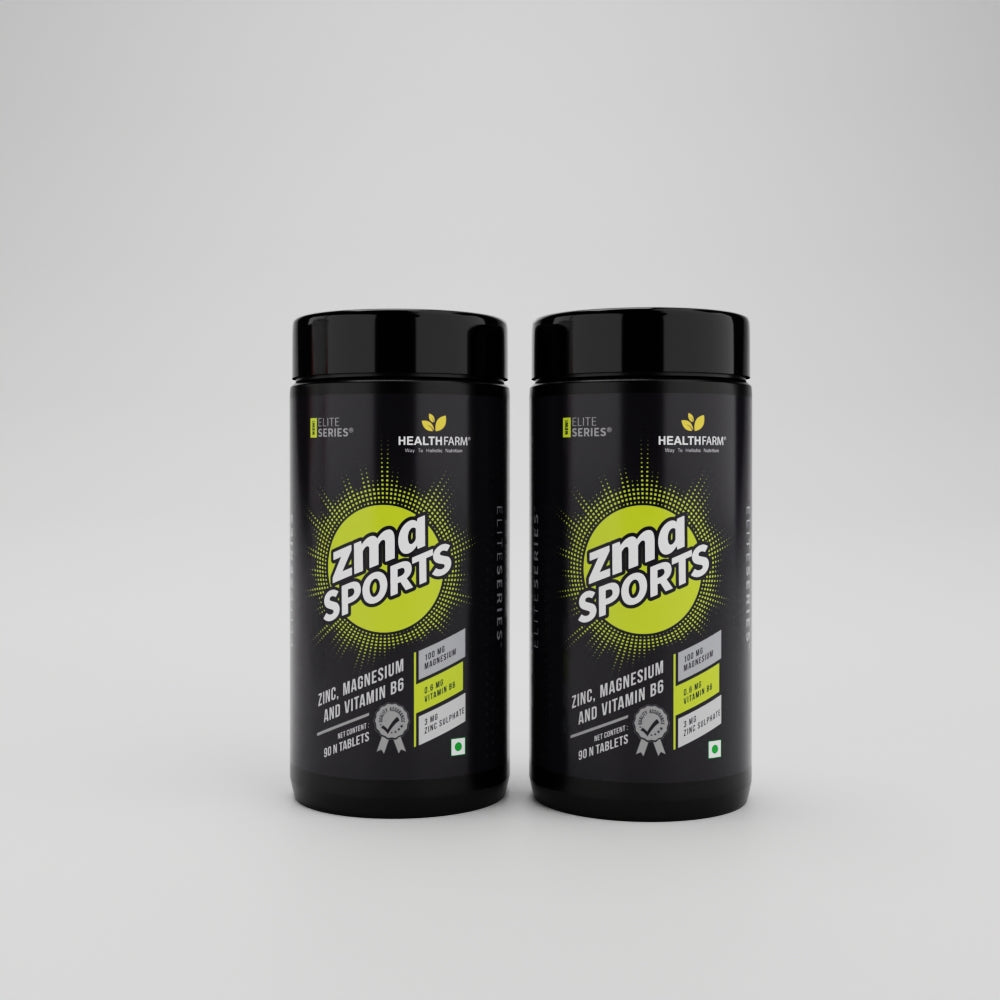 FAQ's
When should I take ZMA tablets?

It is recommended to take ZMA tablets on an empty stomach 30 to 60 prior to bed. It helps to prevent zinc, magnesium, and vitamin B6 from direct interaction with other nutrients in your diet. HEALTHFARM ZMA SPORTS TAB you need to consume 3 times a day (1 each ) with a glass of water to stay energetic inside and outside.
Why do you take ZMA at night?

ZMA or Zinc magnesium b6 benefits effectively at night by providing sound sleep. Your body release GH and other anabolic hormones if you take this supplement before bed. It replenishes essential micronutrients in your system and you will get recovery instantly after a hectic tiring workout.
What does zinc B6 and magnesium do?

A prime function of zinc is to boost immunity. Vitamin B6 is a widely popular ingredient among athletes or bodybuilders to increase strength and power. Magnesium improves muscle health, tightens muscles, provides fast recovery, and assists in the protein synthesis process. ZMA SPORTS TAB is a complete promise to you to maintain a healthy lifestyle.
What are ZMA tablets used for?

ZMA tablets-unique combination of zinc, magnesium, and vitamin B6, is the top pick of athletes, bodybuilders, sportspeople, or bodybuilders due to its powerful benefits like fast muscle growth, instant workout recovery, high endurance, energetic workout performance, reducing stress, healthy brain function, better functioning of the nerve system, boost immunity, healthy vision, sharp eyesight, and better good night sleep.