HealthFarm Tribulus Terrestris (Gokhru) Men's Wellness (60CAP), BUY 1 GET 1 Offer
Regular price

Sale price

Rs. 599.00
Key Ingredients

Gokhru (Tribulus Terrestris)
How to Use

Adults take 2 capsules daily with a glass of water.
Key specifications

PERFORMANCE BOOSTER Tribulus Terrestris supplement made with Gokhru (Tribulis Terrestris) has a 5,000-year-old history of medicinal use in India popular ayurvedic ingredient to enhance the body's natural testosterone levels Testosterone is a hormone mainly produced in men that is responsible for sexual development, sperm production, building muscles and appearance of men) which increase strength, power and perform better in sports or workout. Consisting of 60 capsules in a pack, this best result-oriented Tribulus before and after workout supplement is great to provide extra zeal to your muscles and gain muscle mass.
FULL ENERGY SUPPORTER A daily dose of 2 capsules 30 minutes prior to meals delivers pure Tribulus Terrestris build stamina, enhances strength, and decreases fatigue. The pure potent ayurvedic supplement helps in the muscle synthesis process fuel your muscles, doubling workout performance. Promoting nitric oxide levels helps to improve the pump during excess.
MUSCLE GAINER SUPPLEMENT Tribulus Terrestris consists of a steroidal saponin that assists in releasing nitric oxide and helps to supply oxygen-rich blood to muscles. It assists every adult to get bigger muscles and better packs on muscle mass.
BOOST DIGESTION HEALTH Tribulus supports the optimum functioning of digestive health. By decreasing triglycerides level in the body and helps in appetite gives relief intestinal gas and expel toxins. Recommended to all men, gokhru improves the absorption of nutrition and enhances digestion.
Benefits

Promote sexual health in men
Support men's reproductive health
Enhance stamina & performance
Better mood and increased sexual desire
Good for the digestive system
Supply oxygen-rich blood to muscles
Promote muscle gains
Decrease muscle fatigue
How to Consume?

Best time to take Tribulus 30 minutes prior to the meal Or as suggested by your physician.
Share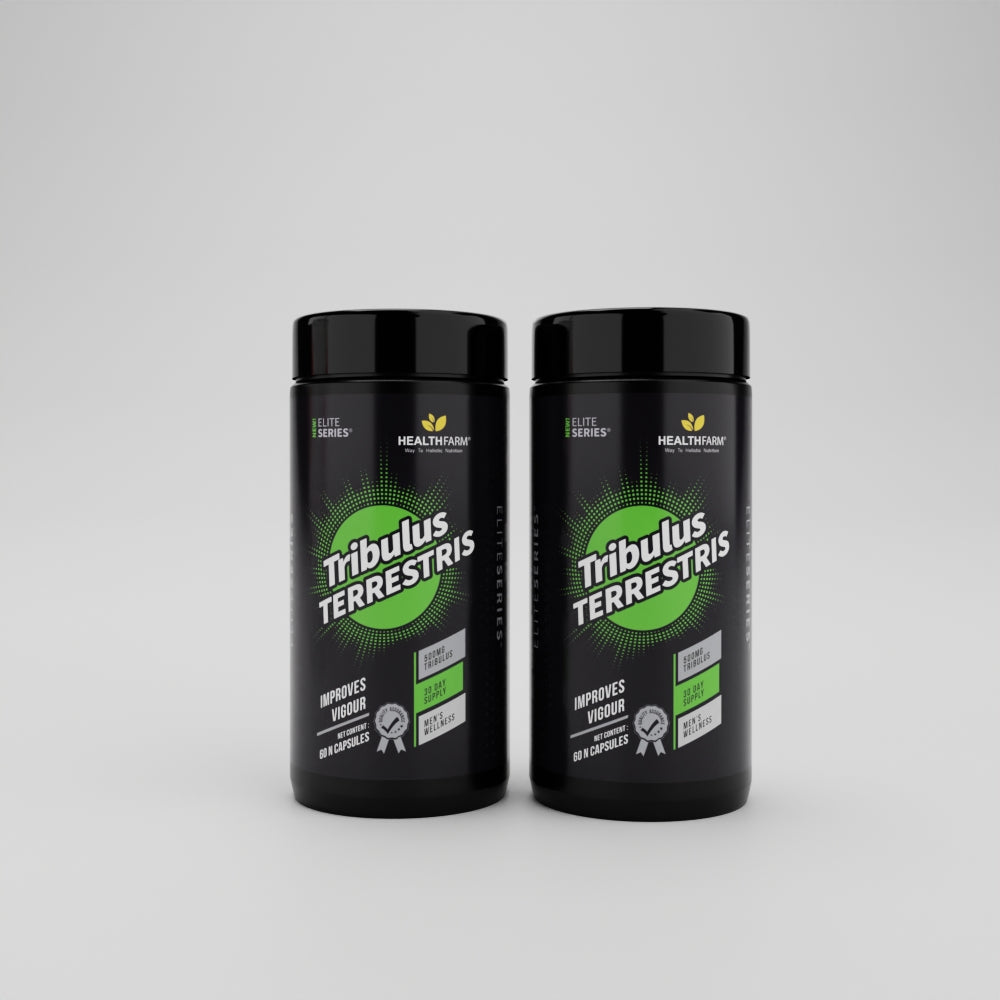 FAQ's
Can I take tribulus everyday?

Yes, You need to take tribulus daily to get benefits such as power,strength, better stamina, healthy digestion system, big muscles, decreasing workout fatigue, instant recovery, redemption from mental stress, increase sperm count, increase sexual desire and better reproduction system. Take 2 capsules of HEALTHFARM TRIBULUS TERRESTRIS every day with water 30 prior to your meal and live a nutritious life.
When to take tribulus terrestris bodybuilding?

Take 1 capsule of HEALTHFARM TRIBULUS TERRESTRIS with a glass of water up to two times 30 minutes before meals. It is beneficial to bodybuilders or athletes for gaining muscles, instant workout recovery, eliminating body fatigue, boosting stamina, high performance and promoting muscle gains.
What does Tribulus do to the body?

Tribulus supports the men's reproductive system and promotes overall sexual health. It boosts the good functionality of the digestive system. It supplies oxygen rich blood to muscles and helps in muscle gain and rapid muscle recovery. Best herbal supplement helps you to get large gains in strength and extreme power.