HealthFarm Reload Instant Energy Drink Powder
Regular price

Rs. 599.00

Sale price

Rs. 449.00
Key specifications

POWER BOOSTER ENERGY DRINK Consisting 250 mg BCAA and 250mg Glutamine is the best source of energy for the active person, athletes, or bodybuilders. Feel active, stay active and achieve healthy fitness goals as the product is the best energy boost supplement in India.
GIVE FIREFALL PERFORMANCE IN SPORTS ACTIVITY The unique formulation of BCAAs (250mg), Glutamine (250mg), and essential minerals such as (200mg Sodium), (50mg Magnesium), (43mg Phosphorous), (386mg Chloride) restore electrolyte balance and prevents cramps in sportspersons. The more you feel energetic the more you perform excellently as BCAA specifically enhance muscle growth and transfer energy in your body. So, be limitless and give 100 percent competition to your opponents.
BETTER IMMUNITY, BETTER PREVENTION A combination of BCAA and glutamine is the best fuel to upgrade the immunity level of the body. A body with a great immunity system is best to defend your body from hazardous bacteria's viruses, virals, infections. Therefore, reload instant energy makes you energetic as well as healthy.
EASY DIGESTION, SPEEDY RECOVERY This has good digestibility power ideal to take any time when you feel a little tired to get your strength back instantly. Recommended to every person and every age group, the product is safe to consume free from unrealistic unhealthy content.
GET THE YUMMIEST FRUITY-LUSH FLAVORS From our several flavors-orange, lemon, mango, strawberry, green apple, watermelon, fruit punch, pineapple, and cola flavors, choose your favorite ones!
Benefits

Get muscle growth.
No more muscle tiredness.
Reduce body fatigue.
Reduce body fatigue.
Keeps you energetic and active.
Healthier immunity system
Easy digestion.
Share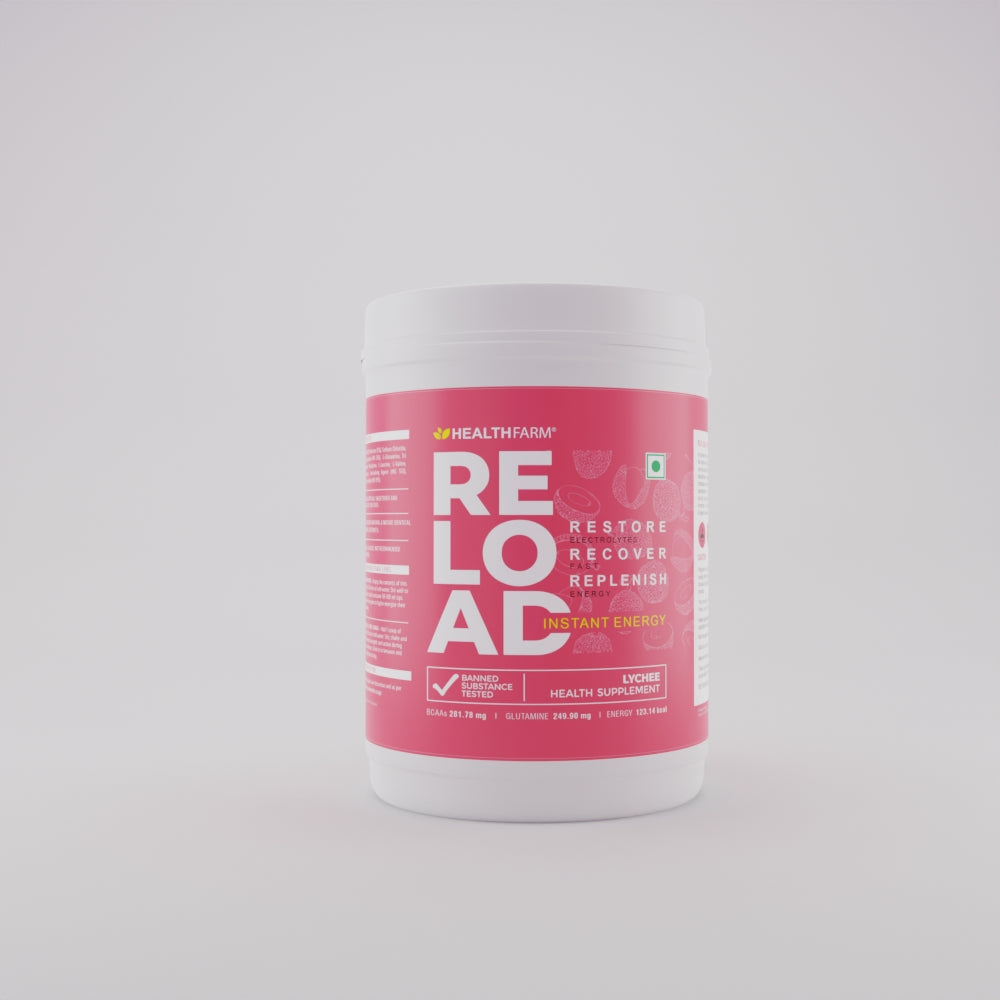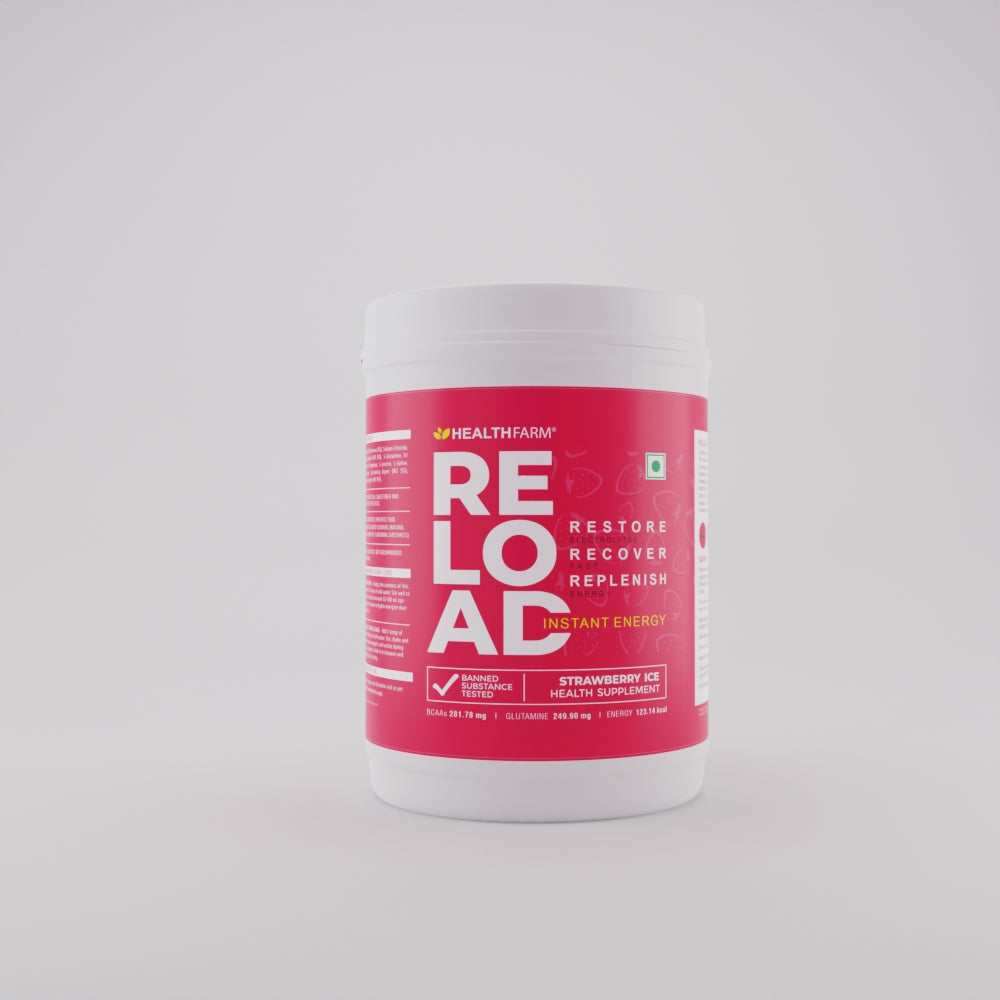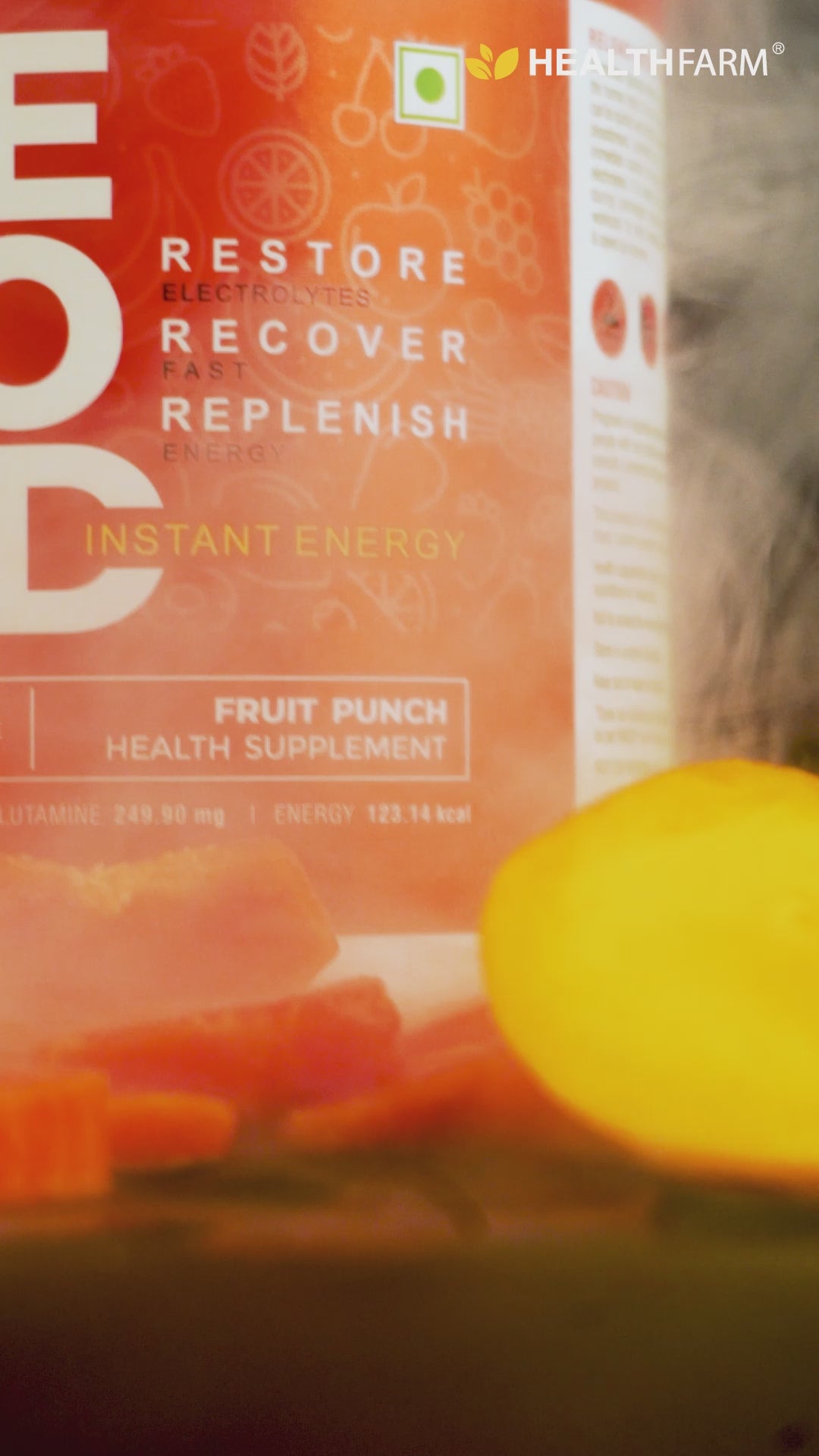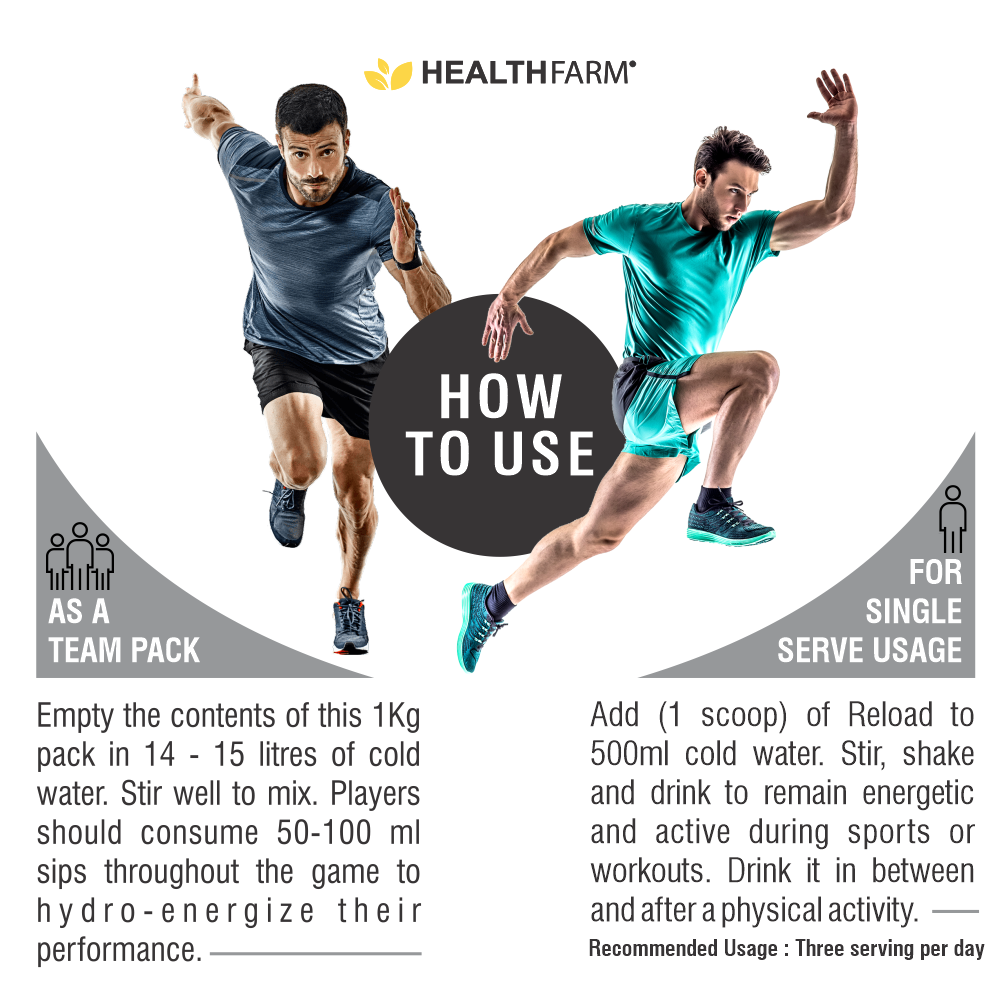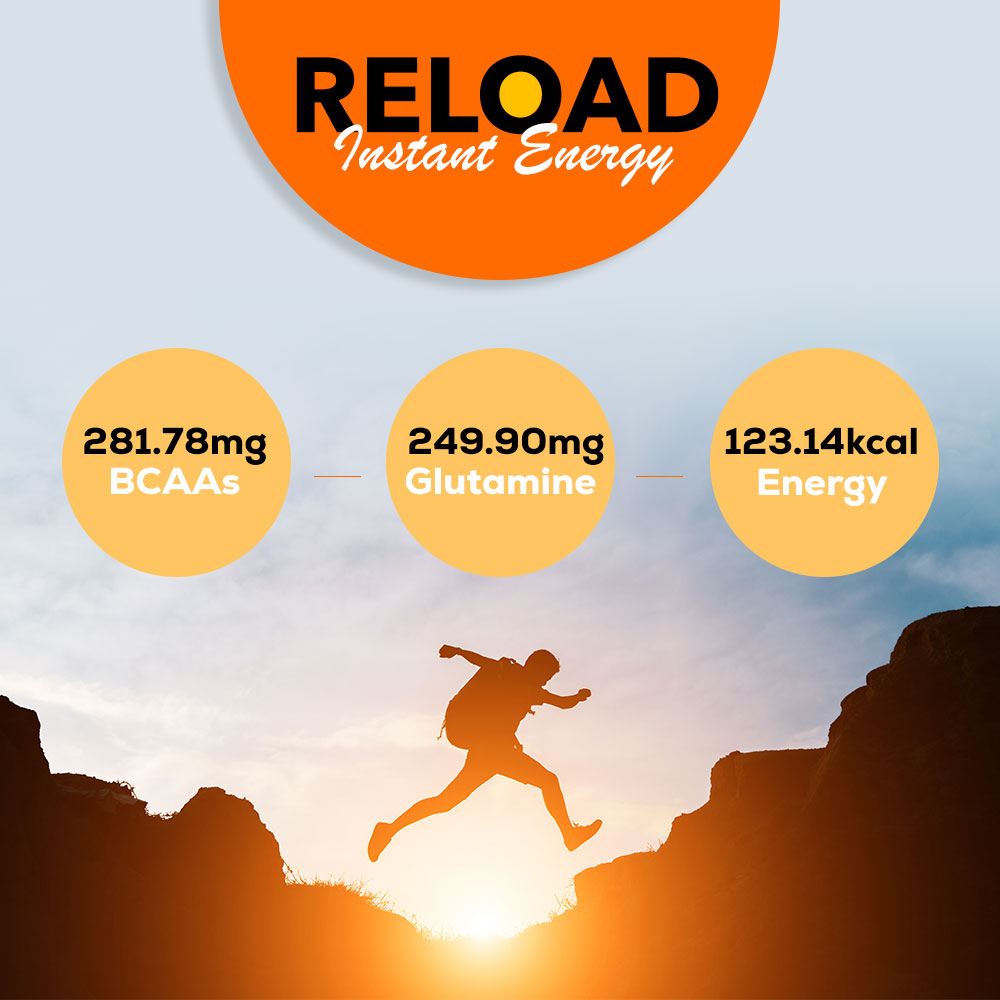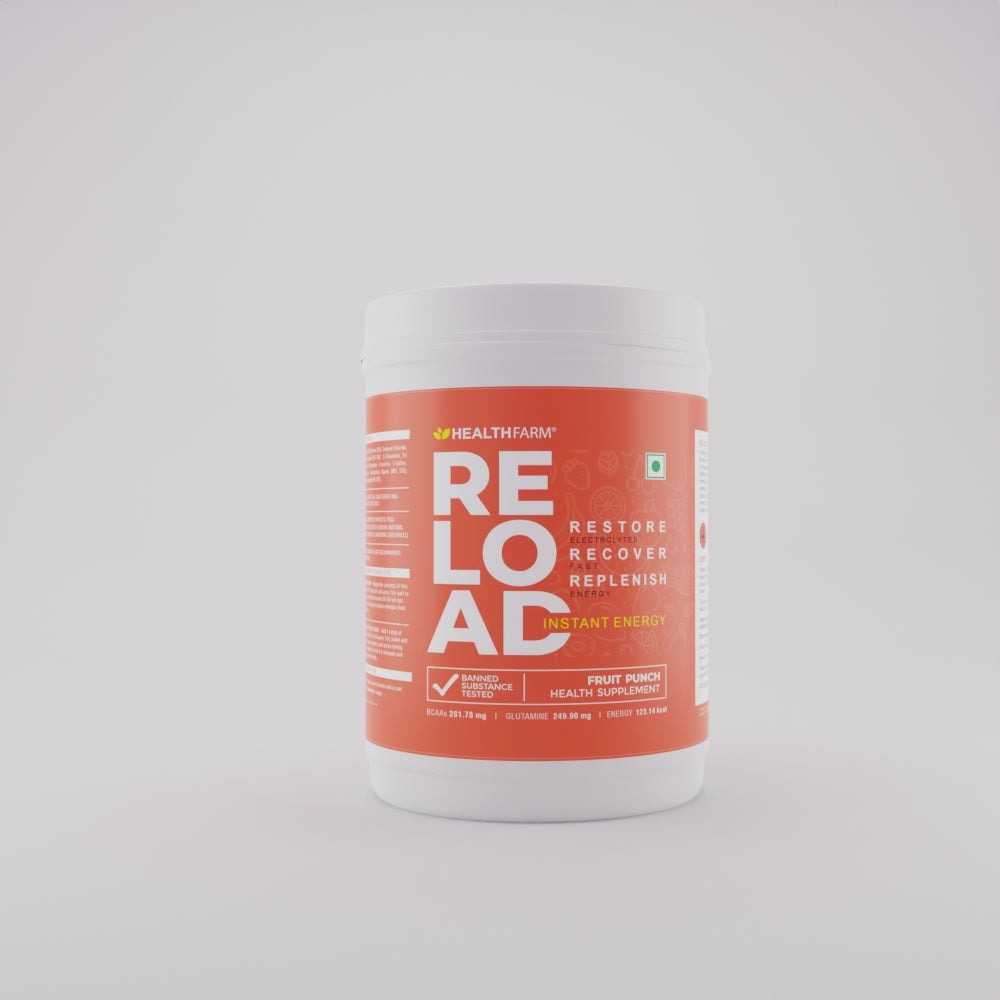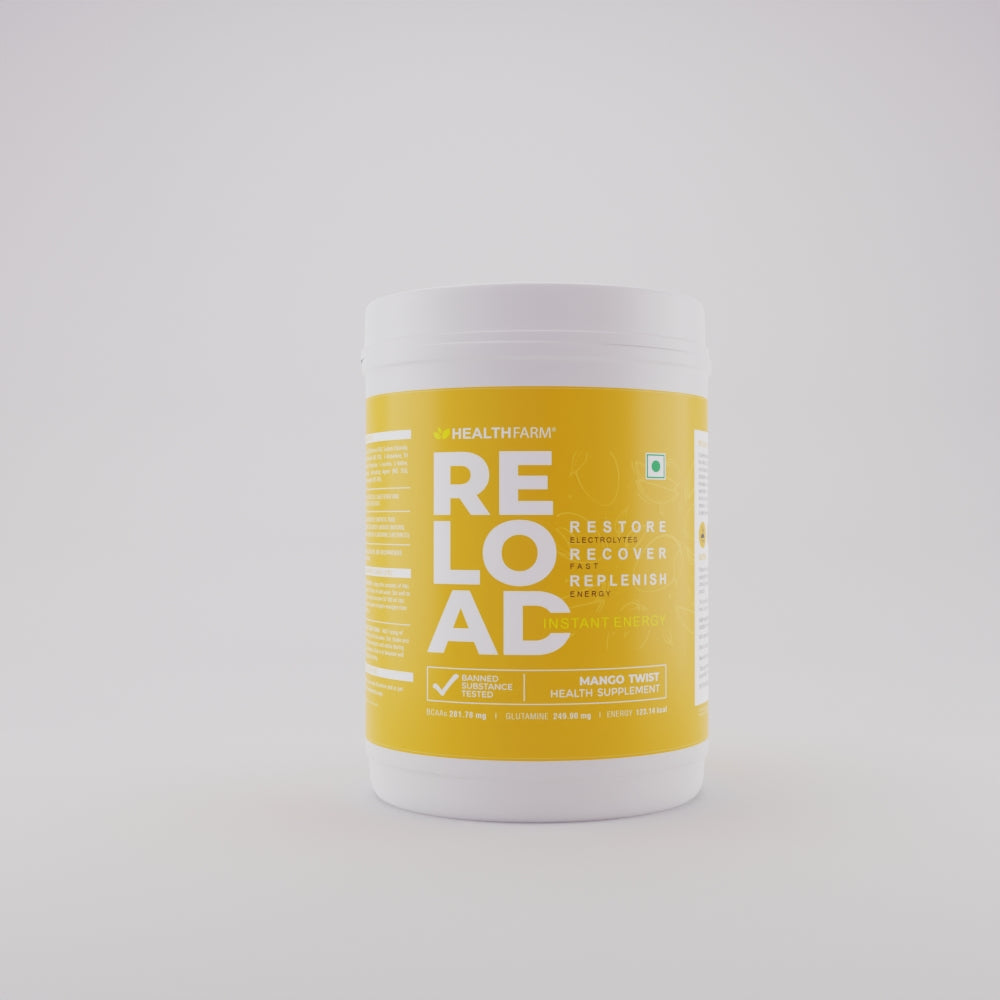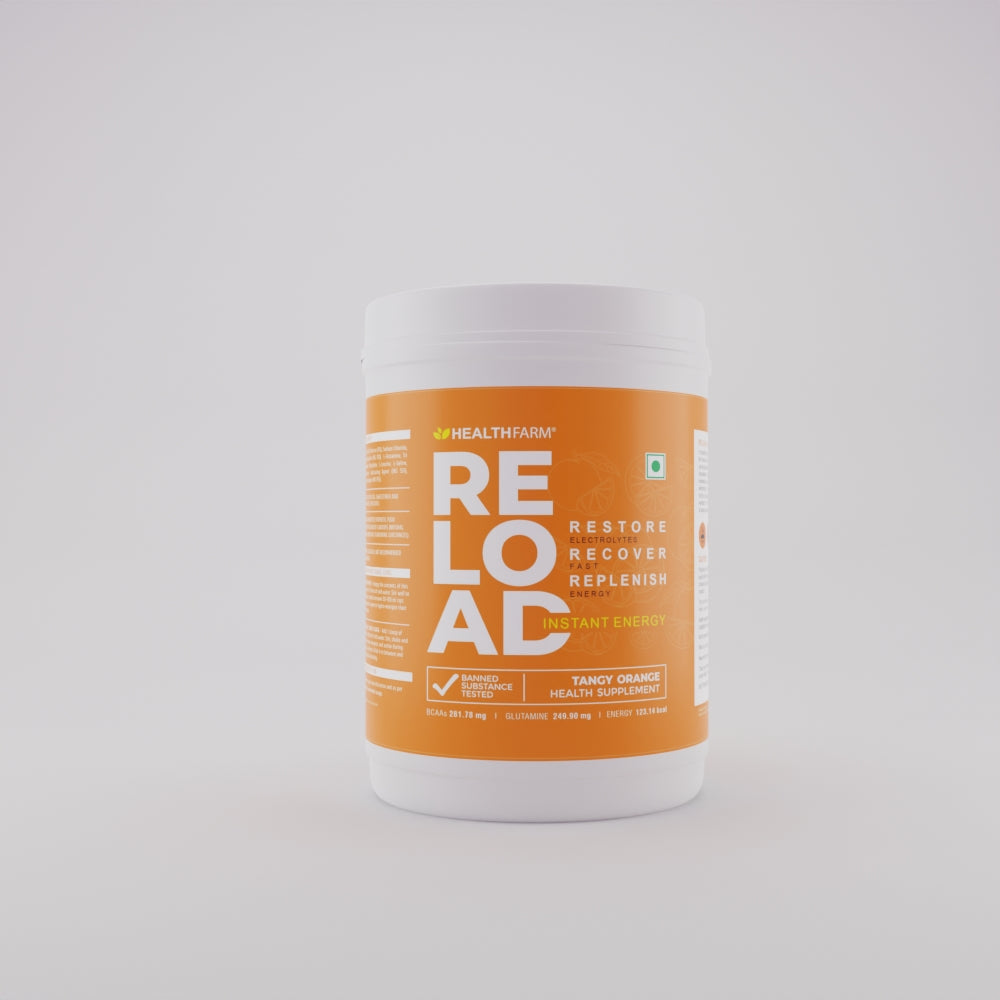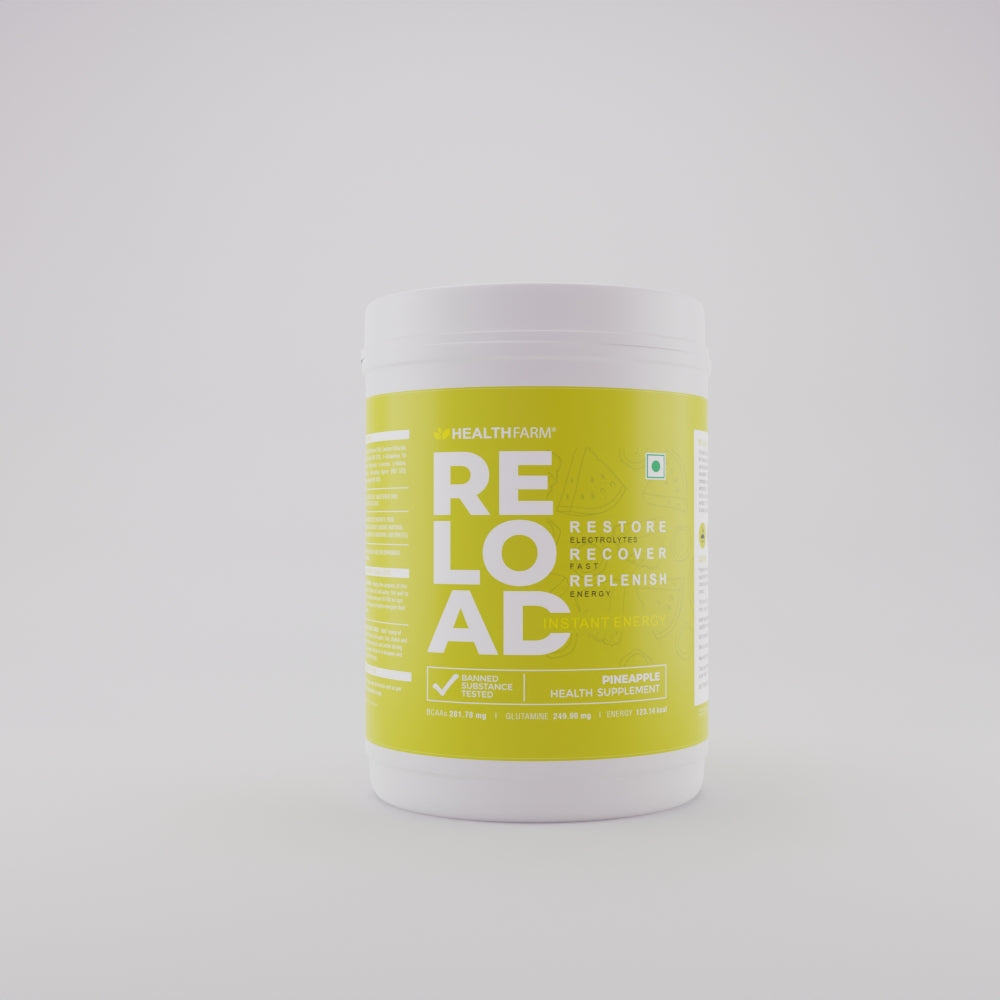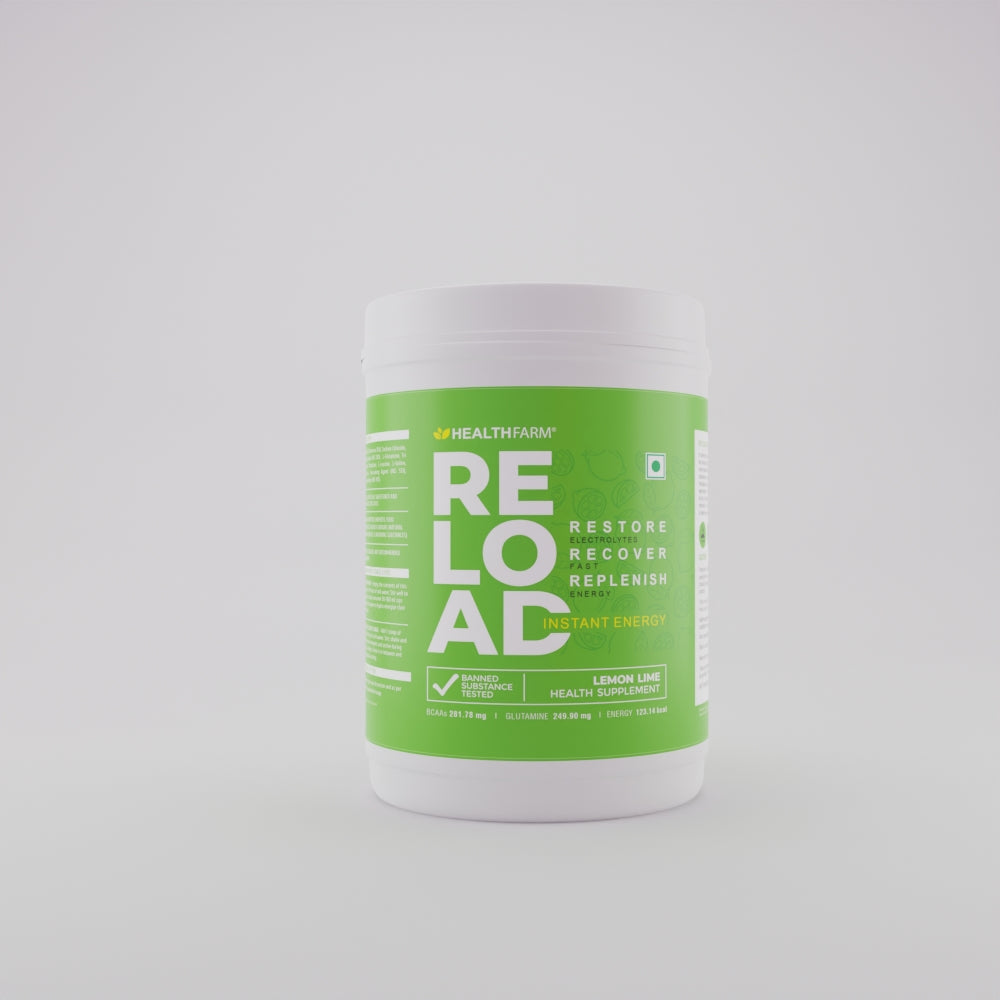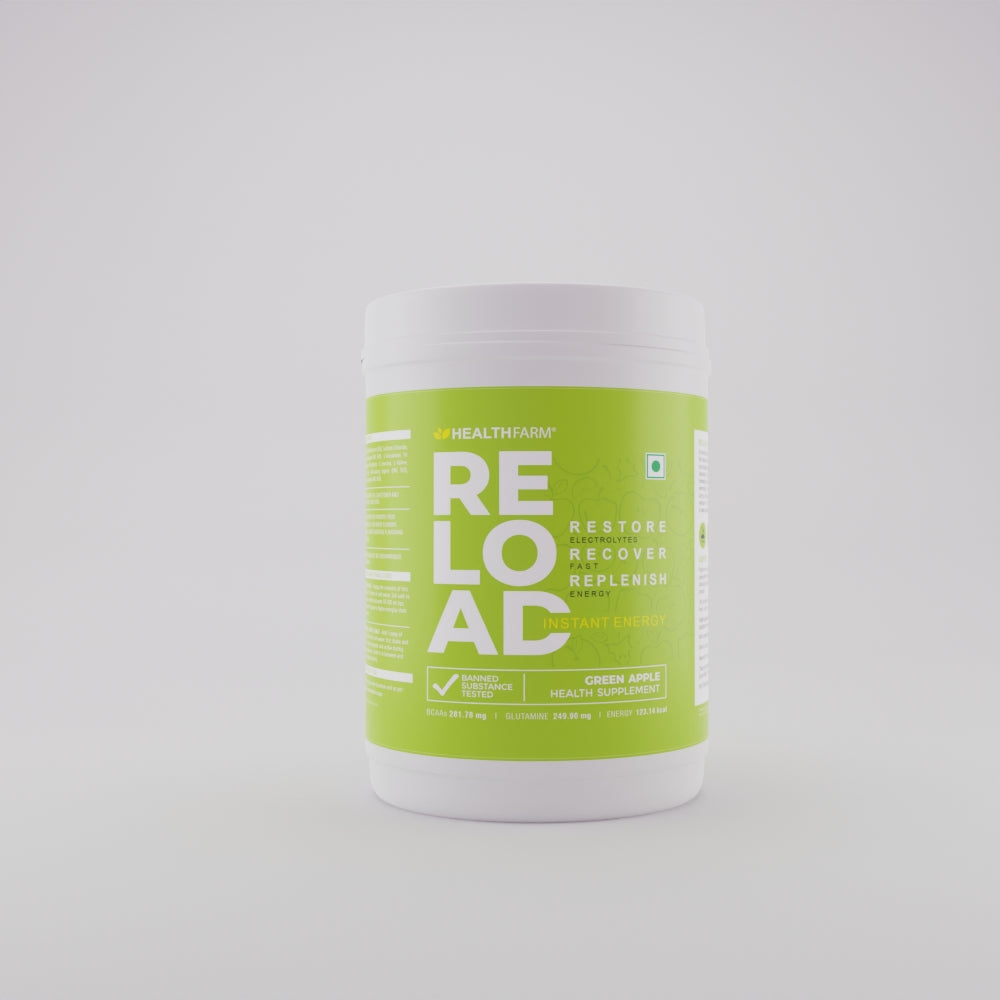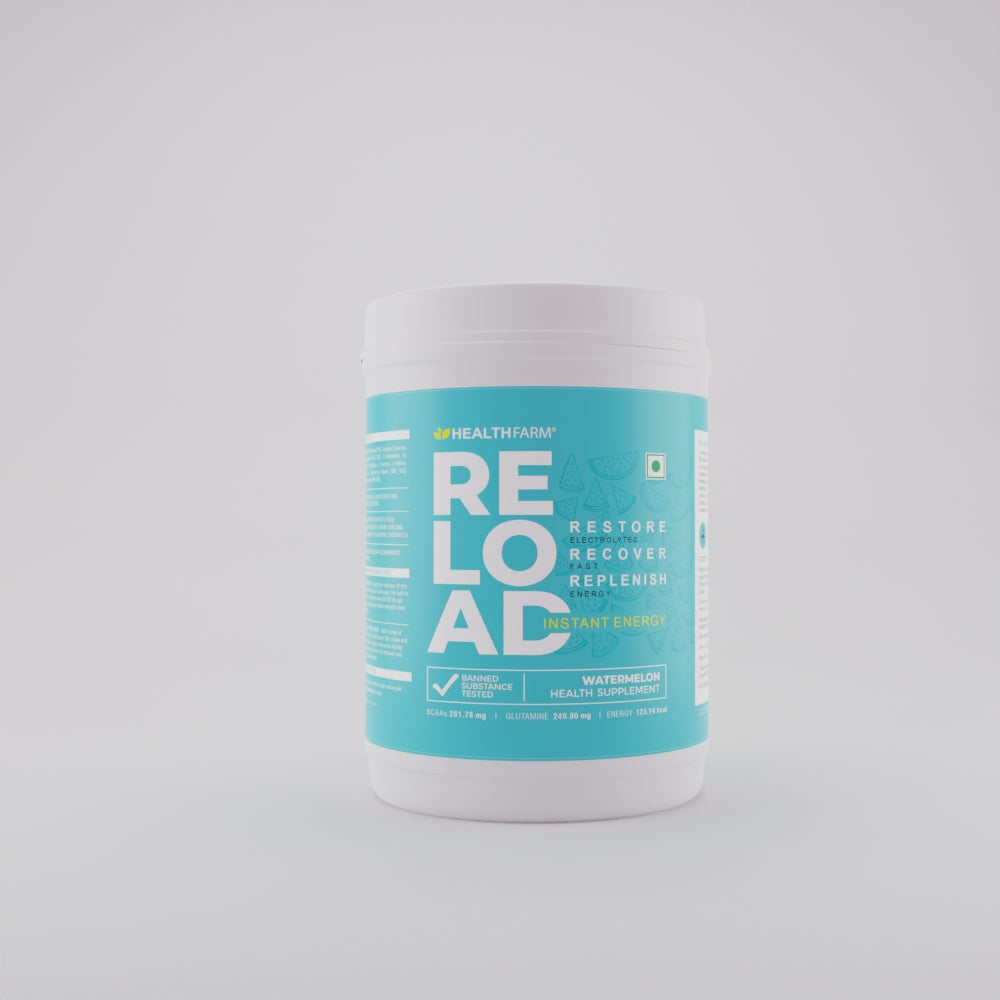 FAQ's
How to boost energy when tired?

Try HEALTHFARM Reload Instant Energy drink best to supply enough energy to your body cells after tiring and hectic work schedules. BCAA and glutamine ingredients of the product have great digestibility which can be digested into the bloodstream and gives relevant fuel to your body after hectic tiring work or physical activity.


What are the benefits of energy drink during exercise?

HEALTHFARM Reload Instant Energy formulated with BCAA and Glutamine that helps in eliminating muscle soreness and transfer relevant energy to your body. It is a great energy-boosting supplement for athletes, bodybuilders, or fitness enthusiasts.


Which is the best energy drink after workout?

All energy booster drinks relevant to muscle recovery and transfer enough energy to your body are considered the best energy drink after a workout. HEALTHFARM Energy booster drink consist BCAA and Glutamine designed for every active person to maintain energy level and get speedy recovery.


Is it okay to drink energy drink after workout?

Absolutely! It is the need of your body to take energy drink to get your strength back and feel strong after a hard-hitting performance in the gym.


What is the right time to consume energy drink before or after workout?

You can take it whenever you want.