Healthfarm Muscle Whey Isolate
Regular price

Rs. 1,999.00

Regular price

Rs. 3,999.00

Sale price

Rs. 1,999.00
Key Ingredients

Whey Protein Isolate & Hydrolysed Whey Protein Isolate-Milk Solids (88%), Maltodextrin (8.2%). Sweetening Agent (INS 955), Anticaking Agent (INS 551) Allergen advice: Contains Milk
How to Use

Add 1 Scoop of Muscle Whey Isolate per 180ml - 240ml of water or milk to a shaker cup, secure the top and shaker for 30 seconds.
Share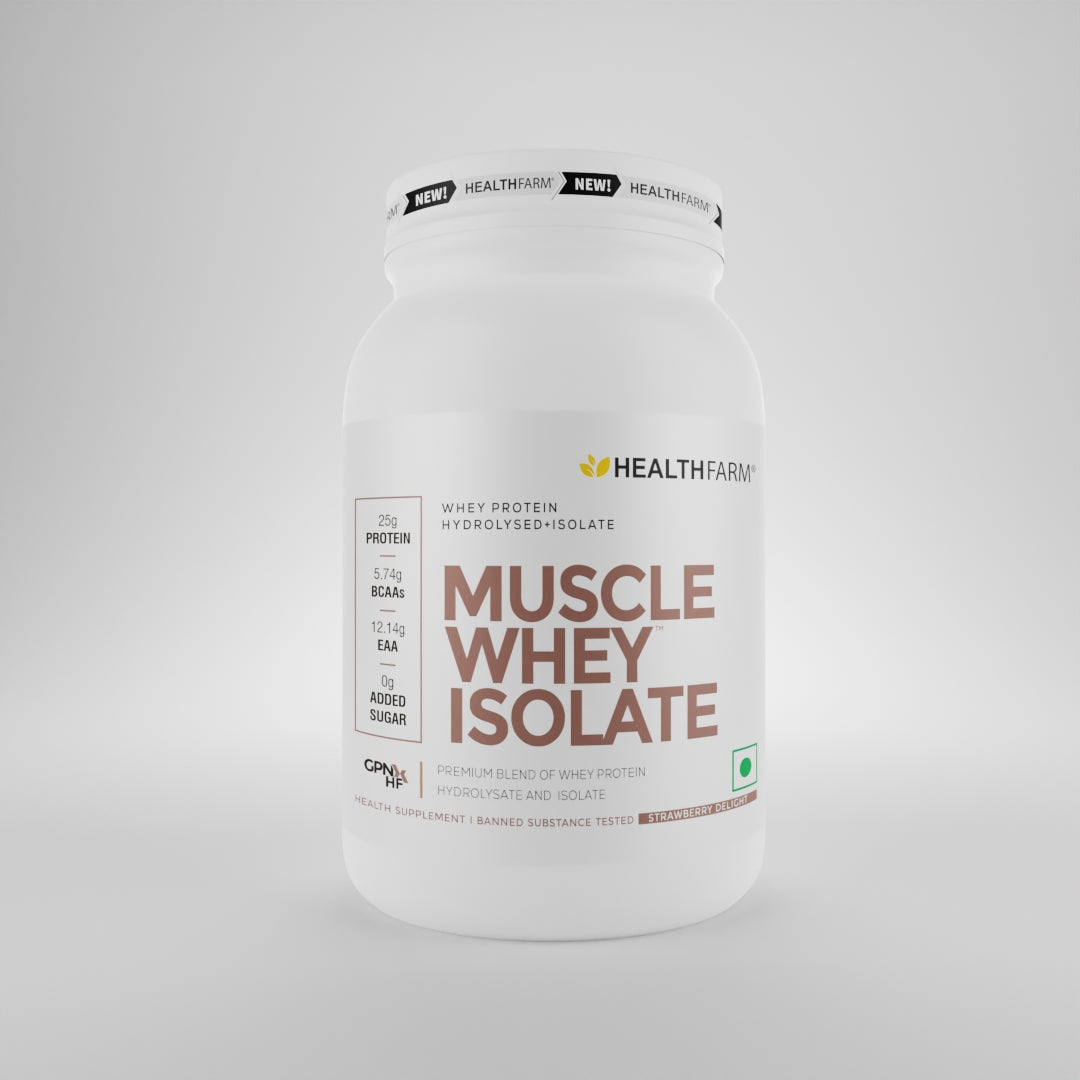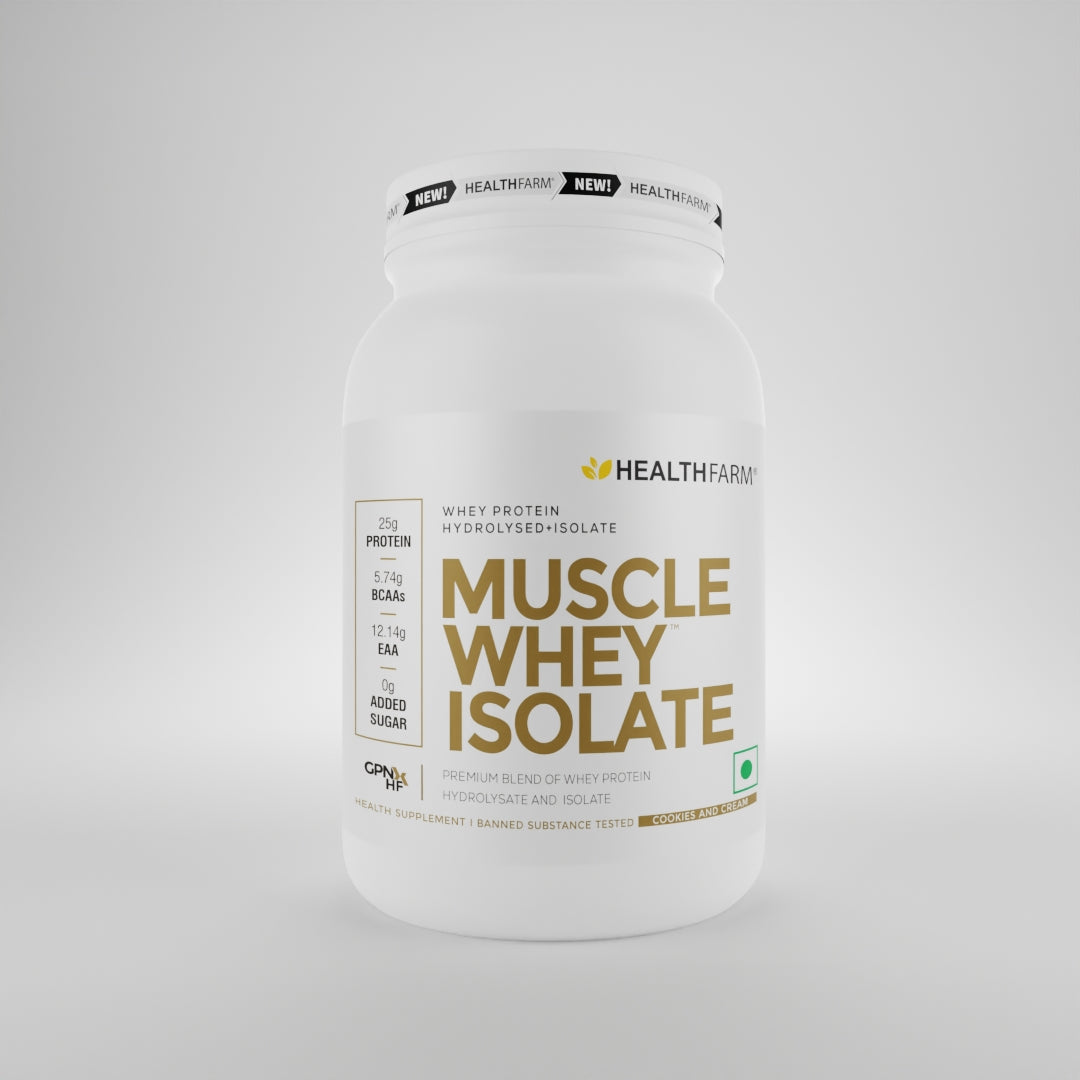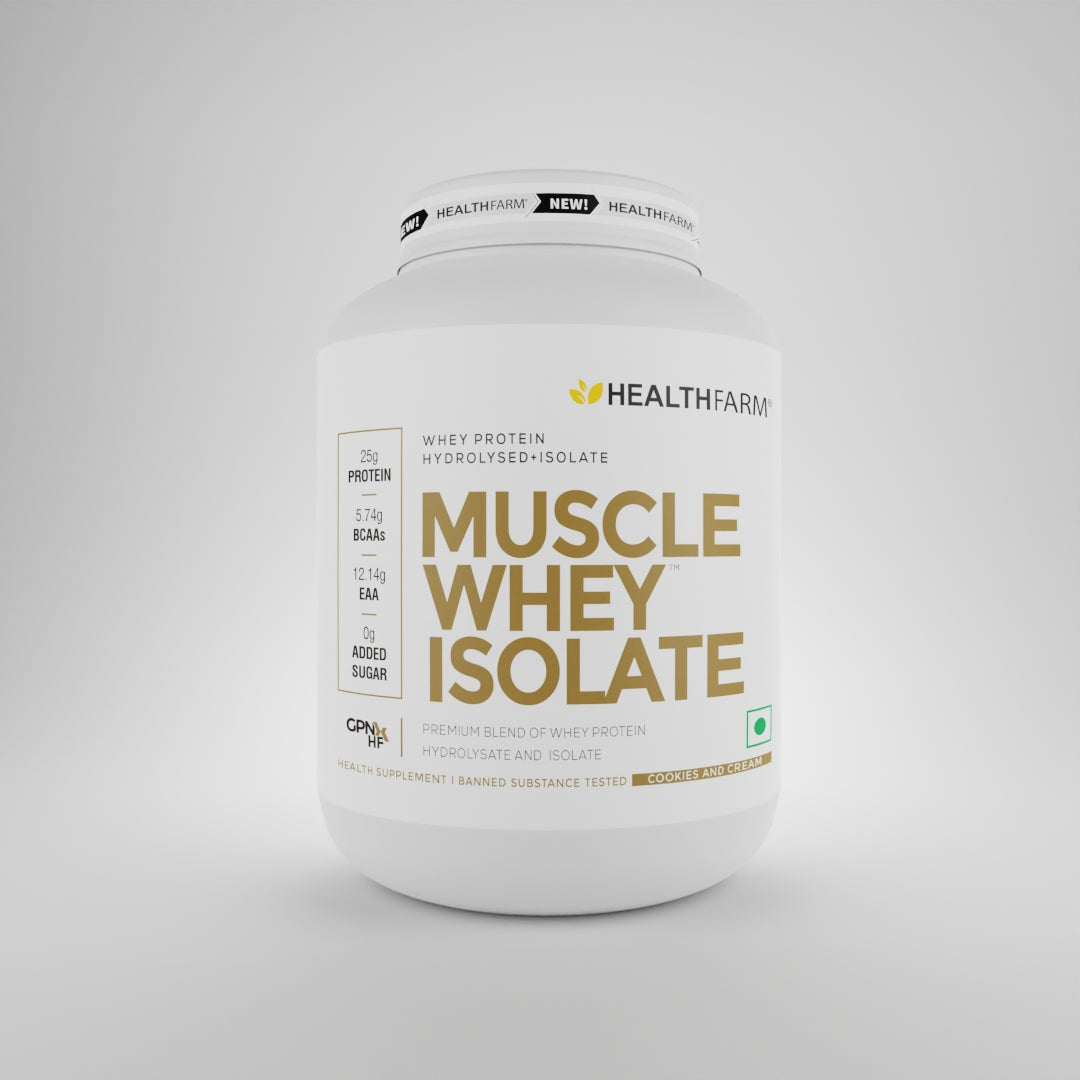 HealthFarm Muscle Whey Isolate is a top-tier protein supplement that combines the power of whey protein hydrolysate and isolate to deliver maximum results for your fitness journey. Crafted with precision, this premium blend is designed to support muscle growth, recovery, and overall performance. Packed with essential nutrients, it's a go-to choice for individuals striving to achieve their fitness goals.
Product Details
KEY SPECIFICATIONS

Protein Content: Muscle Whey Isolate boasts an impressive 25g of protein per serving. This high protein content ensures that your muscles receive the fuel they need to grow and recover optimally.
BCAAs (Branched-Chain Amino Acids): With a remarkable 5.74g of BCAAs per serving, this supplement aids in muscle preservation, reduces muscle soreness, and supports faster recovery after intense workouts.
EAA (Essential Amino Acids): Muscle Whey Isolate provides 12.14g of essential amino acids, which are crucial for muscle protein synthesis, immune function, and overall well-being.
No Added Sugar: For those conscious of their sugar intake, this product is a perfect choice as it contains 0g of added sugar. You can enjoy its great taste without worrying about unnecessary sweeteners.
BENEFITS

Muscle Growth: With its high protein content and essential amino acids, this supplement provides the necessary building blocks for muscle growth and repair.
Faster Recovery: The generous BCAAs content aids in reducing muscle soreness and promoting quicker recovery, allowing you to train harder and more frequently.
Immune Support: Essential amino acids contribute to a healthy immune system, ensuring your body is ready to tackle tough workouts and daily challenges.
HealthFarm Muscle Whey Isolate: Your Key to Superior Post-Workout Recovery

HealthFarm Muscle Whey Isolate is the ultimate solution for those seeking superior post-workout recovery. Packed with a premium blend of whey protein hydrolysate and isolate, it offers a quick absorption rate and a rich amino acid profile, ensuring your muscles get the nutrients they need right when they need them most. This dynamic combination helps reduce muscle soreness, promote faster healing, and ultimately enhance your recovery process. Whether you're an athlete, bodybuilder, or fitness enthusiast, incorporating HealthFarm Muscle Whey Isolate into your routine can make a noticeable difference in how you feel after intense workouts, keeping you at the top of your game


Each scoop is packed with premium protein sourced from the finest ingredients. It's a pure and potent formula, free from impurities and additives, ensuring that you're getting the highest quality protein to support your fitness goals. Our Muscle Whey Isolate offers the perfect balance of fast-absorbing Whey Protein Hydrolysate, which swiftly delivers essential amino acids to your muscles for quick recovery, and Isolate, known for its high protein content and low fat and lactose levels. This combination ensures that you get the best of both worlds, helping you build lean muscle while keeping unwanted elements at bay.



Muscle Whey Isolate Protein is renowned among fitness enthusiasts as the ultimate workout supplement, and for good reason. This high-quality protein powder is a powerhouse that supports a wide range of fitness goals, making it an indispensable part of any athlete's regimen. Moreover, this protein powder is a formidable ally in the pursuit of increased muscle mass and strength. It provides your body with the necessary amino acids in an easily absorbable form, promoting muscle protein synthesis and aiding in the development of lean muscle tissue.



Muscle Whey Isolate is a top-notch protein supplement designed to do more than just build muscle. It contains a potent blend of protein sources that not only support muscle growth but also provide several additional benefits. For starters, it can help increase your immunity by providing your body with critical amino acids required for a healthy immune system. In addition, it is good in preventing muscle breakdown, making it an ideal choice for preserving your hard-earned muscle mass, particularly during tough exercises or calorie restriction times. Finally, Muscle Whey Isolate excels in post-workout recuperation.